And two tour guides speaking to HuffPost UK said it was relatively easy for anyone to visit the country, and even obtain a journalist visa.
The London School of Economics has expressed fury at BBC journalists who went undercover on a student trip to North Korea, claiming the corporation recklessly endangered students. The BBC claims the students were informed of the risks, necessary to take to get into the country.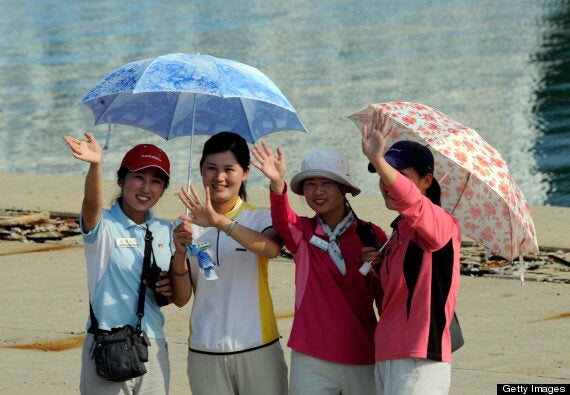 A group of North Korean tour guides bid farewell to the guests
Amanda Carr, the British tour manager for Koryo Group tours, based in Beijing, told HuffPost UK: "We are really concerned, when this kind of thing happens, about the impact this has on the guides.
"When visiting North Korea, as a tourist, your guides are 100% responsible for everything that the tourists do. If a journalist goes in, posing as a tourist, it really has repercussions on the guide.
Her company takes around 2,000 people every year to North Korea on organised tours with local guides, the only way of seeing the country. "The guides are open, they are friendly people, there's only about 50 of them in total. I consider some to be very good friends. They have personal lives, they want to do well at work.
"It's so unfair for them to have no control over their future, to be put in jeopardy by this kind of action. We care about them, that's why we don't take journalists. And we don't want to be shut down either."
Her company "would always say no if a journalist wanted us to get them in on a tourist visa. We can help them with the embassy, let them know about trips for journalists. But we can't take them in on tourist visa."
Shan Yu, a director of Young Pioneer Tours, told HuffPost UK that journalists would not be getting to see any more of the country by going on a tourist trip, than they would if they went on a journalists' trip.
"You can go in to the country as a journalist, it's a longer process and you have to sign some waivers, but you can go on a journalists' tour," she said. "If you are a journalist, but you want to go in as a tourist on a personal holiday, you have to sign a piece of paper saying you won't write anything afterwards.
On the BBC, she said they are "taking a major risk, lying to go there. It is really irresponsible, they put their guide in a very difficult situation, and the people who arranged that tour."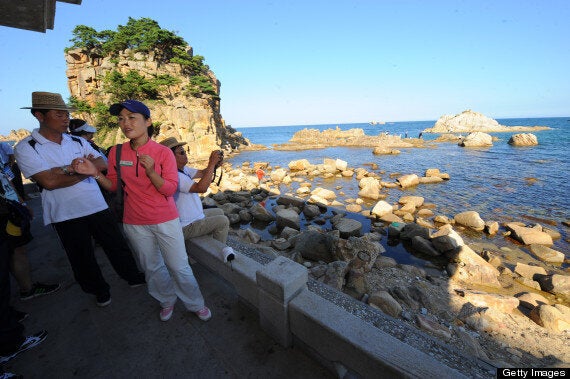 A North Korean tour guide providing information of a scenic coastal spot at Mount Kumgang international tourist zone
Professor Keith Howard from the Centre of Korean Studies at SOAS told HuffPost UK the impact on the Korean guides had been over looked "perhaps most damningly."
"Away from the public eye and lacking any of the protection that a foreign passport gives to the students and journalists who took the trip, the North Koreans who helped facilitate the tour will certainly have been accused of not having done their job properly," he said.
"We are only too aware of North Korea's human rights record, and those left behind – the guides, drivers, tour managers, and so on – will now face the regime's approbation.
"The journalists involved appear, then, to be prepared to consign those they have deceived but taken advantage of to prison sentences, loss of jobs and rations, and isolation.
"In no way can this be countenanced, surely. And, besides this, the tour agency who arranged the trip will, of course, see its income decline, as the North Korean regime stamps down on its activities."
A BBC spokeswoman told HuffPost UK: "The guides were not acting in a private capacity; rather they were effectively spokespeople for the regime and its presentation to the outside world.
"How they will be presented in the programme must remain an editorial matter for the BBC. The film will be constructed and edited properly and a fair portrayal given of the guides."
For now, both Koryo and YPT stress, it is easy for foreigners to visit, and still safe to go.
Carr told HuffPost UK: "We were told by our travel partners in Pyongyang and the British Embassy that we should carry on running tours as normal. We have not had to cancel anything at all."
"It's very easy to go if you are any nationality but South Korean," Shan said. "Some people do think you can just go to the embassy and get a visa and backpack around. You can't do that. You have to go with a tour, you have to follow the itinerary, the itinerary is pre-approved by the government.
"You can't just run around by yourself, you have to follow the guides' instructions."
But the group tours are not as restrictive as people think, Carr argues, and private tours are possible. "There is nowhere that's compulsory to visit. The longest tour is 17 days, which pretty much covers everything.
People think it will be more restrictive that it is, you are accompanied at all times, and there are some restrictions on photography around military sites.
"As long as you follow those rules, people are surprised how much they feel they are not restricted, especially if they know Korean. If they do, they can go up to people, start up conversations. Kids are not so wary of foreigners now, they shout 'hello' and wave.
"Our demographic are generally very well travelled, North Korea is one of the last places they visit. But now, people are coming who aren't so experienced, not country collectors."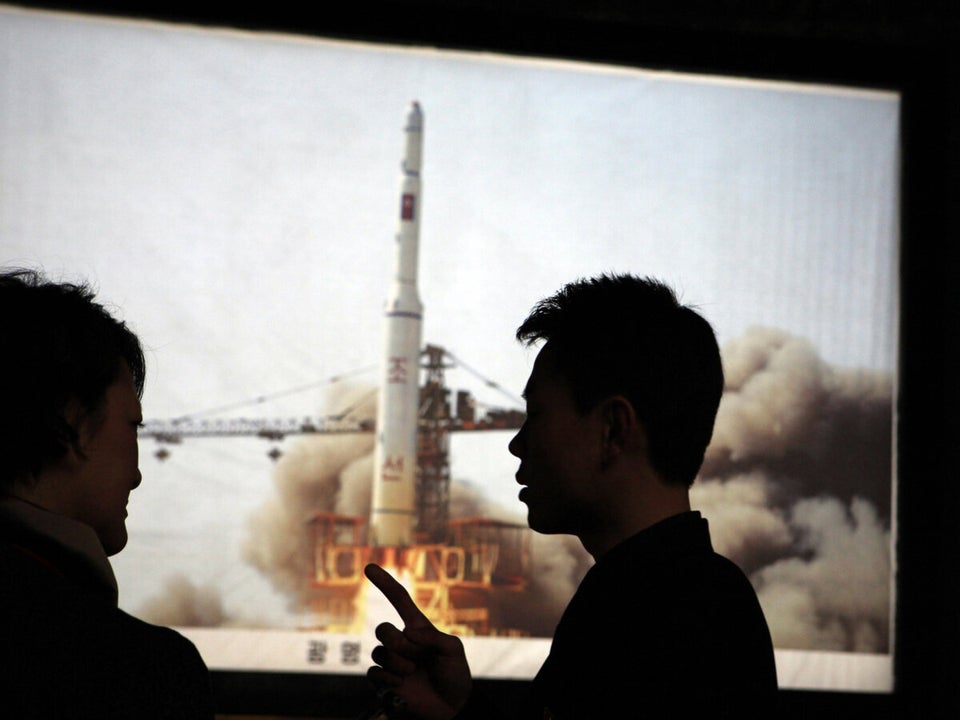 North Korea Prepares For Rocket Launch