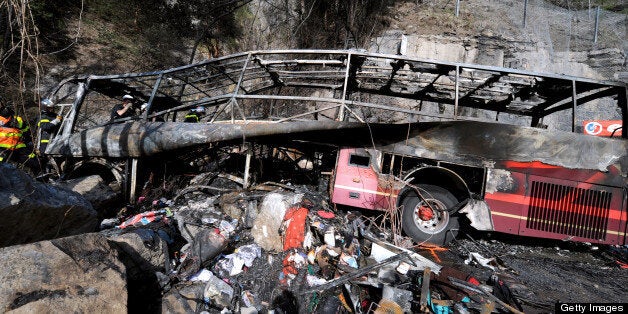 Tributes have been paid to a heroic coach driver believed to have died trying to stop his malfunctioning vehicle going over a ravine in the Alps.
Maurice Wrightson, 64, was driving more than 50 people on their way back from Alpe d'Huez when the coach left the road on Tuesday, smashing into rocks before bursting into flames.
French police say they suspect there was a problem with the vehicle's brakes.
Mr Wrighton's "remarkable courage" was praised by French transport minister Frederic Cuvilliern when he visited the scene.
The minister reportedly said the position of the bus suggested Mr Wrightson tried to slow the bus down by hitting rocks rather than risk it going over a precipice and that his actions saved lives.
Friends and family left scores of comments on a Facebook tribute page for the driver, who worked for Classic Coaches, based at Annfield Plain, County Durham.
He is understood to have been a driver since the 1960s, and other tributes came in from bus and coach drivers across the country praising him for his actions.
Wendy Wrightson described him as "a good man who lost his life far too soon but lost it a hero doing what he did best".
She wrote: "We lit all our candles last night and chatted fondly about you.
"You will be a huge miss to many people but I wish you peace and sleep well, you deserve it.
I am sure your star will be shining brightly for all to see and see it we all will."
Steve Wardlaw wrote: "Everyone who new Maurice liked him. Everyone who met him had a Maurice story to tell. And every Maurice story left you smiling...RIP a legend to us all...."
UK travel organisation Abta said the Britons were staff on their way home having been working for a Brighton-based ski company.
Several passengers escaped from the burning wreckage by jumping from the windows.
At least four people were said to have been seriously injured, with those hurt being treated in local hospitals.
A helicopter was scrambled to the scene where firefighters battled to put out the flames.
Heath Williams, managing director of TGM, the coach firm's parent company, paid tribute to Mr Wrightson, saying he would be "sadly missed".
He also hailed the driver's actions, telling the Northern Echo: "Early indications are that our driver tried to take evasive action and that he alerted passengers.
"We pay tribute to him for his efforts, and also to our relief driver who helped people to leave the vehicle."