"He's very talented, he's a perfectionist, he doesn't let anything slip through," says Martin Kemp of his latest co-star. "It's lovely working with somebody like that. I've worked with lots of actors who sit at home for years waiting to get a job, then as soon as they do, they want to go home."
When you hear it's brother Gary that's being praised thus, you could accuse him of nepotism, except that the Kemp brothers' work ethic is well-recognised, both through their years together in Spandau Ballet, and on individual projects since.
"It definitely raises your game, working with your brother," reveals Martin. "You don't want to let each other down."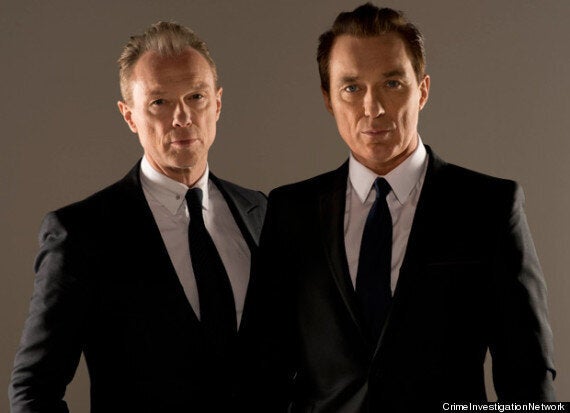 Gary and Martin Kemp have joined forces to explore The Gangs of Britain
Their latest collaboration is on TV show 'Gangs of Britain', a factual series travelling to different cities, with Gary exploring the history of crime, and Martin looking at the contemporary situation in those same places. "It's like 'Who Do You Think You Are?' but for gangs."
Kemp, who previously starred with his brother on screen in a well-received portrayal of London's most notorious gang-leaders The Kray twins, is self-confessedly fascinated by this side of human nature...
"We all try to live a good life, so you never really get to see the dark side. When you're acting, playing the bad guy, you get a chance to open up this box inside and look at all the bad things that you've got in there," says Kemp, looking at me, all bright blue eyes, open face, and about as far away as a standard depiction of whatever's in the box as it's possible to imagine. But he's obviously enjoying himself...
"Most people keep this box locked all their life, never open it up, but sometimes it comes open by accident and they explode. Over the years, I've had the chance to open it up, look at all the toys that are in there, get them all out and then lock them safely again. So it does fascinate me. I do believe there's a bit of bad in everyone."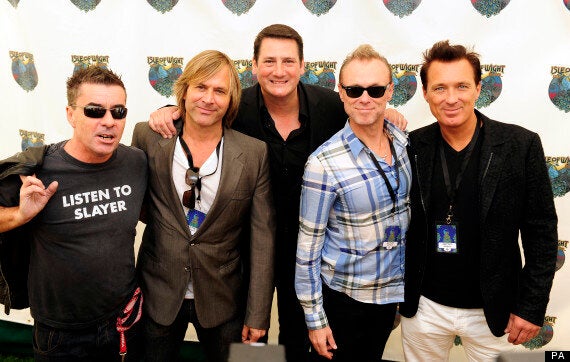 The Kemp brothers with their Spandau bandmates
If Kemp has a dark side, he kept it firmly under wraps during last year's sortie to the Celebrity Big Brother house, where his laid-back, unstressed personality helped counter the antics of Julie Goodyear, MC Harvey and Co, and got him to the final.
"It sounds odd to say, but it was pleasurable," reports Kemp, who likens it to three weeks on a sunbed, like being in some Californian boutique hotel, watching TV.
"I didn't feel at all vulnerable. I thought I'd give it a shot, to show a completely different side of me, the person my family knows at home, and see how I got on. My family thought I was exactly the same person, and it was a lot of fun."
And there's fresh talk of more Spandau Ballet gigs, following their reunion in the last few years, something of which Kemp sounds proud, and slightly competitive - "there's different levels of re-forming, you could just join in with those 80s shows, but Spandau went out and played in front of 50,000 in London."
So, with pop stardom, soap opera villainy, screen success and now presenting, what's left undone for Martin Kemp?
"I want to play for Arsenal," he says immediately. "For me now, it's one thing at a time - is this going to be fun, and is it going to affect my family, the way I live?
"But I'm 51 and I am looking for something different. It's the same with all my mates - you reach a point in your life where you want that mid-life change to keep you interested, to keep the spark."
Gangs of Britain with Gary and Martin Kemp starts on Sunday 21 April at 9pm, only on Crime & Investigation Network® (Sky 553 and Virgin 237). Watch the trailer below...