Britain's top two civil servants have been accused of "prostituting" their office in an article they wrote about Margaret Thatcher.
Jeremy Heywood, the Cabinet Secretary, and Sir Bob Kerslake, who heads the Home Civil Service, penned an article about the Iron Lady in the Daily Telegraph headed 'Margaret Thatcher: our kindly boss, by Britain's top civil servants'.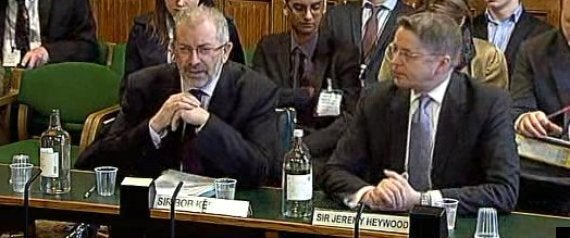 Kerslake (left) and Heywood were grilled by MPs
Civil servants are governed by strict neutrality rules, and Labour MP Paul Flynn launched a furious attack on the "sycophantic" article when the duo appeared before the Public Affairs Committee on Thursday morning.
Flynn questioned the need for the officials to "enter the debate" about Thatcher's legacy, accusing them of "disgraceful behaviour" and saying 171,000 civil servants had been sacked under her term as Prime Minister.
Heywood and Kerslake defended the decision to write the article, saying it was merely an attempt to "record the experiences" of civil servants who had worked with her.
In the piece, they said Thatcher had left office with the landscape "transformed" and the civil service modernised.
They wrote: "As Lord Wilson, her former Cabinet Secretary of the late 1980s, said, "she made us positive about the revitalisation of the British economy".
"Her drive and determination changed the way people, including civil servants, thought about their own country."
Describing how Thatcher would offer home-made shepherd's pie to public servants working late, they added: "Talking to the civil servants who worked most closely with Margaret Thatcher, their overriding memory is of a prime minister who – whatever the pressures – was the best kind of boss.
"She was kindly and unswervingly loyal to her team and, once she had decided what she thought, provided clear and consistent direction. To the country she was an Iron Lady, to those who worked with her she was a kind and considerate boss."
Flynn said: "Look at the article. Every word of it is in praise of Margaret Thatcher."
Kerslake said it had not intended to be "a commentary, critical or otherwise, of her policies."
Flynn asked: "What would you write for Gordon Brown?"
"We will have to wait until that moment comes," replied Heywood.
"I personally do not think it was a very controversial article," he added.
Flynn left the meeting, saying there was no point in continuing unless he could "press this issue to a conclusion."
He told the men: "You have prostituted your high office and deserted your political neutrality and I think you have both behaved disgracefully."
A spokesman for the PCS Union, which represents civil servants, saying: "It is totally unacceptable for serving senior civil servants to pour adulation on a political figure in this way."
Related