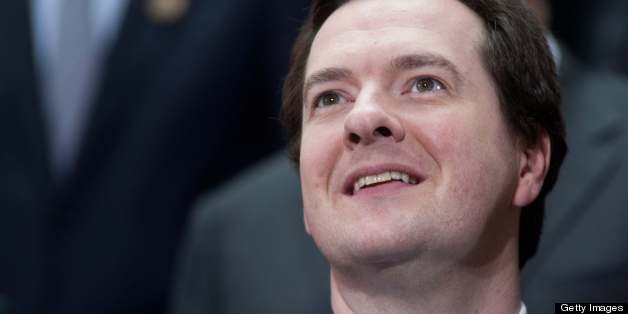 Getty Images
The ten things you need to know on Sunday 21 April 2013...
1) THE TRIPLE DIP?
It's been a bad week for the chancellor, with Tuesday seeing the IMF savage his austerity policies, Wednesday seeing unemployment going up, Friday seeing Fitch become the second credit rating agency to downgrade the UK's once-coveted triple-A rating and Saturday seeing the Treasury Select Committee attack the chancellor's flagship Help to Buy mortgage scheme.
But it could get even worse this week - "Triple dip threat to the Chancellor" is the headline on the front of the Sunday Times:
"George Osborne is braced for more bad news this week with figures for the first three months of the year that could show the economy has slipped back into an unprecedented "triple dip" recession.
"Economists say growth in the first quarter will have been 0.1% at best. There are fears, however, that last month's cold weather and falling construction output might actually have caused the economy to contract."
The paper adds that "a senior International Monetary Fund (IMF) official yesterday urged Osborne to reconsider his plans. David Lipton, the IMF's first deputy managing director, told Sky News his spending cuts and tax hikes should be re-examined in the light of weak economic news.
"Lipton, who will next month be part of the team carrying out the IMF's annual analysis and recommendations for Britain, said: 'The Fund's view is clear: the UK economy has turned out to be somewhat weaker than had been foreseen, so our view is that the pace of consolidation ought to be reconsidered.'"
The chancellor's friends in the press are trying to mount a fightback. The Sunday Telegraph's Kamal Ahmed describes the IMF as "an institution stifled by bureaucracy and inherently secretive" and says "Mr Osborne is right to set his jaw against the IMF dabbling too deeply in UK politics". The problem, of course, is that it was the chancellor who encouraged the IMF's interventions in our domestic politics back in the days when, conveniently, the IMF was on his side of the argument.
Other former allies of the chancellor are also taking potshots at him - the Sunday Telegraph reports that the ex-defence secretary Liam Fox, will add to Osborne's woes by issuing "a Thatcherite call to arms this week by demanding that the Conservatives focus on creating wealth rather than concentrating solely on economic growth".
And so it goes on...
2) PAY IN, TAKE OUT
The so-called 'contributory principle' in welfare continues to make its comeback on the centre-left - from the Observer:
"Plans for a student-loan-style welfare reform – under which people who lose their jobs could receive higher benefits, then repay the extra when they return to work – are being examined by Labour as it seeks to counter claims that it lacks radical policy ideas.
"The scheme, which aims to prevent people spiralling into debt, home repossession and relationship breakdown when they lose their jobs, is being considered by the party's policy review, chaired by MP Jon Cruddas.
"Under the plan – called "national salary insurance" and developed by the IPPR thinktank – people with sufficient national insurance contributions would be entitled to receive up to 70% of their previous income, capped at £200 a week, for a period of up to six months, to help prevent them falling off a financial 'cliff edge'."
Meanwhile, picking up on the Independent's front-page scoop on Friday, the Mail on Sunday's James Forsyth reports that Ed Miliband "will make it clear by this autumn that Labour isn't going to go along with the Coalition's plans" for post-2015 austerity measures - due to be unveiled in June's spending review. "Politicians who want to end a 30-year consensus don't come to office promising to continue their opponent's policies," notes Forsyth.
3) RECESSION? WHAT RECESSION?
From the Sunday Times:
"[T]he 25th anniversary edition of The Sunday Times Rich List reveals that the collective wealth of the richest 1,000 has reached a record £450bn, up £35bn on last year.
We're all in this together, eh?
4) BORIS VS THE UNIONS
From the Sun on Sunday:
"Tories last night demanded tough new Thatcher-style laws to stop unions wreaking summer strike chaos.
"Militants are plotting a crippling mass walkout — despite some stoppages being supported by just 17 PER CENT of members.
"Now London Mayor Boris Johnson has joined calls for the PM to ban strikes unless they are backed by 50 per cent of those entitled to vote.
"He told The Sun: 'The idea that a strike can be called by a majority of those that vote, rather than a majority of all those balloted, is farcical.'"
Dare I point out that neither Boris himself, nor David Cameron, has won majority support from those eligible to vote?
5) 11 YEARS IN GITMO
From the Observer's front page:
"The last British resident being held in Guantánamo Bay may never be allowed to return to his family in London because of an alleged "secret deal" between US authorities, Saudi Arabia and the British security services.
"Shaker Aamer, 46, has been in the Cuban detention centre for more than 11 years without charge or trial, and has been cleared for release since 2007.
"This month, two Metropolitan police detectives interviewed Aamer, gathering an estimated 150 pages of testimony and allegations that MI5 and MI6 were complicit in his torture. These included claims that a British officer was present while US soldiers tortured him and that MI6 officers made allegations to the CIA they knew to be false, including that Aamer was a member of al-Qaida. His legal team alleges that the US, Saudi Arabia – where Aamer was born – and the UK security services are trying to ensure that he never goes home."
This is shameful and morally despicable stuff. How Obama can sleep at night, with the Guantanamo prison camp still open and operational on his watch, is beyond me...
BECAUSE YOU'VE READ THIS FAR...
Watch this video of a cat playing with a vacuum cleaner.
6) POUNDING THE SNP
On Tuesday, the Treasury will publish its analysis of the implications for the pound sterling of Scottish independence - and the two top Treasury ministers have been getting in their attacks early.
Writing on the Treasury website, George Osborne and Danny Alexander say the "advocates of independence" have been "tying themselves in knots":
"They know in their heart of hearts that the economic and political union we have across the UK does work, and that a formal currency union can work only with political and economic union."
They add:
"The pound we share now works and it works well. Under independence all the alternatives are second best. So our question for the Nationalists is simple: 'Are you really saying second best is good enough for Scotland?'"
The SNP's Nicola Sturgeon, however, insists that retaining the pound, post-independence, is a "common sense position supported by the facts".
7) FROM TORY DONOR TO CHARITY DONOR
He has been a hate figure on the left for several years now - having been a Tory donor and a non-dom! - but will Lord Ashcroft's latest announcement win him new friends and admirers?
From the Sunday Times:
"The billionaire and Tory peer Lord Ashcroft is to pledge at least half of his £1.2bn fortune to charity as he joins a philanthropic movement led by Warren Buffett and Bill Gates, America's two richest men.
"The former Tory treasurer, who has given the party £10m but will not help to fund its general election campaign, will next month sign up to the Giving Pledge, a public commitment by billionaires to give away the majority of their wealth."
Credit where credit's due...
8) LBC, TAX AVOIDANCE AND THE DEPUTY PM
Talking of tax avoiders, remember the Deputy PM's weekly radio show on LBC? Well, why not 'Call Clegg' this coming Thursday morning and complain about corporate tax avoidance? Also from the Sunday Times:
"Britain's biggest commercial radio company — the operator of the station that hosts Nick Clegg's show — has not paid corporation tax for five years after sending more than £200m offshore.
"This Is Global has paid no UK corporation tax because its operating profits are used for interest payments of up to 15% a year on offshore loans. The UK firm made £33.3m in operating profits last year and paid no corporation tax.
"... Clegg, the deputy prime minister, features on a weekly radio show on LBC, the London talk-show station, along with broadcaster Nick Ferrari. He has previously criticised the 'wealthy elite' and big businesses for employing an 'army of tax accountants' to cut their tax bills.
"... A spokesman for Nick Clegg said he went on LBC to engage with the public and did not 'carry responsibility' for the tax arrangements of media outlets."
9) 'A BIT OF A SWEAT BUT SO WHAT?'
From the Sunday Telegraph's Mandrake diary column:
"After Sir Cyril Smith was exposed as a child abuser, a town hall plaque honouring the late Liberal Democrat MP in Rochdale was taken down. The portly paedophile still looms large at Westminster, however, where a painting featuring Sir Cyril hangs in a prominent position on a wall outside a committee room at Portcullis House.
"The portrait was painted in 1988 by Andrew Festing as part of his work The Other Picture: A View of the Smoking Room and Library of the House of Commons. It was commissioned by the House and MPs paid £100 each to feature.
"Sir Cyril has remained in the picture, even though the artist tells Mandrake that he would be prepared to paint over the Lib Dem's image. 'From an artistic point of view, I think it would be a mistake, but I can see exactly why there might be an argument to do it,' Festing says. 'It's quite a big space to fill. I think I could find a solution. It would be a bit of a sweat, but so what?'"
10) BEWARE OF THE BURGLAR... IF YOU'RE A DOG OWNER!
The Dangerous Dogs Act 1991 has always been held up as the classic example of a bad, ill-thought-out, rushed law. The new version has its own weird quirks - from the Sunday Times:
"Burglars attacked by a dog as they break into an unoccupied home could receive thousands of pounds in compensation while the pet's owner is sent to prison.
"Under the proposed Dangerous Dogs Amendment Bill, which will shortly be put before MPs, it will become illegal for an owner to allow a dog to attack a lawful visitor such as a postman or nurse. But it will also mean that owners could face prison if their dog attacks a burglar while they are out."
PUBLIC OPINION WATCH
From the Observer/Opinium poll:
Labour 35
Conservatives 29
Ukip 17
Lib Dems 8
That would give Labour a majority of 74.
From the Sunday Times/YouGov poll:
Labour 40
Conservatives 32
Lib Dems 11
Ukip 10
That would give Labour a majority of 92.
140 CHARACTERS OR LESS
@sajidjavid Post Thatcher funeral, I reread Hayek's inspiring Road to Serfdom. Should be read by everyone.
@Mike_Fabricant I do love it on Twitter when I say something and then 2 or 3 get into a row with each other; and copy me in. Cool it boys, cool it.
@harryph Sunday Times says Dangerous Dogs Amendment Bill means burglar could sue if bitten by dog. This is not what people voted Conservative for!
900 WORDS OR MORE
Rafael Behr, writing in the Observer, asks: "One nation under Ed – but what would he actually do?"
John Rentoul, writing in the Independent on Sunday, says: "The economic tide has turned, but Labour won't admit it."
Janet Daley, writing in the Sunday Telegraph, says: "Leaders need convictions – and courage – like Lady Thatcher."
Got something you want to share? Please send any stories/tips/quotes/pix/plugs/gossip to Mehdi Hasan (mehdi.hasan@huffingtonpost.com) or Ned Simons (ned.simons@huffingtonpost.com). You can also follow us on Twitter: @mehdirhasan, @nedsimons and @huffpostukpol