A Nike t-shire with the slogan "Boston Massacre", with bold white lettering dripping with blood is reportedly being removed from stores in the wake of the Boston marathon bombings.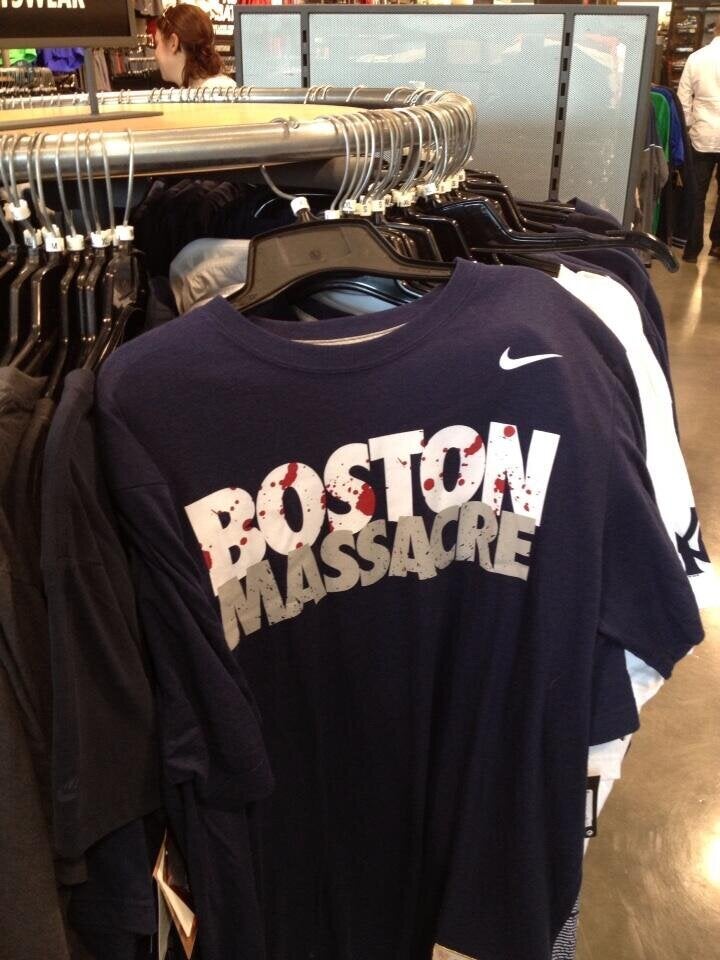 The Nike t-shirts with the slogan 'Boston Massacre'
Several people tweeted seeing the t-shirts in Nike stores in the US, including Late Show with David Letterman producer Eric Stangel.
ESPN reporter Darren Rovell reported that the sports retailer had pulled the t-shirt from its stores. The Huffington Post UK has contacted Nike for comment.
The meaning of the slogan may well be lost on British readers.
Its origin is historial, the Boston Massacre occurred on March 5, 1770 when British soldiers, came to support a single sentry who was being heckled by a crowd. The soliders turned on the crowd, killing three instantly, and two dying later of injuries. The British captain, and eight men, were arrested for manslaughter.
But of course, that would also be an odd slogan for a Nike T-shirt, which in fact refers to a baseball event and the rivalry between the New York Yankees and the Boston Red Sox, one of the fiercest in the sport.
Fans of the Yankees still remember the 1978 "Boston Massacre", when the team came back from miles behind in the World Series, the Red Sox leading by 14 games. The lead was shrunk to just four games, of which the Yankees won all four in the series, becoming known as the "Boston Massacre".
A spokesperson for Nike told the Huffington Post UK: "The shirts being referenced are older baseball shirts that were predominantly being sold through our Factory Stores Outlets.
"In light of the tragedy in Boston we took immediate action last week to remove this product from distribution."
Related