'Broadchurch' didn't let us down in a final episode where the killer's identity proved to be only one of the enormous presents from this series that kept on giving until the very last reel. NOTE: DON'T READ ANY FURTHER IF YOU HAVEN'T SEEN IT YET...
EXTRA, UNBROADCAST SCENE BELOW...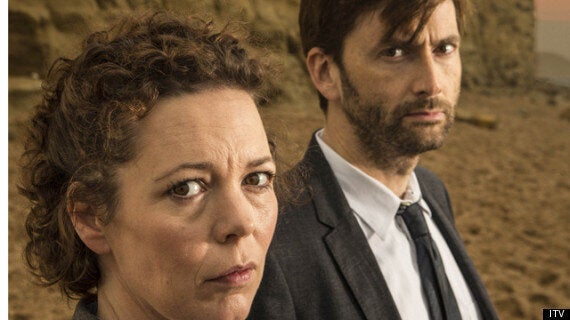 Finally, Detectives Miller and Hardy faced up to the truth of who killed Danny Latimer
This final hour found Detective Hardy with more colour in his cheeks than we'd seen in many a week. But it was with reason. Convinced he'd solved the crime, he had the GPS tracking of Danny's phone, turned on again by the presumed murderer, and was heading purposefully in that direction.
With the camera cutting between each of the suspects in their various abodes, it reminded me of that episode of EastEnders, when the father of Michelle's baby was about to be unmasked. But it did the job, building up the tension unbearably as Hardy wandered around in slo-mo, closing down on his culprit. Bravo to the sound men for making a walk through a suburban house so chilling.
Did you guess who the killer was? How early on did you get it, and what was it that gave it away? Let us know below...
We didn't have to wait long. The shoe dropped 15 minutes into the episode, with Danny's killer unmasked. His motivation remained a bit shrouded, but we got enough to uncover his regret, desperation and despair. And his identity meant that the following 40 minutes were to be just as challenging, with us waiting for the other, bigger clanger, because Hardy had to tell the culprit's wife. Who just happened to be his closest colleague.
Are you happy with the way Broadchurch finished? Let us know, and click here for everything you want to know about 'Broadchurch' on our dedicated page
One of the most impressive aspects of this was the changing relationship between the two detectives, and bravo to David Tennant and Olivia Colman for bringing out all the shock, sadness but also comradeship in their altered circumstances.
BELOW: AN EXTRA, UNBROADCAST SCENE - DANNY'S WAKE
While Miller had barely concealed her concern for the physically fragile Hardy during the previous few episodes, he became the only person she could turn to now. And it was all the more touching when Hardy referred to her as Ellie, with his compassion for her clearly apparent as she faced her loneliest hour head-on, and added her name to Broadchurch's long list of victims.