Formula 1 heiress Tamara Ecclestone has won the latest round in a custody battle over a rare Lamborghini Aventador.
The 28-year-old socialite daughter of Bernie Ecclestone was at London's High Court with fiance Jay Rutland to hear Mr Justice Warren direct that the car, which she bought for £380,000 in April 2012, should be kept safely in a garage chosen by her lawyers, until a full hearing.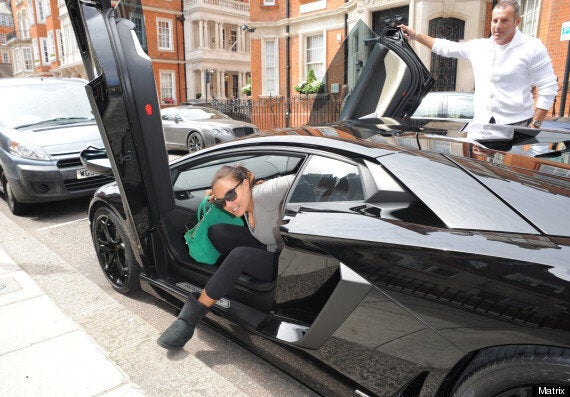 Tamara Ecclestone, Omar Khyami and the Lamborghini in happier times
Her counsel, Andreas Gledhill, said that Ms Ecclestone's ex, Omar Khyami, from whom she split last July, asserted that she gave him the car as a birthday present, which she denied.
Earlier this month, the Lamborghini was collected from a London pound, where it had been taken while away for a service, and turned up in a garage controlled by Elite Performance Cars Ltd, from whom Ms Ecclestone had originally bought it.
Mr Gledhill said that, unbeknown to Ms Ecclestone, Mr Khyami had borrowed money from Elite and given the Lamborghini as security for the loan.
Ms Ecclestone's position was that this was nothing to do with her, as Mr Khyami did not own the car, and began proceedings for its return.
Mr Gledhill said that the Lamborghini was then sold by Elite to Ansol Trading Ltd in part exchange for a Mercedes plus £118,000.
Elite's case was that it was entitled to do so as it had a security over the car which Mr Khyami said had been a gift.
Ansol says that it was an innocent party in all of this but has agreed to hold on to the car - although a Turkish buyer had been found - pending the legal proceedings..
The judge said that it was unsatisfactory that the car should remain in Ansol's custody pending resolution of its ownership, despite its undertaking, and Ms Ecclestone was entitled to see it in a safe place unconnected with any of the defendants.
Ms Ecclestone made no comment after the hearing, which her lawyers said would "hold the ring" until a court could decide the issue.
Popular in the Community