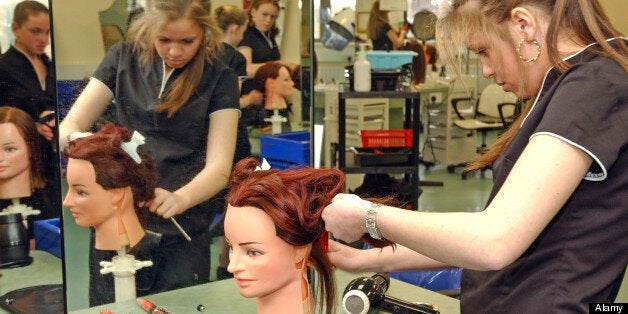 Schools and colleges will be judged on how many sixth-formers gain good vocational qualifications, it was announced on Monday.
Ministers have revealed details of a new "Technical Baccalaureate" which they said will mark achievement of students who choose to take vocational rather than academic courses such as A-levels.
Under the plans, 16 to 19-year-olds in England will have to complete a programme of three separate courses to achieve the TechBacc.
This includes a high-quality vocational qualification which is equivalent to an A-level, a maths course, and the "extended project" - an existing qualification designed to test skills such as writing, communication and research.
The TechBacc, which will not be not be a qualification but a measure to use in league tables, will be introduced this autumn, and count in the tables from 2017, the Department for Education (DfE) said.
Ministers insisted the move will put vocational education on a par with A-levels.
Skills minister Matthew Hancock said: "The TechBacc will be a mark of achievement for young people who successfully study three key elements - a rigorous high-quality vocational course, maths and literacy.
"We are being clear to our young people about the skills they need to succeed and get good jobs. We want an education system in which everyone can reach their potential."
He added: "Our reforms to post-16 qualifications, including the introduction of the new TechBacc, will do that.
"They will incentivise the development of high-quality courses and incentivise schools and colleges to offer the courses that get young people on in life.
"We expect all bright students who want to go into technically skilled jobs or apprenticeships to aim for the TechBacc."
Mr Hancock first revealed Government proposals for a TechBacc in December.
Labour leader Ed Miliband also mooted the idea for a TechBacc in a speech at their party conference last October.
Under Labour's plans, the TechBacc would be awarded at 18 to youngsters who complete a programme of work experience, school-based vocational training and academic courses in English and maths, he said.
Official figures show that in 2011, around one in four young people studying in further education - around 320,000 students in total - were taking advanced vocational qualifications and had already passed their maths and English GCSEs.
It is thought that many of these could take courses which will make them eligible for the TechBacc, the Government said.
The DfE said that the TechBacc is likely to suit young people hoping to work in science and maths-based jobs such as lab technicians, IT technicians or construction, service roles like hospitality or personal services and creative industries such as digital media or design.
Ministers have already announced plans to cut the numbers of vocational courses that count in school league tables.
The move came following a report into vocational training published in 2011 by Professor Alison Wolf which warned that many teenagers were being let down by the system, taking courses which were unlikely to help them in the future.
The Government is due to publish a list of the A-level equivalent vocational qualifications which it believes are high quality and will continue to count in league tables, and towards the TechBacc, later this year.
It is also expected to publish details of new maths courses for post-16 students.
Shadow education secretary Stephen Twigg said: "This is a small step in the right direction, but it doesn't match the scale of the challenge our education system faces.
"While Labour propose a gold standard Technical Baccalaureate open to all students to aim for, David Cameron and Michael Gove want to limit aspiration for the forgotten 50%. So some students will be able to do high quality vocational courses, while others will be left on the scrapheap.
"We need to give all students the opportunity to aim high with a rigorous technical qualification and all pupils studying English and maths to 18."