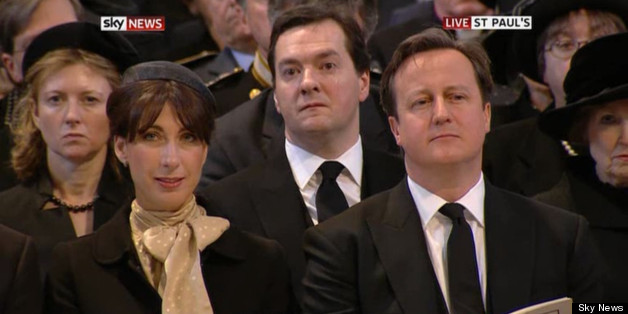 Sky News
George Osborne has described how he "welled up a bit" during Margaret Thatcher's funeral.
The Chancellor was caught on camera with a tear rolling down his cheek during Wednesday's ceremony.
And he was asked about his "weeping" when he appeared on the BBC's Today programme on Tuesday morning.
"I think weeping is putting it a bit strongly," he told presenter John Humphreys.
"Yes, I welled up a bit. It was a very emotional and moving occasion, and at time overwhelming."
The funeral had been a "fitting tribute" to the Iron Lady, he said, and the service had been "powerful".
"I was caught on camera so I can't deny that I welled up," he said.
There followed an awkward exchange when Humphreys asked whether he cried often.
"I get a tear in my eye, sometimes just when I listen to the Today programme headlines," the Chancellor added.
SEE ALSO:

George Osborne cries, the internet goes nuts