Luis Suárez's 10-match ban, pending an appeal, was always likely to prompt a flurry of back - and front - pages asking rhetorical questions as to whether he will leave Liverpool. And effectively all the tabloid and broadsheets have run with the same line.
The usual hacks on the Merseyside beat are in unison that the Uruguayan's controversial time in England could end this summer, as Liverpool's 2013-14 season is threatened by a setback before the current term has even ended.
The Independent seem underwhelmed by the brouhaha however, opting for a story about Fernando Torres showing some teeth (badum) amid speculation Radamel Falcao could join Chelsea this summer.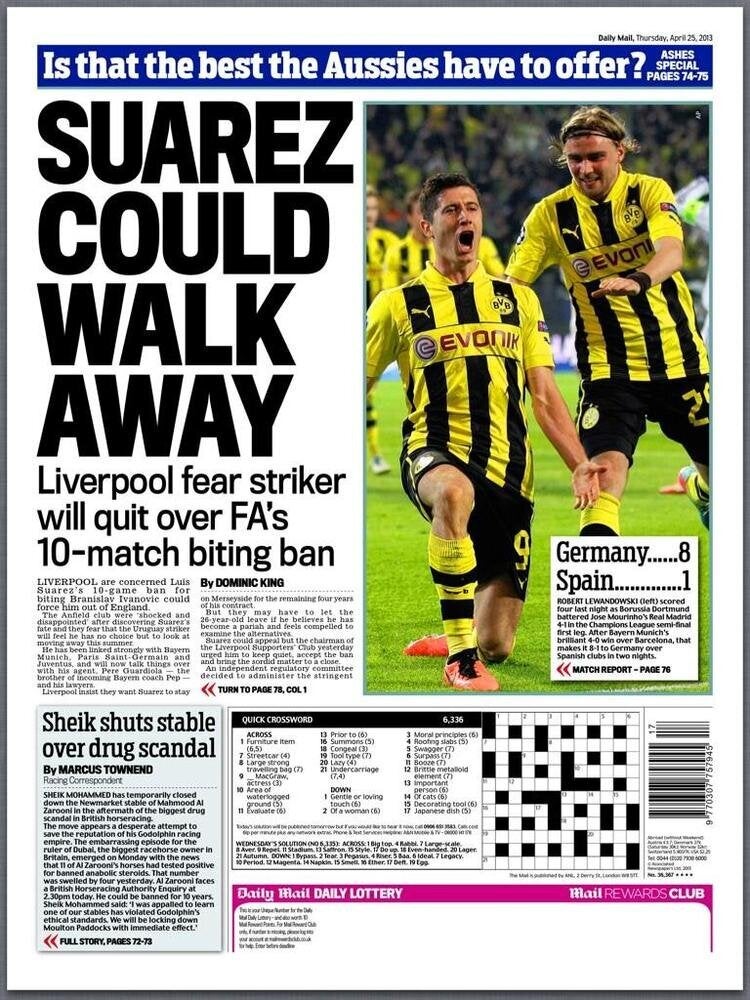 Suárez: What the papers say
Only Suárez could shift a man scoring four against Real Madrid in the Champions League final to the side, and he does so in the majority of papers, although the Times and the Mail opt to make Robert Lewandowski the main splash picture.
The earliest Suárez can next play for Liverpool, providing his appeal is unsuccessful, is September. Should his 10-game suspension be upheld, he will miss the first five Barclays Premier League fixtures next season, as well as Liverpool's 2nd round Capital One Cup tie.
Liverpool say they are "shocked and disappointed" by the ban, but as someone observed yesterday, Suárez was banned for eight matches and warned about his future conduct next season when he racially abused Patrice Evra in 2011. So the Football Association meting out a lengthier ban is arguably appropriate.