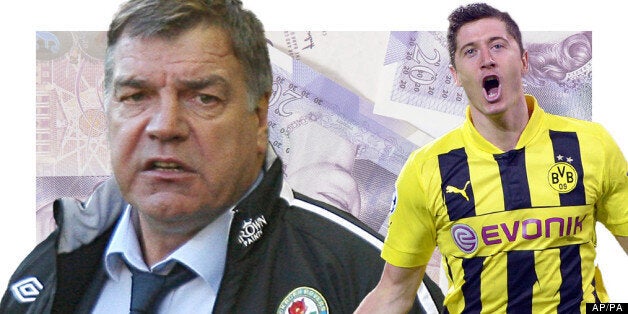 "Sam, this is Sam from The Huffington Post." I forgive the PR lady for omitting the second syllable.
"Ah good name," beams Allardyce, shaking my hand firmly. "Good taste. Your mum must've liked me."
"Well, not too much, I hope." It's a woeful attempt at an ice-breaker but he bursts into genuine laughter.
It is the second time I've been in the presence of Allardyce and "Big" is an understatement. In terms of stature, maybe he is "more suited to Inter or Real Madrid".
Allardyce can afford to be relaxed. He and West Ham smashed the coveted 40-point barrier against Wigan on Saturday, effectively dashing any lingering pessimism among supporters they could succumb to a collapse. Currently on 42 points, it is the same amount they finished with when they finished in the bottom three 10 years ago, becoming the only club to be relegated in the Premier League era with over 40 points.
Back then, Allardyce was the enemy who led Bolton to survival, dancing with Jay-Jay Okocha on the Reebok turf while Hammers fans sobbed at St Andrews and bid farewell to Paolo di Canio. The scars from the ordeal were still raw when Allardyce was announced as Avram Grant's successor in 2011, but he's healed them with promotion at the first time of asking, and, as Play-off winners, they're sitting prettily in 10th.
Nestling down on a sofa that is nearly as big as him at the Soho Hotel, the conversation feels like an end-of-year review. He doesn't let his guard down, acknowledging the Hammers aren't "mathematically safe but 42 points is going to be enough," he shrugs. "And I think we'll get more points in the next four games."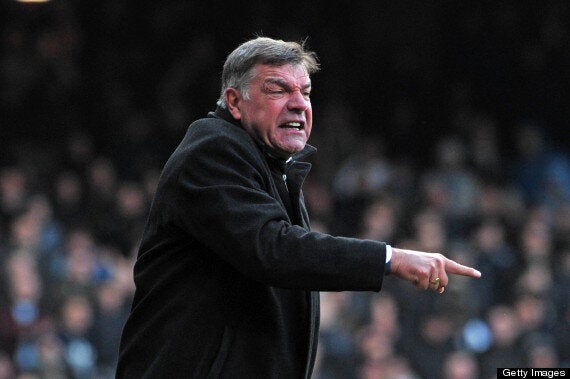 Allardyce boasts an excellent record in the Premier League over 12 years
So he's pleased with how the campaign has gone?
"I'm more than pleased," he proclaims, not dissimilarly to Brian Blessed. "I'm absolutely delighted with the progress we've made. At the start of the season it was all about 'let's aim for as high as we possibly can' and I think because of our quality start to the season, that took a lot of the fears of playing back in the Barclays Premier League away from the lads and gave them confidence. That confidence got knocked somewhat in the December months when we had a bad spell but we've come through that and had a real good run in the last eight games."
Over seven successive seasons, Allardyce upgraded Bolton Wanderers from relegation fodder into one of the Barclays Premier League's most daunting opponents. Having evaded relegation in 2003, Allardyce's Bolton finished eighth, sixth, eighth and seventh in his final four seasons. Scapegoated on Tyneside, he then went on to bring stability at Blackburn before his nonsensical sacking by the risible Venky's owners after two years acted as the catalyst for the Lancashire club's spiral. Then West Ham got their managerial bargain.
Often prudent in the transfer market, Allardyce brought in 11 players during the summer and winter transfer windows to retain West Ham's status in the top tier at a cost of £19.75m. That's half the amount and five players less than their doomed capital neighbours Queens Park Rangers have spent.
However Allardyce's best signings have been on frees. Youri Djorkaeff, Okocha and Ivan Campo were a trio of throwback mavericks who dazzled Bolton fans and Mohamed Diamé's switch to Upton Park from Wigan last year represents one of the best value-for-money deals in the Premier League.
"Diamé, particularly being on a free, yes," he acknowledges when asked about who the star signing is. "And we now have the best crosser in the Premier League in Matt Jarvis. We paid a reasonable amount of money (£10.75m) for Matt and he's obviously been a success as well.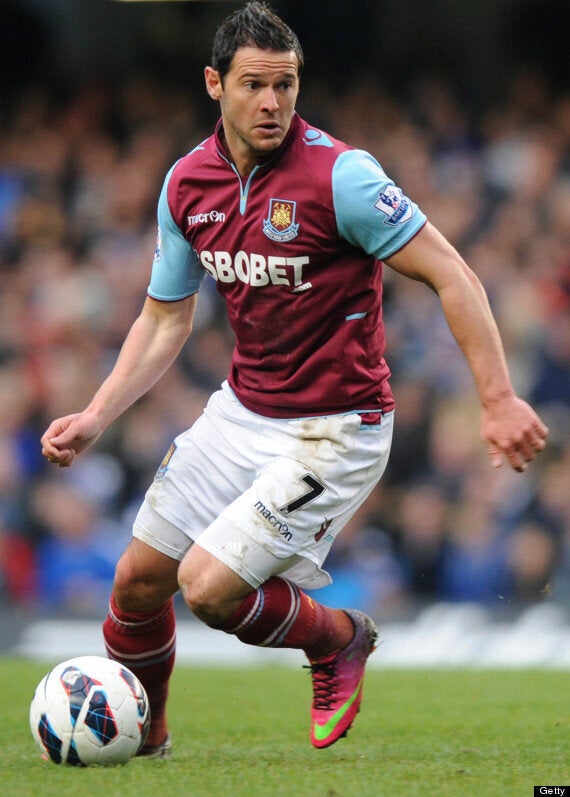 Matt Jarvis is "the best crosser in the Premier League", according to Allardyce
"Mo became an instant success with the fans, Matt took a little bit longer to settle in but now he's firing those crosses in on a regular basis, especially with Andy Carroll now fully match-fit."
He ends his reply and before I can move on is quick to praise another James Collins, before bemoaning James Tomkins' treatment under Stuart Pearce's Team GB at the Olympics.
"James Tomkins was fantastic last season, but he had a particularly poor summer what with being excluded from the Olympic team, so he ended up missing pre-season with us. They weren't doing the same type of training at the Olympics, but had he have played - which is what I expected him to do - he'd have been okay. But when he came back it was difficult for him."
Collins has formed a solid partnership with New Zealander Winston Reid, while West Ham have registered an impressive 10 clean sheets back in the Barclays Premier League. "It's a great basis of being successful," notes Allardyce.
We chat the day after Robert Lewandowski produced one of the great individual Champions League displays, hitting four past Real Madrid in Borussia Dortmund's superb semi-final win.
Allardyce shares a quirky history with the Poland striker, predictably referenced on the Twiitersphere as Lewandowski garnered comparisons with Marco van Basten and added another £10m on to his worth. In 2010, Allardyce's scouts at Blackburn identified the then Lech Poznań goalscorer as a must-buy, then the volcanic ash erupted and the cloud intervened.
So did the eruption of Eyjafjallajökull really scupper Allardyce's efforts to buy one of Europe's best strikers?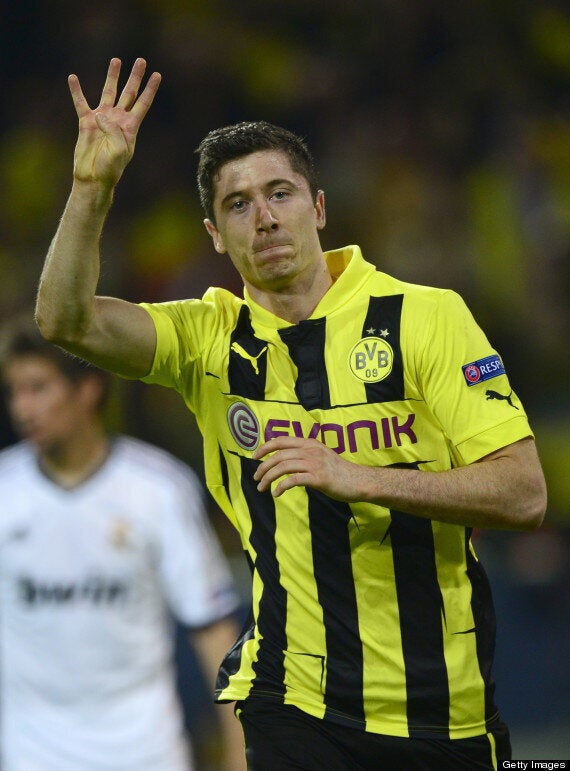 Allardyce identified Lewandowski's goalscoring prowess three years ago
"Not really, the volcanic ash cloud stopped it but it didn't stop us wanting to sign him," he clarifies. "What stopped us from signing him was the money, I was told at that time, wouldn't be available.
"I think it was around €3m or €4m, which was obviously difficult when your scouting network had found a top player that would score goals, but that happens in the game. Sometimes there's a player you find but it wasn't the right time for the club, which was a really frustrating thing."
Instead, Allardyce is working with the most expensive British footballer in history. Now Andy Carroll has regained his fitness, ideally Allardyce would have him complement Jarvis on a permanent basis. Luis Suárez (who Allardyce opined is player of the year)'s 10-match suspension could feasibly affect the chances of Carroll continuing to play under his kindred spirit, but Allardyce says his Liverpool counterpart Brendan Rodgers has not been in contact.
"That'll be left until the end of the season," he assures. "That's a distraction if you start doing those type of thing at this stage. Our present focus is to try and create another upset against Manchester City."
For a club whose supporters preach the importance of attractive football, Allardyce's appointment could have backfired. Occasionally there are murmurs from the Upton Park stands at the team's physicality, and the pressure to deliver quality as well as quantity is a familiar one for the 58-year-old.
"They're a bit similar to the Newcastle fans. They turn up in their thousands and they want to see you - your team - know what its doing and committed to the football club, wearing your heart on your sleeve and producing exciting performances."
He is under no illusions that, with a move to the Olympic Stadium scheduled and their Premier League status consolidated, the expectation is that West Ham will progress. And despite settling down south after spending his entire English managerial career in the north, Allardyce is genuinely impassioned about his club's aura
"The West Ham fans want to see progress and continue to get better. One thing that's been great this season has been selling out every week at the Boleyn Ground and only losing four games there."
"Even the games we've lost the fans have appreciated the quality of the performances and in your first season back up to lose only four at home and against that opposition is pretty good value."
Sam Allardyce joined the panel at FWA Live sponsored by Barclays, an event bringing together a host of football writers to discuss all the key stories in the Barclays Premier League. For more information on the event please visit www.footballwriters.co.uk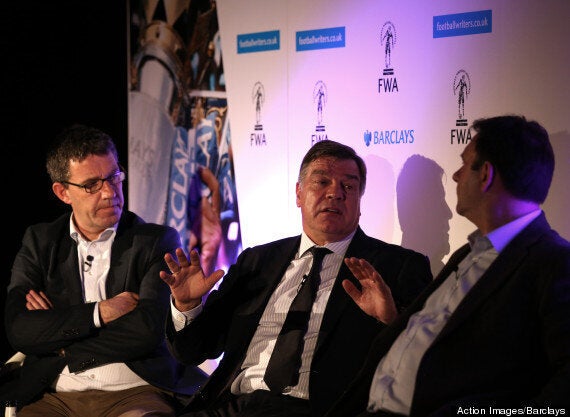 Related