The Duchess of Cambridge looked as fresh as a daisy on Friday as she arrived at Warner Bros studios in Hertforshire, along with Princes William and Harry.
Dressed in a £38 polka dot dress from Topshop, Kate seemed cheery about visiting the studios where the Harry Potter movies were produced.
The royal trio were there to officially open the studios and meet with local dignitaries and senior executives. The Duchess of Cambridge wore a £38 Top Shop dress
Props, costumes and models from the movies that chronicle the boy wizard's adventures were on display for the royal guests.
Also invited for the visit were 500 children, and their parents, associated with charities that have one of the royals as their patron.
Futuristic vehicles from the Dark Knight Batman trilogy, made by Warner Bros and starring Christian Bale in the lead role, were the first items on display including the Tumbler - the caped crusaders' Batmobile and his bike the Batpod.
William joked about taking over the Batman role with Josh Berger, president and managing director of Warner Brothers UK, Ireland and Spain, telling him: "Christian Bale's getting old and tired... I will stand in if I have to."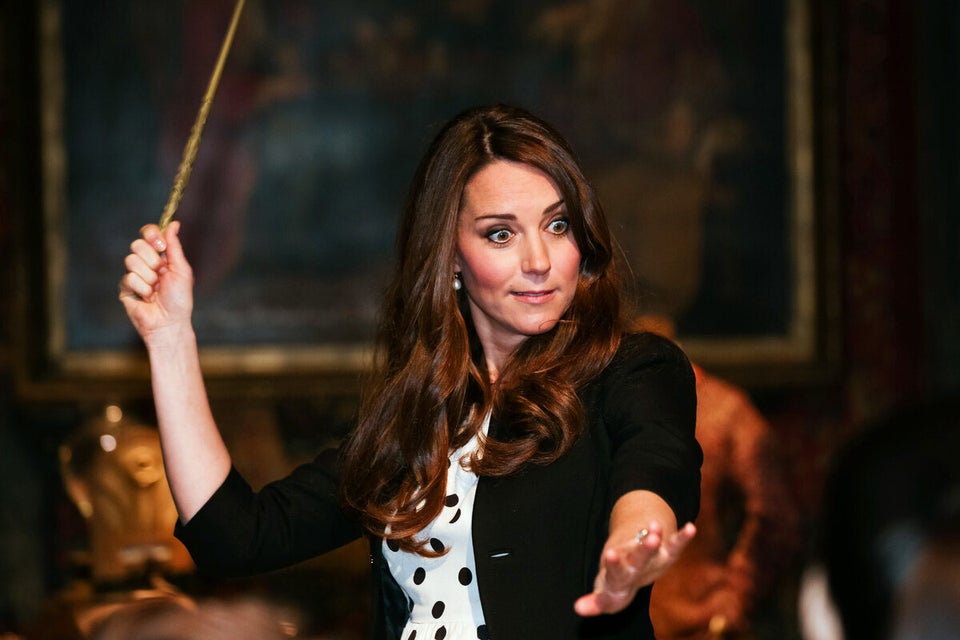 Royal visit to Warner Bros Studios
William could not resist jumping on the Batpod and he leaned forward and gripped the handlebars of the vehicle as Harry and Kate looked on.
The Duke joked "Where's the start button?", adding "It's awesome, absolutely incredible" while his younger brother put his fingers beside his head for Batman's ears and said "You need the ears".
The fun with the boys' toys continued with the nearby Batmobile as William smiled and clambered inside.
Harry peered into the hatch as his brother made himself comfortable next to a studio worker. Then he stuck his fingers in his ears as the vehicle, which has a 5.7-litre engine with 350bhp, was revved hards.
When William finally emerged, he said: "I'm a very happy man" but he then spotted his wife and apologised, saying: "Sorry, sorry".
Popular in the Community