There is "limited but growing evidence" that chemical weapons have been used in Syria's civil war, David Cameron has said.
The Prime Minister said he agreed with US President Barack Obama that the issue was a "red line", but said it was unlikely that it would lead to British troops on the ground in Syria.
It came as footage claiming to show the aftermath of a chemical weapon attack was posted on Youtube.
Speaking on BBC Breakfast on Friday morning, Cameron said: "It is very disturbing what we are seeing. It's limited evidence but there's growing evidence that we have seen too of the use of chemical weapons, probably by the regime.
"It is extremely serious, this is a war crime, and we should take it very seriously."
After the experience of Iraq, Britain and the United States are determined not to be drawn into action on the basis of intelligence which could turn out to be faulty.
Both London and Washington have called on Bashar al-Assad to allow United Nations inspectors to carry out a full investigation to establish what had happened.
On Thursday night the White House said the US intelligence community had assessed with "varying degrees of confidence" that chemical weapons had been used by the regime on a "small scale".
Cameron said they were trying not to make the mistake of "rushing into print" and were working to consider and verify the evidence with Britain's allies.
"But this is extremely serious, and I think what President Obama said was absolutely right - that this should form for the international community a red line for us to do more.
"I have always been keen for us to do more. We are working with the opposition, we want our allies and partners to do more with us to shape that opposition to make sure we are supporting people with good motives who want a good outcome, to put pressure on that regime so we can bring it to an end."
Asked if there could be troops on the ground in Syria, he said: "I don't want to see that and I don't think that is likely to happen, but I think we can step up the pressure on the regime, work with our partners, work with the opposition in order to bring about the right outcome.
"But we need to go on gathering this evidence and also to send a very clear warning to the Syrian regime about these appalling actions."
Cameron said intervention was already under way through measures such as trade embargoes, sanctions and travel bans.
"The question is how do we step up the pressure and, in my view, what we need to do - and we're doing some of this already - is shape that opposition, work with them, train them, mentor them, help them, so that we put the pressure on the regime and so what we can bring this to an end.
"It is extremely difficult though, and extremely frustrating."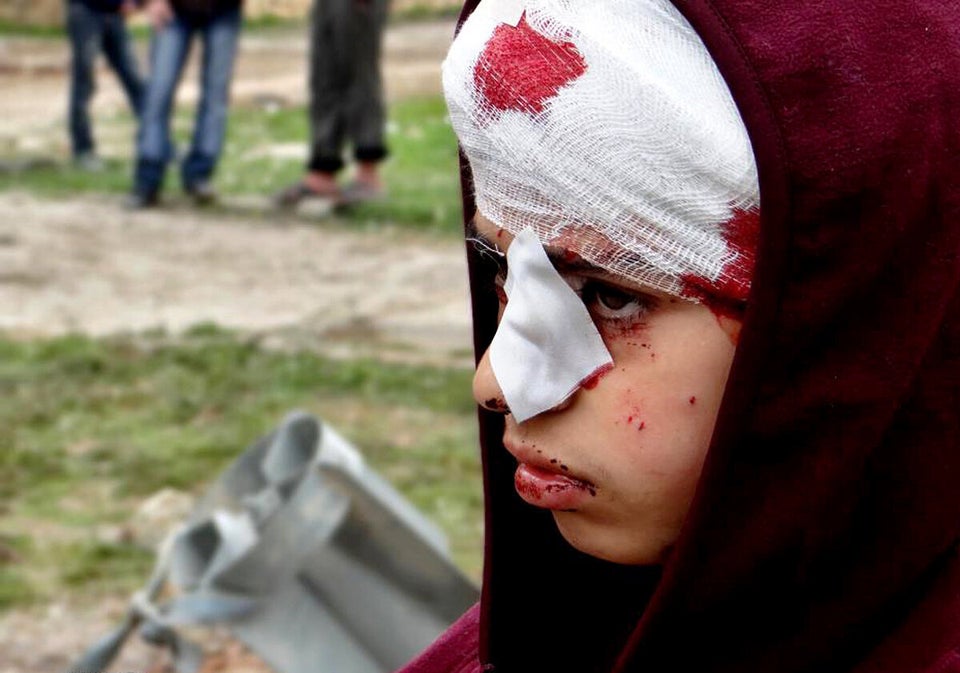 March 2013: The Bloodiest Month Yet In Syria