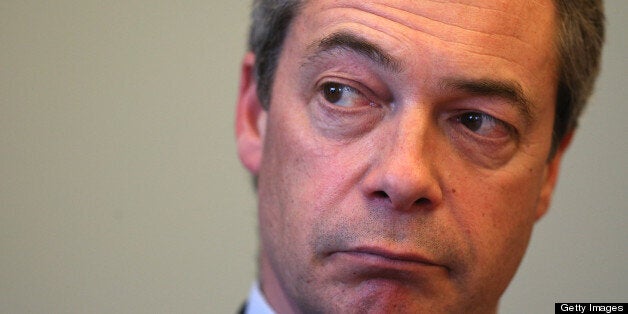 Ukip has accused the Tories of running a "morally reprehensible" smear campaign by trawling through would-be councillors' Twitter and Facebook posts.
The party - which is investigating a handful of candidates over links to groups such as the BNP and alleged racist and homophobic comments - said it did not condone "unpalatable views".
But a spokesman insisted it would not bow to a "political lynch mob".
On Sunday morning, Cabinet Minister Ken Clarke was asked about David Cameron's 2006 description of Ukip as a party of "fruitcakes" and "closet racists."
"I have met people who satisfy both those descriptions," he replied.
The row came as emails leaked to the Observer revealed that one of the party's MEPs is concerned about excessive "political correctness" among new recruits.
Godfrey Bloom also complained that forging Ukip's policy platform is like "herding cats", insisting senior figures needed to learn to toe the line.
In the recent exchange with Treasurer Stuart Wheeler, Mr Bloom cautioned that "some quite senior party members are going to have to stable their hobby horses".
"Having worked on the defence paper for over one year it would appear Ukip has more military and naval experts than we have soldiers," he wrote. "Most of them do not agree with each other. It is like herding cats.
"We are also attracting new members who bring main party 'baggage'. Focus groups, quotas, even political correctness. We must be wary of listening to these siren voices. We did not get where we are today by following, but leading."
The MEP said he had been in talks with free market think-tanks including the Institute of Economic Affairs and Civitas, and suggested Ukip could buy their policies "off the shelf" where they are close to "our own small government, low tax, libertarian position".
Mr Wheeler apparently responded: "I could not agree more strongly that some people will have to get off their hobby-horses."
A Ukip spokesman said: "What you are seeing is discussions about policy development. Mr Bloom would like to get things done rapidly, Mr Wheeler would like to ensure that consensus is reached. It merely displays creative tension that in the end will produce a far better policy platform than we might have otherwise without due discussion."
The spokesman added: "We have evidence that Conservative Campaign Head Quarters has been scrutinising each and every one of our 1,732 candidates, monitoring every social media output over the last few years.
"Were we inclined to return the favour, we would find even more examples to use against them.
"We deem that using our candidates as cannon fodder to undermine a political campaign (is) morally reprehensible and downright dirty.
"We are an open minded party who believes that ordinary hard working men and women who want to serve their communities should not be subject to a political lynch mob. We are fighting this campaign on principle NOT dirty politics.
"However, we absolutely do not condone homophobic, xenophobic, extreme nor unpalatable views, therefore we will take each individual case on merit."
Transport Secretary Patrick McLoughlin said Ukip candidates were being put under the same scrutiny as those from other parties.
"Candidates are always put under scrutiny and I think it's right. Why should Ukip candidates get away without any scrutiny when other parties have scrutiny as far as their candidates are concerned?" he told BBC One's Andrew Marr Show.
"I don't know anything about a smear campaign."
Asked whether it was right to trawl through would-be councillors' social media accounts, he said: "I don't know whether that's happened, I'm just saying it happens to all parties and candidates are put under scrutiny."