Students in the UK have been urged to campaign to pressure Swaziland to free an NUS president and human rights campaigner who has been arrested and reportedly tortured.
Maxwell Dlamini has been charged with sedition against the Swaziland government after taking part in a Swaziland Youth Congress (SWAYOCO) rally earlier this month, it was was revealed over the weekend.
On Tuesday, the National Union of Students (NUS) told The Huffington Post UK Dlamini had been tortured since his arrest last week but could not disclose its sources. The union has now written to Mark Simmonds MP calling on him to urge the UK to pressure Swaziland to free Dlamini.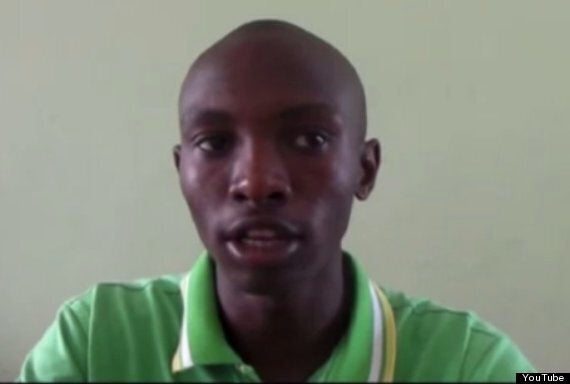 Maxwell Dlamini has been arrested and tortured due to his involvement in student protests
Dlamini is currently the general secretary for the SWAYOCO, a youth wing of The People's United Democratic Movement. The group regularly holds peaceful pro-democracy rallies. In 2011, Dlamini was arrested the night before he planned to lead thousands of students on a protest, and charged with possession of illegal ammunition - something which he denies. The government have been accused of driving a smear campaign against Dlamini, a popular figure among students who campaigns for free primary school education for all.
According to the petition, which is addressed to the government of Swaziland, Dlamini has also been forced to sign a confession which says he is guilty of possessing explosives during the Swazi Uprising in 2011, a movement inspired by the Arab Spring.
Dlamini recently spoke at the NUS' national conference earlier this month, highlighting his group's work for democracy, the "respect of human rights" and education for all students in the country.
He told delegates: "Today as the student's of Swaziland, we ask for your solidarity and the hand of friendship to the students, youth and oppressed people of Swaziland."
Maxwell Dlamini speaking at the NUS' national conference, shortly before his arrest
No freedom can come on a silver platter; no freedom can be achieved without men and women, especially the youth, committing themselves to struggle," the statement read. "Let us not give this brutal regime space to breathe, let there be no normal business in this country until victory is pronounced."
The Swaziland Solidarity Network issued a strongly-worded statement condemning the actions of the government and Swaziland's king Mswati III:
"The youth wing of The People's United Democratic Movement (PUDEMO) held a short lived rally on Friday at Msunduza. Unfortunately, the king's police disturbed this rather educational and peaceful gathering by firing teargas and stun grenades at the youth without any provocation...
"...Since the purpose of the rally was to make potential voters aware of the fraudulent nature of the Scheduled Tinkhundla lections, it is important to note that the population has been systematically denied access to information, which already renders any future election held under these conditions neither free nor fair...
"...We have also noted with deep concern that two members of SWAYOCO were arrested at the rally and are yet to be formally charged. We condemn this extreme show of brutal force on unarmed and peaceful youths. We hope that the world sees Mswati for the monster that he is."
Dom Anderson, vice president of society and citizenship-elect, said: "This year at NUS National Conference we were lucky enough to be sent a fraternal greeting by a truly inspirational activist, someone who has fought for education against an absolutist regime and someone who despite every setback refuses to be bullied into silence. What an inspiration to our movement here in the UK.
"Sadly the odds he and his allies work against are much higher than ours and he faces persecution from his government regularly.
"If we as a movement sit back and allow this to happen without giving our utmost in support and solidarity then we are sending a message that education is not worth fighting for."
Popular in the Community