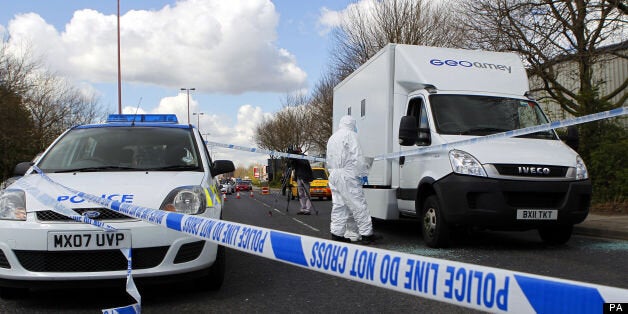 Two prisoners have escaped from custody after a prison van was attacked in Salford, Greater Manchester Police said.
The van came under attack shortly after 9am on Regent Road, a main road into Manchester around half a mile from the city's crown court and Strangeways prison.
Police said two men were freed from the vehicle and the response is "ongoing", with a large number of officers deployed to the area. Stevie McMullen, 31, left and Ryan MacDonald
Ryan MacDonald, 20, and Stevie McMullen, 31, were freed in Salford by three men - one believed to have been armed - who attacked the van as it made its way to Manchester Crown Court where they were due to be sentenced.
Chief Superintendent Kevin Mulligan told a press conference that both men "represent a risk to the community, in particular Stevie McMullan", urging anyone who saw them to call 999 immediately.
"I am concerned about them being on the loose, they are responsible for some serious offences," he said.
"I don't think they pose a risk unless approached so it's really important that if anyone sees them they contact us straightaway."
A man and a woman are in custody after being arrested on the Ordsall Estate, where the Saab car used to take the men from the scene was later abandoned, he added.
The brazen rush-hour raid took place just off the same stretch of road as a similar attack on a prison van.
Liverpool gangsters Tony Downes and Kirk Bradley escaped in the ambush in July 2011 as they were being taken from Strangeways jail to their trial at Liverpool Crown Court.
Popular in the Community