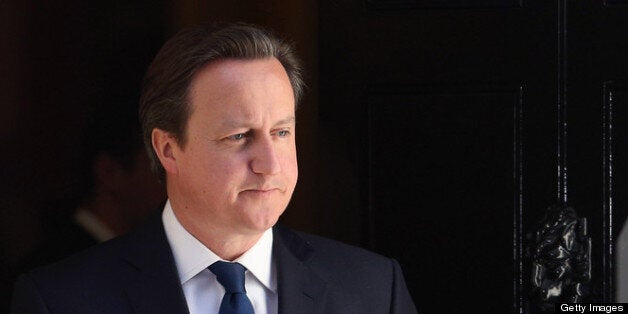 David Cameron has said he will "show respect" for Ukip in the wake of Nigel Farage's stunning election surge that saw the eurosceptic party grab 23% of the vote and 139 council seats.
The prime minister famously derided Ukip as being full of "fruitcakes" and just last weekend Tory cabinet minister Ken Clarke said the party's candidates were "clowns".
About 2,300 council seats were up for grabs on Thursday in 27 mainly English county councils. Cameron said he would take "major lessons" from the ballots that saw the Tories suffer significant losses.
"We need to show respect for people who have taken the choice to support this party and we are going to work really hard to win them back," he said.
"I understand why some people who supported us before didn't support us again. They want us to do even more to work for hardworking people to sort out the issues they care about."
The prime minister added: "It's no good insulting a political party that people have chosen to vote for."
Michael Fabricant, the vice-chairman of the Conservatives, said whatever the reason for the Ukip vote "let us now be polite to Ukip and their supporters".
Noting Cameron's previous mocking of Ukip, Lord Ashcroft, the former deputy chairman of the Tory party, tweeted sarcastically: "Congratulations to the 'clowns' and 'fruitcakes'!!! That worked!!"
Farage has said his party was "abused by everybody" and writing on The Huffington Post UK he said his candidates had been subject to "false allegations and downright intimidation".
The Ukip leader has predicted his party would cause an "earthquake" in British politics as it looks to win the 2014 European elections and then secure one or more MPs in Westminster in 2015.
According to a Ukip spokesperson, as well as winning at least 100 seats the party came second in 634 other races and only 32 candidates garnered less than 10%.
The surge in support for Ukip will worry Tory MPs and councillors who fear the tremors caused by Farage's party will doom the Conservatives to lose the next election by splitting the right-wing vote.
However Michael Gove swiftly shut down any suggestion Cameron's position was in danger. He told BBC Radio 4's World at One programme that he had "no respect" for members of his party who wanted a leadership election. Describing any move to oust the prime minister as "bonkeroony".
The Labour Party has recovered many of the seats it lost when elections were last held in 2009 - however Ed Miliband has not seen a significant breakthrough.
In the South Shields by-election , Labour's majority was cut by more than 4,500, with Ukip coming second with nearly 25% of the vote.
The Blairite former home secretary Alan Johnson said Miliband needed to make a "fresh offer" to voters in order to become prime minister in 2015.
The Labour leader conceded: "I recognise the vote for Ukip and the two-thirds of people who didn't vote, that there are still lots of people saying can anyone turn this country around?"