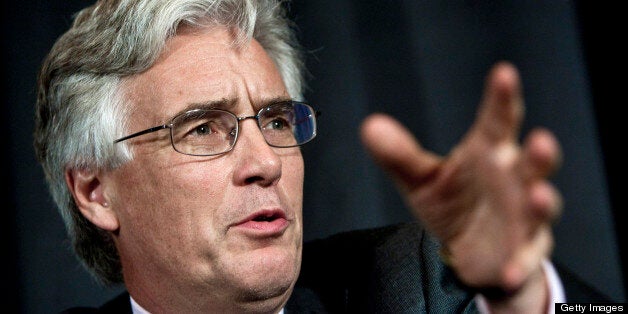 The former chair of the Financial Services Authority (FSA), Adair Turner, has called on the government to be "more cautious" about austerity and expressed concerns that there could be another financial crash in the next "10 or 15 years".
Speaking to the Huffington Post UK's political director Mehdi Hasan, on the new Al Jazeera English interview series "Head To Head", Turner said "we have been too certain that short-term austerity can produce a benefit. I think it's not true that short-term austerity produces a confidence effect."
As chair of the FSA, Turner was barred from making overtly political statements but, now freed from these constraints, he has launched a pointed attack on austerity measures for the first time.
In what will be seen as a critique of the chancellor George Osborne's fiscal policies, the former regulator said: "I think the difficulty is that when the public debt levels go up in the crisis you feel you've got to get that under control.. but if you try and get it under control quickly, by cutting public expenditure or increasing taxes in the short term, you can enter a cycle where the very process of trying to get your debt levels down mean you never get the debt levels down."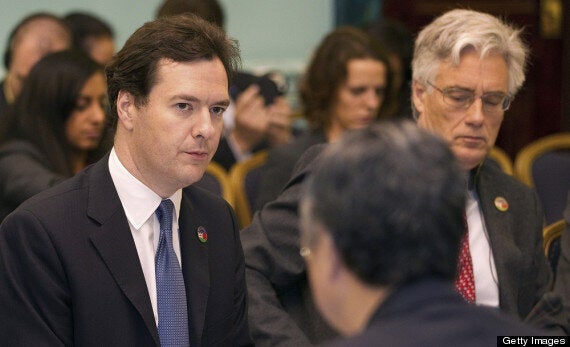 Turner and Osborne attend a UK-China economic forum in London in September 2011
Echoing a view often expressed by Labour's shadow chancellor, Ed Balls, Turner favourably compared the high-growth stimulus record of the Obama administration in the United States with the low-growth austerity record across Europe. "If you look in the US up until now they haven't gone heavily down the austerity route and if you look at this year where this is a fiscal tightening going on.. we're now seeing some signs that that's slowing the US economy this year."
Turner said he was concerned about the national debt but wanted "a very balanced approach, which has a point of view of how we get public debt burdens under control over the medium term but is more cautious about short-term cuts and fiscal auterity than most countries have been so far."
He also repeated his call for "helicopter money", or "running increased public expenditure or tax cuts and paying for it not with money that the government borrows but with central bank-created money", referring to it as a "radical idea".
During his five-year tenure as head of the FSA, which was abolished by the government in April, Turner was one of the most influential financial policymakers in the world. He told Hasan that he had supported the 2008 bailout of the banks by the British government but would have preferred a full-scale nationalisation of RBS and HBOS. "I think we should ideally not have put money in, we should have nationalised them and wiped out the equity holders and, ideally, we should also have wiped out the subordinated debt holders."
A former banker himself, Turner said he was "worried" about the prospect of another banking sector crash "in 10 or 15 years". "We'll make the same mistakes again," he said. "I am concerned that we have not been radical enough in our reforms."
Turner, now a senior research fellow at the George Soros-funded Institute for New Economic Thinking (INET), said he wanted to see "much less leveraged banks" and argued that directors of banks that fail should be "automatically banned" from working in the financial services industry again.
Mehdi Hasan's "Head To Head" interview series on Al Jazeera English will begin airing on 7 June.