A pet dog has been forced to have emergency surgery after eating sausages filled with nails.
Police have appealed for information after Meggie, an eight-year-old mountain dog cross, needed a £1000-worth of surgery to remove the ten nails she had swallowed in a garden in Aberdeenshire.
The couple that own the dog have asked to remain anonymous. Police believe Meggie was targeted deliberately.
Scottish SPCA chief superintendent Mike Flynn, said: "Thankfully incidents of this nature are rare but nonetheless very concerning and we are relieved to hear Meggie is recovering from her ordeal.
"Causing an animal unnecessary suffering is an offence, therefore we urge anyone with information about this matter to contact the police immediately."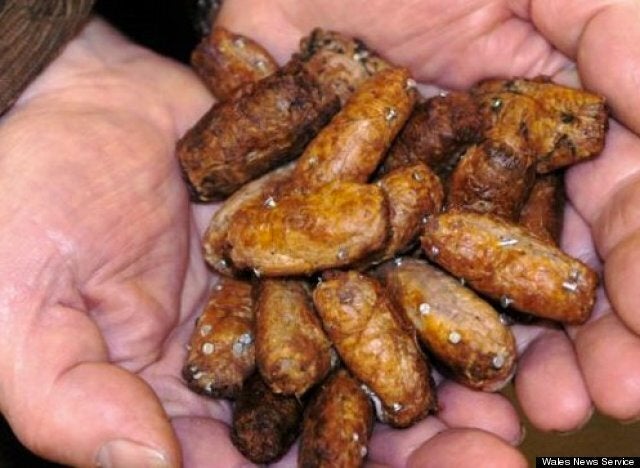 A picture of the nailed sausages found in Abergavenny
It is not the first time this cruel activity has caused harm to dogs. In January dog walkers were urged to be vigilant after dozens of cooked cocktail sausages spiked with nails were found in Llwynu Lane, Abergavenny.
Anti-animal cruelty charity Peta offered a reward of up to £1,000 for information leading to the arrest and conviction of the culprit in February.