Sir Alex Ferguson is giving serious consideration about ending his 26-and-a-half-year reign as Manchester United manager.
Fresh from his 13th Premier League title win, Ferguson, 71, will undergo a hip operation in the summer and is set to miss the start of United's 2013-14 season.
Although questions were raised as to why Ferguson would not undergo surgery during the club's pre-season tour of Asia, rumours of his impending retirement may explain the lack of alacrity. Ferguson has insisted he will continue managing English football's most successful club providing his health enables him to. He had a pacemaker fitted in 2004 because of a heart irregularity.
Everton coach David Moyes, who Ferguson is a vocal admirer of, is believed to be the United manager's preferred choice to replace him.
United have not confirmed or denied the story, but they will be forced to adhere to the regulations of the New York Stock Exchange, following last August's partial flotation. Since the possibility of Ferguson leaving his post is highly significant and relates to the running of the club, a statement is essential.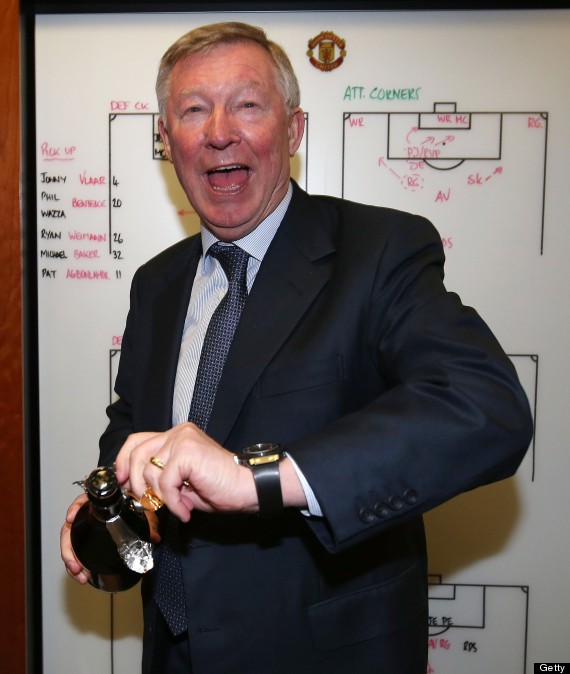 Ferguson celebrates winning his last ever major trophy as United manager two weeks ago
United players were briefed of major news during their golf day on Tuesday, further intensifying speculation the Scot was set to quit.
In his programme notes ahead of Sunday's fixture with Chelsea, Ferguson said: "This team of champions is not going to go away – we are here for the long ride! We will get better and if we apply ourselves in our normal fashion I see our 20th league title as nothing but the start of another decade of success.
"Whether I will be here to oversee another ten years remains to be seen, but I certainly don't have any plans at the moment to walk away from what I believe will be something special and worth being around for all to see.
5 REASONS WHY MOYES AT UNITED WOULD BE A DISASTER
"It's always difficult in football to be absolutely sure of the future because the game has a habit of tripping you up, but I don't live in a fantasy world."
One bookmakers slashed odds on Moyes succeeding Ferguson at the weekend after a flood of bets, while it is unlikely United have not considered José Mourinho, set to depart Real Madrid this summer, to replace Ferguson. The Times write that talks between Mourinho and Chelsea, where he is hotly tipped to return, have stalled.
Although Ferguson has regularly stated his regret at winning just two European Cups, he has the chance to leave Old Trafford having overseen United comprehensively regain their title from Manchester City.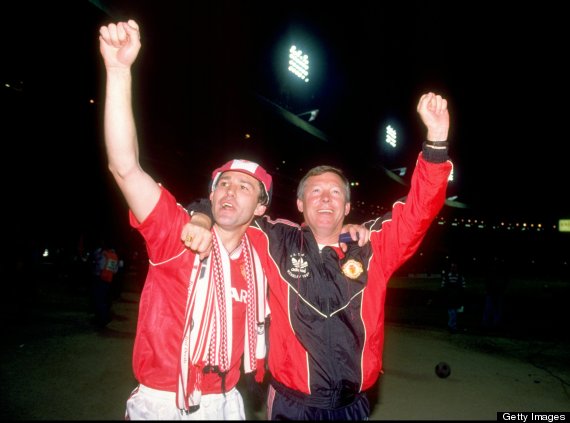 Ferguson celebrates his first trophy as United manager, the 1990 FA Cup, with Bryan Robson
Ferguson succeeded Ron Atkinson in November 1986 and has presided over the most successful spell in United history.
Aside from the 13 titles he has led the club to, he has won five FA Cups, four League Cups, two European Cups, a European Cup Winners' Cup, the Intercontinental Cup and the Club World Cup.