Nerve agent Sarin appears to have been used in the devastating two-year civil war in Syria, David Cameron said, as he prepared to travel to Russia for urgent talks on how to end the bloodshed.
There is a "growing body of limited but persuasive information" showing that Bashar Assad's brutal regime has used chemical weapons, he said.
Cameron told MPs he will fly to Russia for talks with president Vladimir Putin on Friday and warned that a proper negotiation to "force a political transition" was urgent.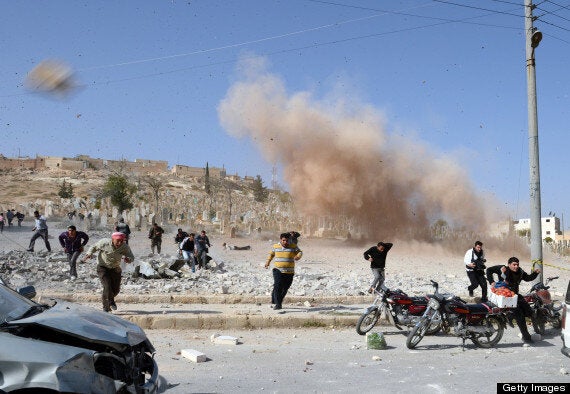 Syrian people take cover as a second bomb explodes while civilians were undertaking a rescue attempt in nearby a building that was hit by a previous bomb during an air raid by government forces
Russia and the US, which have been deeply split on the best solution in Syria, said they would work to revive a transition plan initially laid out in 2012 and were committed to bringing the Damascus government and rebels to the negotiating table.
More than 70,000 people have died in the conflict since March 2011, according to the United Nations.
Cameron told MPs: "I've tasked the chairman of the joint intelligence committee to give the national security council constantly-updated assessments of the information we and allies have.
"I can tell the House today that there is a growing body of limited but persuasive information showing that the regime has used and continues to use chemical weapons, including Sarin.
"And the room for doubt about this continues to diminish. We will continue to take action on every front, working with our allies, backing the Opposition, pushing for a political solution."
Cameron's official spokesman said that the Prime Minister would also use his talks with Putin to discuss the upcoming summit of G8 leaders being hosted by the UK in Lough Erne, Northern Ireland, next month.
The meeting follows talks with G8 leaders Angela Merkel of Germany and Stephen Harper of Canada in recent weeks, and Cameron also intends to speak with US president Barack Obama and French president Francois Hollande before the gathering, said the spokesman.
Earlier, Cameron was briefed by US secretary of state John Kerry on plans to convene an international conference on Syria later this month.
The two men talked by phone following Kerry's departure from Moscow, where he has been holding talks with President Putin and foreign minister Sergei Lavrov. Foreign Secretary William Hague had spoken to Kerry earlier as he travelled to Moscow for the discussions.
Cameron's official spokesman told a daily Westminster press briefing: "Mr Kerry briefed the Prime Minister on his discussions with the Russian government and the Prime Minister very much welcomed the developments in Moscow as a positive step forward."
Announcing the new initiative in the Russian capital, Kerry said it was up to the Syrian people whether President Assad should leave office. A successful conference might remove the need for the international community to consider arming the Syrian rebels who have conducted an increasingly bloody uprising against Assad's rule.
"Despite different points of view, committed partners can accomplish great things together when the world needs it," Kerry told reporters in Moscow. "And this is one of those moments."
Former international development secretary Andrew Mitchell called for stronger American leadership on the Syrian crisis during the Commons Queen's Speech debate.
He said the crisis was a "desperate situation" that would "pollute" good will in the wider region.
He said: "We need much greater leadership by the United States of America. Nothing is going to happen to address this without a far greater commitment from the United States.
"There are signs the new Secretary is addressing this point but we need to accept, and America's allies need to accept, that only if we are able to persuade the US to shoulder the leadership only they can provide, will we see progress made.
"That is not just about the United States but it is about the United Nations as well - the fact the permanent five do not agree on Syria is not a barrier to the United Nations to strive in every way it can, stretch every sinew, to try and make progress in this desperate situation."
Conservative MP John Redwood told the Commons debate on the Queen's Speech that he welcomed Cameron's wish to try diplomacy but he also hoped the Government resisted any "hot-headed" moves to commit troops to Syria.
He said: "None of us like what the regime is doing - the terror, the bombings and the huge loss of life is unacceptable.
"But we also know the forces of opposition range from the friendly and those in favour of democracy and liberty to very different types of people who we would not normally choose to be our allies."
Redwood added he also hoped the Government will be very careful before thinking the idea of "killing some more Syrians" might be a helpful contribution to an "extremely dangerous situation".