This week's student musician actually a band - Alaskan Faction, who hail from Nottingham University. Charlie, Dan, Michael and Nathan, all 21, make up the indie band. Michael and Dan study Physics, Charlie does Finance & Accounting while Nathan studies Physiotherapy.
How long have you been playing?
Just over a year now, we formed in March of 2012.
What genre of music do you play?
Some kinda upbeat indie/ shoegaze pop. Some pretty inoffensive stuff that has a bit of a dancey rhythm to it.
Why did you start playing?
We basically started playing music as an upbeat escape from our studies at University. We all picked degrees that aren't particularly interesting and wanted to get a bit more out of the Uni experience so music seemed like the perfect answer.
What's your most memorable musical moment?
On the one year anniversary of our first ever show (which was probably the worst thing that people have ever had to stand and listen to awkwardly for 15 minutes), we were played on Radio 1. It was a definite milestone for the band.
We would love to get the chance to play our music all over the world. We're not really in it for the money but it would just be amazing to travel and play anywhere we can.
Who's your idol and who would you most compare yourself to? (Dead or alive...)
We all have quite a few different idols. Dan loves Oasis. Nathan loves the Beatles. Charlie likes the Red Hot Chili Peppers. Michael loves Nikki Minaj.
We all like bands like Foals, Bombay Bicycle Club, Two Door Cinema Club, Peace and Swim Deep.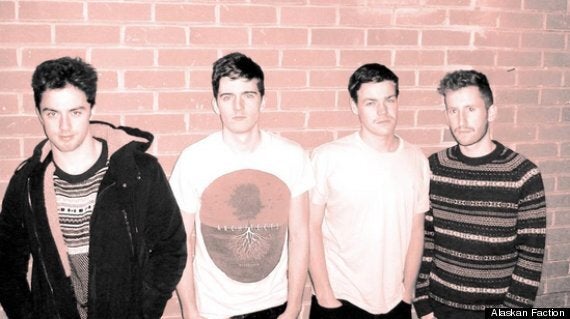 The Alaska Faction dreamboats
If you could play with anyone, who would it be?
It depends on what direction we go with the band. It would be great to play with any of our previously listed influences but if we diversified into rap/rock then it would be great to collaborate with Snoop Lion or Dre.
If you could play at any festival, which would it be?
Glastonburry or Coachella would be AMAZING. There are so many incredible festivals though and I'm pretty sure we'd play anything that came our way.
Beautiful, talented, amazing people.
What's your all time favourite song?
Probably "What You Know" by Two Door Cinema Club. It was the first song that we all collectively agreed upon and the first song that we jammed together.
Alaskan Faction is taking part in the Uni Music League competition and has made it to the finals on 9th May at the O2 Academy in Islington.