In a bid to improve improve the effectiveness of its campaigns to help young people in trouble, a child abuse support charity has taken an innovative approach.
The Spanish Anar foundation (Aid to Children and Adolescents At Risk) have put up billboards that look different to children and adults.
A film recently released on the web (above) demonstrates how these smart billboards contain a hidden message, designed to target abused children who need help.
Viewers who are shorter than 4t 5in will see a child covered in bruises, alongside a confidential helpline telephone number.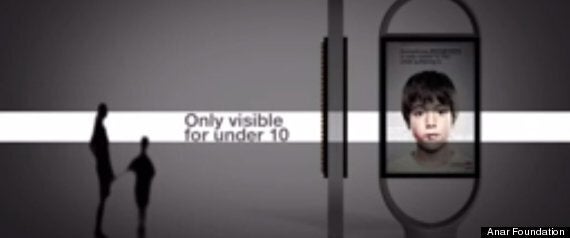 Example of how the advert targets children rather than adults
The message reads: "If somebody hurts you, phone us and we'll help you."
As average-height grown-ups will be unable to see these images, the charity hope this 'hidden message' will enable children to seek help, even if they are accompanied by their abusers.
According to TechCrunch.com, the technology (employed by advertising agency Grey Spain) is relatively simple.
"The secret is a precisely serrated surface, a Lenticular lens, that reflects light differently to those looking from above and below a specified height," writes Gregor Ferenstein.