What should a woman do when her boyfriend refuses to kiss her, on camera, in front of thousands of people? Pour a drink over him and storm out, of course.
The incident was captured during a routine 'Kiss Cam' -- a US sporting ritual, where the camera zooms in on spectating couples, who then kiss each other in front of hundreds of other sports fans.
But on this occasion, things didn't exactly go to plan.
As the camera focuses in on the young couple, the woman obliges and leans in for a kiss.
But she is batted away by her boyfriend -- twice, in front of the entire stadium audience -- because he is too engrossed in his phone call.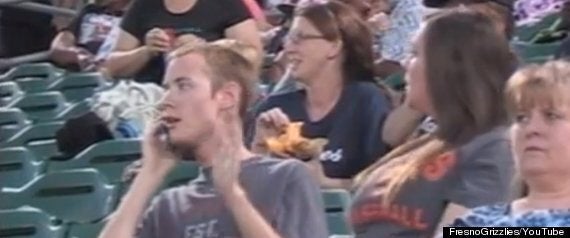 The man refuses to kiss his girlfriend on camera
She reacts (understandably so in HuffPost UK Lifestyle's opinion) by pouring her drink on him and storming out, sparking speculation of a break-up.
Many Reddit, YouTube and Twitter users have claimed the incident was staged. The baseball team responded to allegations on Twitter:
It seems that no one can escape the kiss cam's leering gaze, not even the rich and famous. the Obamas and the Beckhams have both been snapped smooching in the audience.