Prince Harry's support of a landmine clearance charity was praised as he began his tour of America by visiting an exhibition highlighting the organisation's vital work.
Harry made the trip to Capitol Hill in Washington on Thursday to see a moving photographic display which is raising awareness about the efforts of the anti-landmine charity the Halo Trust.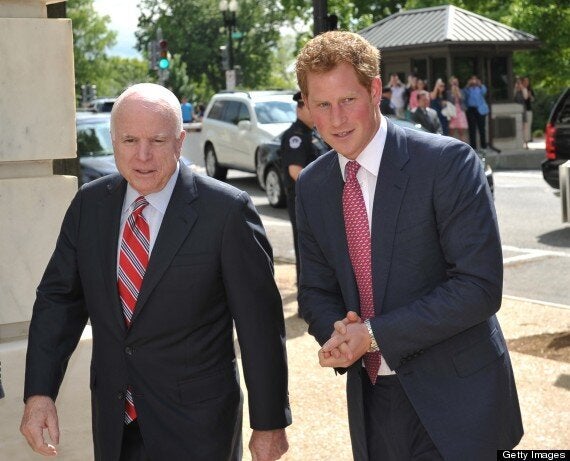 Prince Harry is met by Senator John McCain in Washington
His seven-day tour will see him attend the Warrior Games, a Paralympic-style sporting championship for injured servicemen and women, support British interests and promote his own charities.
The royal has followed in the footsteps of his mother Diana, Princess of Wales by supporting the Halo Trust, founded in 1988, and this year he became patron of its 25th anniversary appeal.
Diana famously highlighted the work of the organisation when she was pictured wearing a face mask and protective clothing during a visit to a minefield being cleared by the Trust in Angola in 1997.
Harry also visited Africa to promote the charity's work travelling to Mozambique in 2010 where under supervision he detonated several mines and met people who had lost limbs to landmines.
Fiona Willoughby, wife of Guy Willoughby Halo's chief executive officer, took many of the pictures on display.
Mrs Willoughby, the Trust's marketing manager, said the photographs, taken from 2009 to earlier this year, catalogued the story of landmines - showing an amputee landmine victim, Halo staff clearing ordnance and finally land free from mines being used.
Countries featured in the images include Sri Lanka, where a protracted and bloody civil war ended in 2009, southern Angola and Afghanistan.
Mrs Willoughby said: "Having Prince Harry attend our exhibition makes it a global issue.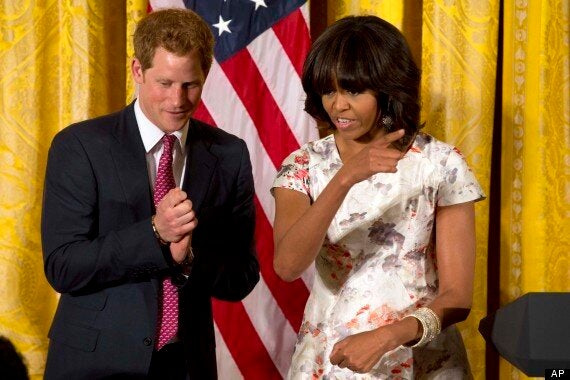 Prince Harry also dropped in at the White House for an event hosted by First Lady, Michelle Obama
"People have forgotten about it and we think Prince Harry following in his mother's footsteps is a worthy cause and will raise the profile of what we are doing.
"He's a soldier he's been to Afghanistan so he understands landmines, he understands conflict and the landmine clearance that's need."
Mrs Willoughby stressed that with committed help from world leaders landmines could be eradicated: "We don't want to be here in another 25 years, we are looking for government support, if it comes and the funds come in the job can be done and we can get it finished."
Around 500 screaming girls gave Harry a pop star reception when he arrived at the Russell Senate Office building on Capitol Hill for the exhibition and more were waiting inside.
But Harry barely glanced at them so keen was he to see the exhibition.
He was joined by former presidential candidate Senator John McCain who stepped in as a replacement for his wife Cindy, a leading US anti-landmine campaigner, after she was taken ill.
Despite Harry's lack of interest in his fans around 50 girls got close enough to him as he chatted to Mr McCain.
One woman said: "You could hear hearts breaking all over the room when he left. He is so cute, better than I expected."
Mr McCain said: "He was kind of embarrassed (by the screaming), I think a normal reaction.
"I'm sure it's not the first time he has had that experience, but in all the years I've been coming here I've never seen such an unbalanced gender gap."
Mr McCain, a former fighter pilot who was held hostage after being shot down in Vietnam, said: "He knew I had been shot down and I told him he was probably a much better pilot than me because he hadn't been shot down."