Disgraced former Cabinet minister Chris Huhne repeated apologies for his wrongdoing on Monday, saying that prison had been a "humbling and sobering experience".
The former energy secretary arrived back at the home he shares with his partner, PR adviser Carina Trimingham, in Clerkenwell, central London, after being driven out of Leyhill Prison in Gloucestershire.
Speaking outside the couple's flat, with Ms Trimingham by his side, Mr Huhne told gathered reporters to "calm down", before saying: "I would just like to say once again, as you know from the night I was sentenced, I said that I was very sorry for what I had done. It has been a humbling and sobering experience.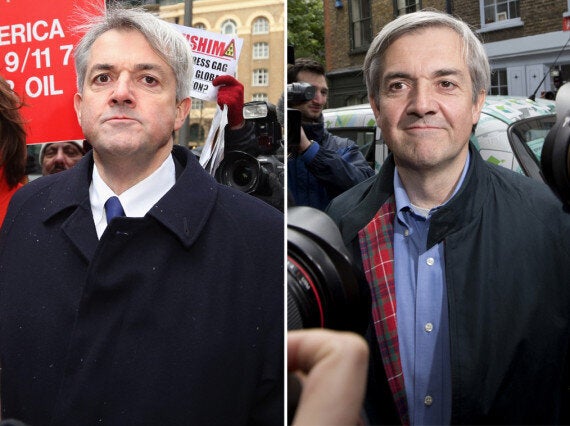 Before and After: Chris Huhne looks like a transformed man after nine weeks in prison
"I would like to thank all of those who have written to me - hundreds of letters that I have had - and all my family and friends who stood by me. And I would also just remind you that I have served only part of my sentence and therefore it is not appropriate to say more. I would now like to get on, get back to home, and continue with my life. Thank you for coming."
Huhne was jailed for eight months in March, alongside ex-wife Vicky Pryce, after finally admitted passing speeding points to her a decade ago.
The shamed former MP for Eastleigh in Hampshire, who once aspired to be Liberal Democrat leader, had staunchly denied the allegations and battled for the case to be thrown out, before finally pleading guilty to perverting the course of justice on the first day of their trial in February. Both he and his former wife were released today, but will have to wear electronic tags.
Earlier on Monday, Pryce, who returned to her home in Clapham, south-west London after being released from East Sutton Park Prison near Maidstone, Kent, told reporters the first thing she planned to do was have a cup of coffee.
Her solicitor Robert Brown read a statement, in which she said she was pleased to be home and looking forward to returning to her career as an economist.
"Vicky Pryce is very pleased to be home and back with her family," he said. "She is grateful for all the support she has received from everyone whilst in prison, including her fellow residents and prison staff. She now intends to spend time with her family and looks forward to returning to her career as an economist."
Pryce, who will have to wear an electronic tag, has ideas to write about the economics of the criminal justice system, combining her economic expertise with her experience behind bars, but has not so far written a book on it, according to Brown. The Greek-born economist was jailed after being convicted of perverting the course of justice after a retrial at Southwark Crown Court.
During her trials, the court heard she revealed the speeding points scandal to newspapers in 2011 in a bid to "nail" her ex-husband, who had left her the previous year for PR adviser Carina Trimingham. The former power couple are yet to find out how much they will have to pay for the cost of their prosecution.
The Crown Prosecution Service (CPS) is seeking more than £100,000 in costs from Huhne, but last month a costs hearing at Southwark Crown Court was told the former MP's legal team had offered just £25,000. The CPS is seeking a total of £48,695.56 from Pryce, the court heard.