Paralysed fundraiser Claire Lomas has completed her challenge of riding 400 miles in three weeks using a customised hand bike.
She reached the finish line at the London Eye on Monday where she was greeted by supporters including football pundit Gary Lineker and former Spice Girl, Mel C.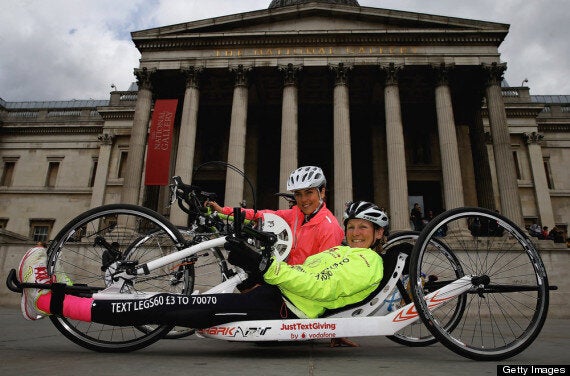 Claire Lomas and Mel C who rode the final few miles together through the streets of London
The 33-year-old from Melton Mowbray, who was left paralysed from the chest down following a horse-riding accident in 2007, became the first person to complete a marathon in a bionic suit last year.
She punched the air with delight after finishing her latest challenge next to the River Thames.
"In the first week there were times when I really wondered what I'd let myself in for.
"It's been so busy, full long days of talking to children and then cycling on. But it's the children's faces that have kept me going, to be in the position to get out there and talk to them about the difficulties I've faced since my accident and how I've rebuilt my life."
She set off from Nottingham Trent University last month and has raised over £72,000 for Spinal Research and the Nicholls Foundation.
Lineker, who cheered Ms Lomas across the finish line with his wife Danielle, said: "It's an unbelievable effort. (She's shown) great determination against adversity, against the odds, to do something like this."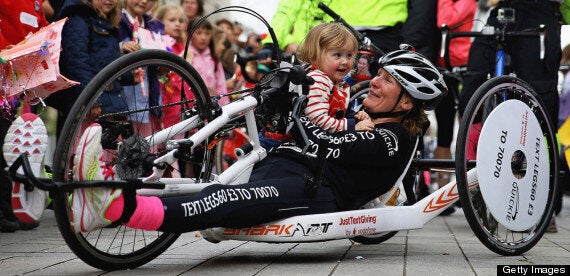 Claire Lomas with her daughter Maisie after completing her epic ride
He added: "She's an extraordinary lady and a true inspiration to all others."
Mel C, who rode with Ms Lomas through the streets of London, said she was "the most incredible woman I've ever met".
She went on: "After everything she's been through she's so positive, and she puts herself through so much to raise money for research."
Ms Lomas, who rode through 161 towns across 13 counties, said her arms had suffered "a severe battering" on the journey.
"It's definitely tougher than the marathon," she said. "The days have been so long, It's been three full weeks and there's been something every day."
She added that she would "love" to reach her target fundraising total of £100,000.
To donate £3 via JustTextGiving by Vodafone, text LEGS60 £3 to 70070.