UPDATE: Disney Pulls 'Brave' Merida's Sexy Makeover After Public Backlash (PICTURES)
Disney character Merida - the tomboy protagonist from last year's Oscar-winning animation Brave - has had a makeover.
Just in time for her induction to the brand's official Princess Collection, the bow-slinging red-head appears slimmer, sleekly tousled and yes, that looks like a sexy glint in her eye.
It's a slightly odd revamp for a character who does not pine for a prince to come to her rescue and who became beloved for her gung-ho attitude.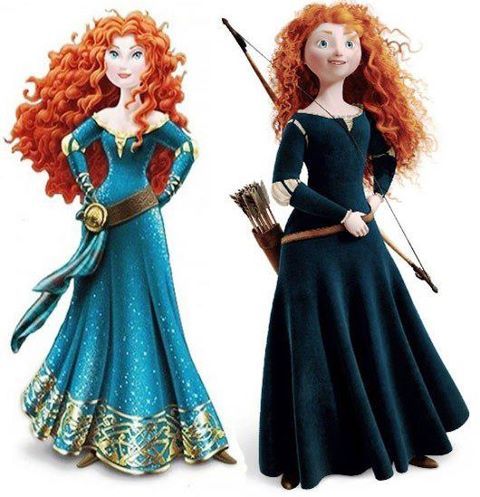 New Merida, left. Original Merida, right
Indeed, as HuffPost blogger Kristen Howerton wrote when the film was first released, "'Brave' may be considered by many to be the first feminist princess movie.
Female empowerment website A Mighty Girl is not happy with "the tremendous disservice" of Merida's redesign - and has filed a protest petition at Change.org.
Addressed to Disney chairman Bob Iger, the petition calls on the studio to return her to her former guise, attracting nearly 110,000 signatures in just a week.
Referring to the old Merida's "imperfections", the petition states:
"By making her skinnier, sexier and more mature in appearance, you are sending a message to girls that the original, realistic, teenage-appearing version of Merida is inferior; that for girls and women to have value - to be recognised as true princesses - they must conform to a narrow definition of beauty."
What's more, Merida's creator Brenda Chapman concurs.
In am email to her local newspaper The Marin Independent Journal, she claimed to have given Iger "a piece of my mind".
SEE ALSO:
She added: "I think it is atrocious what they have done to Merida.
"When little girls say they like it because it's more sparkly, that's all fine and good but, subconsciously, they are soaking in the sexy 'come hither' look and the skinny aspect of the new version.
"It's horrible! Merida was created to break that mold -- to give young girls a better, stronger role model, a more attainable role model, something of substance, not just a pretty face that waits around for romance."
What do you think?