The 37-year-old changed his plea on the fifth day of his trial at the Old Bailey, after days of shocking and graphic evidence, including a sickening picture of her posed in a sexual position, taken after she died.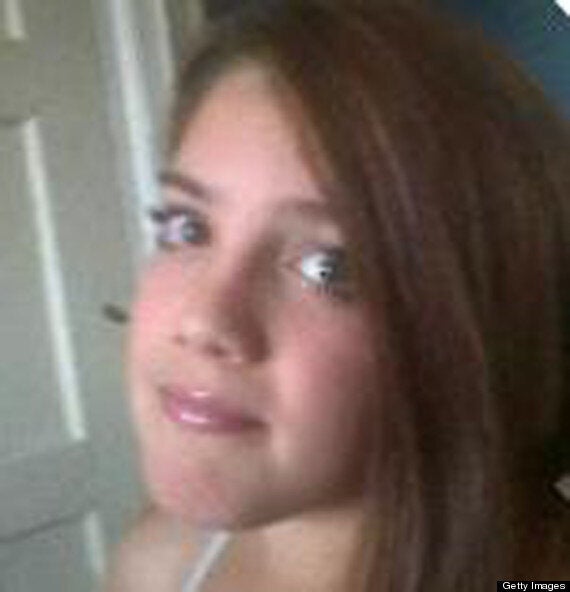 Tia Sharp was described as a 'sparky girl who was full of life'
There were sobs and a shout of 'beast' from the public gallery as Hazell was sentenced on Tuesday.
Tia's grandmother Christine Bicknell could be seen crying and hugging a relative.
Mr Justice Nicol said: "She was a sparky girl who was full of life but you took that life from her. All that lay ahead of her - a career, loves and family of her own - will now never be. And the loss of her has been devastating for her mother, her father and all her relatives and friends.
Hazell will live the rest of his days as a "marked man", universally despised as a "nonce" and cold blooded enough to play the worried relative after he killed his 12-year-old step-granddaughter.
Her blood was found on a sex toy in the house and on his belt, and his semen was on the bed clothes in the bedroom where she slept.
The son of a convicted criminal and a prostitute, he grew up in care and living rough on the streets, developing an addiction to alcohol in his early teens. His troubles with the law and substance abuse were referred to by Hazell himself as a "Hazell curse", in a letter he wrote to his father, in which he proclaimed his innocence. Mr Justice Nicol said there was 'no doubt' that Stuart Hazell had a sexual interest in Tia Sharp
His life as a petty criminal led to drug dealing and prison time after he was convicted in August 2003 to almost three years for selling cocaine.
After a brief relationship with her daughter, Natalie Sharp, Hazell started dating Tia's grandmother Christine Bicknell in April 2007 and moved into her New Addington house in south London shortly afterwards.
But it was in New Addington that he developed his sick sexual obsession with Natalie's daughter Tia, who he spied on and secretly filmed sleeping and putting cream on her legs.
The court heard that even after he had committed his horrendous crime, he compulsively looked at child pornography and visited a website glorifying incest.
Hazell murdered Tia when the pair were left alone on 2 August last year at the New Addington house while Ms Bicknell worked a night shift.
Her blood was found on a sex toy in the house and on his belt, and his semen was on the bed clothes in the bedroom where she slept.
After he murdered the 12-year-old, Hazell wrapped her body in a sheet and layers of plastic and hid it in the loft.
It was not found until a week after Tia died due to two failed police searches of the loft, for which Scotland Yard has since apologised.
After finding the body, police then realised that Hazell had a fascination with child pornography, and had searched for obscene material online using terms including "violent forced rape", "little girls in glasses" and "incest".
His change of plea on Monday meant that Tia's family will never hear his explanation of what actually happened on the night she died.
Some of Tia's relatives shouted "Nowhere near long enough" and "RIP Tia" as they walked past waiting journalists outside court.
The judge said it was most likely that Tia was smothered, and it was clear that Hazell had developed a sexual interest in her.
"There is no doubt that you had developed a sexual interest in Tia. The records of your internet searching on your mobile phone make abundantly clear that you were looking out for pornographic pictures of pre-teen girls, which Tia was; pornographic pictures of girls who wore glasses, which Tia did; even pictures involving incest.
"Tia was not your blood relation, but there was the bond between you because of your relationship with Christine, and from time to time you referred to yourself as Tia's grandfather. Tia Sharp's mother, Natalie, leaves the court after Hazell was sentenced
"You took pictures of Tia while she was asleep. In other contexts they would have been of no interest, but your internet activity included searches for pornographic pictures of young girls sleeping."
However, the judge said he could not be sure that Tia's murder was sexually motivated, which would have meant a whole life jail term, and that it could not be proved to the criminal standard that the photograph was taken of Tia after she died.
Mr Justice Nicol said the aggravating features in the case were "notable and serious".
"It is an aggravating feature that your victim was so young. So too is your abuse of trust. Tia's mother allowed her to come and stay with you because she trusted you to look after her. Christine was at work that night, she trusted you to look after her.
"By first sexually assaulting and then killing Tia you betrayed that trust in the most grievous way possible. And that breach of trust reverberates still.
"Tia's mother has spoken of how she now finds it hard to trust other people in many other ways.
"I have said that I cannot be sure that the photograph of Tia was taken after her death but, whenever the picture was taken, it shows that, beyond the sexual assault itself, you further degraded that young girl by photographing her in such a dreadful position."
The judge said Hazell would only be given "the most modest of credit" for changing his plea to guilty.
He told him: "Your counsel says that you wished to avoid causing further distress to Tia's family. That is very commendable, but they have had to endure four days of a very public trial.
"It was necessary for the prosecution to lay out for the jury your sexual interest in Tia and for the jury to see the photograph of Tia naked. Your plea of guilty has spared the family none of that.
"It may be the first act of remorse, as your counsel says, but because it comes so late I am afraid it will earn you only the most modest of credit."
Detective Chief Inspector Nick Scola said: "I am very pleased at today's sentence. A minimum of 38 years is satisfying for both the investigating team and Tia's friends and family.
"Hazell will have a very long time in prison to think about what he has done."
Chief Superintendent David Musker, borough commander of Croydon Police, said: "This is a deeply tragic case and I would like to express my sincere condolences to Tia's family and the wider community of New Addington and Fieldway.
"Stuart Hazell has rightly been convicted of this heinous crime on overwhelming evidence. I would like to thank all those in the local community who have supported and assisted Tia's family and the police to bring about this successful prosecution. Justice has been done.
"I would ask the local community for calm and sober reflection to honour Tia's memory."