 A quarter of gay people in European Union nations have been physically attacked, according to the biggest ever survey of its kind.
Released to mark the International Day against Homophobia and Transphobia, the report asked 93,000 people across Europe about their experiences of discrimination and violence.
It found that 26% of gay people had been "attacked or threatened with violence" because of their sexuality in the past five years.
The survey also revealed:
More than half of those attacked did not report the abuse
Almost half of people had been personally discriminated against or harassed because of their sexuality
More than 80% said they could recall homophobic bullying at school
Two thirds of LGBT people said they hid their sexuality during their school days
The survey's findings will be discussed at The Hague, where 300 politicians are meeting to discuss ways to stamp out homophobia.
Sam Dick, Stonewall's Head of Policy, said: 'This report reflects the findings of our own research and is yet another reminder that changing social attitudes is as important as changing laws.
"That's why Stonewall has worked closely with activists from a number of European countries to help their own campaigns to achieve full legal and social equality."
Meanwhile, a separate report, by the Thompson Reuters Foundation, said asylum-seekers were far more likely to have their applications rejected if they were lesbians or gay.
It cited a report that found 73&% of all asylum claims made in the UK were rejected at the first stage, compared to 98 to 99% made by lesbians and gay men.
The NUS has also reported that LGBT students are being driven out of sports clubs by homophobic bullying.
International Day against Homophobia and Transphobia marks 23 years since homosexuality stopped being classed as a mental illness by the the World Health Organisation.
Amnesty International used the occasion to highlight the scale of abuse in three countries: Jamaica, Ukraine and South Africa.
Gay men are labelled criminals in Jamaica, the campaign group said, while attempts to hold a Pride event in the Ukraine faced threats of violence and roadblocks.
In South Africa, Amnesty said, "homophobic hatred all too often leads to violent attacks and killings which frequently go uninvestigated by police."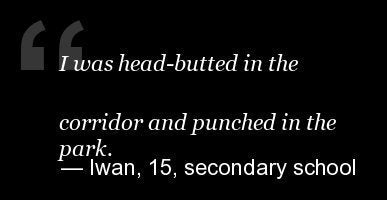 LGBT Bullying
Popular in the Community