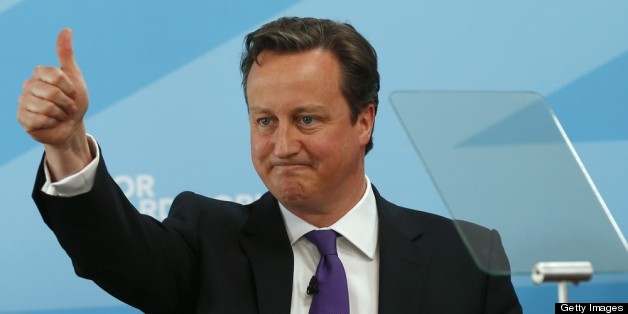 Getty Images
The five things you need to know on Sunday 19 May 2013...
1) SWIVEL-EYED LOONS, EH?
How many references to 'swivel-eyed loons' can you count on the front pages this morning?
"'Swivel-eyed loons' storm engulfs PM," screams the Mail on Sunday.
'Swivel-eyed loons' hit back at the PM, declares the Sunday Telegraph.
"PM goes to war with press over 'loon' slur," is the Independent on Sunday's headline.
"Tory chief on rack over 'loons' slur," says the Sunday Times.
The Sunday Times reports:
"A co-chairman of the Conservative party was embroiled in an extraordinary row last night over claims he had labelled Tory activists 'mad, swivel-eyed loons'.
"Lord Feldman, one of David Cameron's oldest friends, staunchly denies he was the anonymous senior Tory quoted in several newspapers making derogatory remarks about grassroots members during a conversation in a restaurant. Downing Street weighed in yesterday in defence of the multimillionaire businessman against his accusers, saying the prime minister 'supports Lord Feldman's position'."
The Independent on Sunday reports:
"The Conservatives conceded that Lord Feldman was at the restaurant at the heart of the row, the Blue Boar Smokehouse at the InterContinental Hotel in St James's, central London, attending a Conservative Friends of Pakistan event. It is alleged that the peer made the remarks to journalists who were also dining there."
Feldman has strongly denied using those words and says he is taking legal advice. Meanwhile, both The Times and The Daily Telegraph, which published the original story without identifying the 'senior Tory figure', continue to stand by their scoop, threatening, in the words of the Independent on Sunday, "an extraordinary stand-off between Downing Street and newspapers".
Oh, and the Mail on Sunday has a long memory: "A report in the Financial Times [in 2012] said Mr Cameron 'tells colleagues that anyone who wants to talk to him about the EU is "swivel-eyed"'. The comment came in a major profile of the Prime Minister by the paper's respected political editor George Parker. Mr Parker last night declined to say who told him the PM uses the term. The FT profile was compiled with substantial help from Lord Feldman, among others" - though the paper adds: "There is no suggestion that it was Lord Feldman who told the FT that Mr Cameron calls people with strong views on the EU 'swivel-eyed'."
2) 'LOSING CONTROL OF HIS PARTY'
That's Geoffrey Howe's verdict on David Cameron's leadership - specifically on the issue of - what else? - Europe. The former Tory foreign secretary, who helped bring down Margaret Thatcher, says recent events "have brought the debate on Europe within the Conservative party to a new, almost farcical, low".
"The prime minister has opened a Pandora's box politically and seems to be losing control of his party in the process," writes Lord Howe in the Observer. "The ratchet-effect of Euroscepticism has now gone so far that the Conservative leadership is in effect running scared of its own backbenchers, let alone Ukip, having allowed deep anti-Europeanism to infect the very soul of the party."
Ouch. The grandees' grandee continues: "Last week has shown that the Conservative party's long, nervous breakdown over Europe continues and what is essentially a Tory problem is now, once again, becoming a national problem."
Indeed it is. But will non-swivel-eyed members of the Tory backbenches or grassroots pay any attention? I doubt it. Not only is Europe more important for them than any other national or party issue but they also loathe Howe (and his fellow Europhiles Heseltine and Clarke) for helping to topple their heroine, Mrs T.
3) GAY MARRIAGE IS BACK!
They're not just revolting over Europe. From the Sunday Times:
"David Cameron is facing further humiliation over the gay marriage bill this week as more than 150 Tory MPs, including cabinet ministers, prepare to vote for a series of amendments watering down the proposal and protecting 'conscientious objectors'.
"Owen Paterson, the environment secretary, is to defy ministerial convention and join MPs voting for a series of amendments that would permit teachers, faith schools and registrars to opt out of marrying gay men and lesbians.
"John Hayes, the Cabinet Office minister recently brought into Downing Street to act as a sounding board for the Tory right wing, is also planning to back the amendments. In a last-ditch attempt to see off the rebellion, ministers have signalled that they plan to introduce measures to make it clear that teachers with a personal objection to gay marriage would not have to promote it in schools. Likewise, registrars who object to gay marriage may be able to opt out of marrying same-sex couples in town halls unless there was a staff shortage that could lead to weddings being cancelled."
You wouldn't want to be a Downing Street official reading this morning's Sunday papers, would you?
4) ED'S WAR ON THE TAX DODGERS
In the midst of the Tory civil war over Europe, and the rise and rise of Ukip, Labour leader Ed Miliband is desperately trying to get some attention. The Observer reports, on its front page:
"In an interview with the Observer, the Labour leader urged David Cameron to find agreement at the G8 summit of leaders next month around an ambitious agenda forcing corporate giants to pay their fair share.
"He said that, if Cameron fails, he himself as prime minister would unilaterally act to make multinationals operating in the UK more transparent about the money they make here, the movement of cash around their corporate structures, and the justifications for the tax they pay.
"He would also increase the resources of HM Revenue and Customs to strike at tax cheats.
"Miliband, who will speak at a Google event in Hertfordshire on Wednesday, said he believed some multinationals, including the internet giant, were not living up to their responsibilities to society... Miliband said: 'Now, what is the politicians' responsibility: change the law. But it is also to talk about the kind of society we want to create and what the responsibilities of a company like Google are. I don't think they are living up to their responsibilities at the moment, and I will be very clear about that on Wednesday.'"
Meanwhile, the Sunday Times reports:
"A former Google executive has blown the whistle on a massive and 'immoral' tax avoidance scheme that has "cheated" British taxpayers out of hundreds of millions of pounds over the past decade.
"Barney Jones, 34, who worked for the internet search giant between 2002 and 2006, has lifted the lid on an elaborate structure which diverts British profits through Ireland to the Bermuda tax haven... Jones, a devout Christian and father of four, is ready to hand over a cache of more than 100,000 emails and documents to HM Revenue & Customs (HMRC), detailing the 'concocted scheme'."
5) 'WE HAVE TOO MANY MUSLIMS IN THIS COUNTRY'
Nigel Farage must be enjoying himself this morning. The Independent on Sunday points out that the UK Independence Party has "seized" on the 'loongate' controversy, and quotes the Ukip leader as saying: "If you are a Conservative supporter who believes in Ukip ideas then your party hates you. Come and join us."
Ukip is riding high in the polls - from the Huffington Post:
"Support for the UK Independence Party has reached a record 19%, according to a poll which saw both Labour and the Tories losing ground. Labour was down three points to 35%, the Conservatives were down one to 29% and the Liberal Democrats were unchanged on 8%... The ComRes poll for the Sunday Mirror and Independent on Sunday found support for Nigel Farage's party was up 4% since the last survey a month ago and gives Ukip the highest share recorded by any pollster."
But it isn't all good news for Ukip - the Sunday Mirror takes a closer look at the party's own 'mad, swivel-eyed loon' tendency:
"UKIP's leader of Lincs Council Chris Pain, the party's East Midlands regional chairman, wrote: 'Have you noticed that if you rearrange the letters in 'illegal immigrants', and add just a few more letters, it spells, 'Go home you free-loading, benefit-grabbing, resource-sucking, baby-making, non-English-speaking ********* and take those other hairy-faced, sandalwearing, bomb-making, camel-riding, goat-********, raghead ******** with you.'
"... Peter Entwistle, party chairman in Bury, Greater Manchester, labelled President Barack Obama a Muslim, writing: 'I bet he's a closet 'Imam' as well! If I ever see him on a Greyhound bus wearing a rucksack, I'm getting off!!'
"The party's deputy chairman in Scotland, Misty Thackeray, 'liked' a Facebook group claiming 'paedophilia is part of Islamic tradition'. He also praised far-right Dutch politician Geert Wilders, a self-confessed "hater of Islam". Recommending Mr Wilders' new book, he said: 'Geert is great ...(peace be upon him.. lol) ..!'
"Meanwhile Tiggs Keywood-Wainwright, a UKIP councillor in Boston, Lincs, complained about mosques being built in "quintessentially English" Cambridge. 'Is nowhere sacred for the Brits in Britain any more?' she wrote. 'Bottom line is we have too many muslims in this country!'"
QUOTE UNQUOTE
"Can we fulfil our manifesto? The best way to do that is to continue with the coalition, but if that wasn't the case then we'd have to face the new circumstances in whatever way we should." - David Cameron speaking to Total Politics magazine and hinting for the first time that the Tories could quit the coalition before 2015.
PUBLIC OPINION WATCH
From the ComRes poll for the Sunday Mirror/Independent on Sunday:
Labour 35
Conservatives 29
Ukip 19
Lib Dems 8
That would give Labour a majority of 72.
From the YouGov poll for the Sunday Times:
Labour 40
Conservatives 29
Ukip 14
Lib Dems 9
That would give Labour a majority of 112.
140 CHARACTERS OR LESS
@LordAshcroft Strategy emerging. UKIP fruitcakes and clowns. Activists mad swivel-eyed loons and oh some voters f--king muslims. Not sure it will work!!
@NadineDorriesMP That Lord Feldman has denied 'mad swivel eyed loon' comment is almost worse than the comment itself. No one will believe a word he says now.
@gallaghereditor For the record, the @Telegraph stands by the swivel-eyed loon splash on p1. See @jameskirkup tweet.
900 WORDS OR MORE
Matthew D'Ancona, writing in the Sunday Telegraph, says: "Tory self-harm over Europe has buried the good news."
Andrew Rawnsley, writing in the Observer, says: "The Conservative factions are warring so zealously over Europe that a formal split in the party is not unthinkable."
Janet Street-Porter, writing in the Independent on Sunday, says: "Eight weeks in prison does not make Chris Huhne and Vicky Pryce instant experts."
Got something you want to share? Please send any stories/tips/quotes/pix/plugs/gossip to Mehdi Hasan (mehdi.hasan@huffingtonpost.com) or Ned Simons (ned.simons@huffingtonpost.com). You can also follow us on Twitter: @mehdirhasan, @nedsimons and @huffpostukpol