UPDATE: Topless Tunisian Protester 'Facing Two Years In Jail' After Femen Protest
There are reports activist Amina Tyler has been arrested after daubing the word 'Femen' on a cemetery wall in Tunisia.
Tyler, who was threatened with death by stoning for baring her breasts online, was pictured being led away after police and Salafists clashed in Kairouan this weekend.
One protester was killed and 15 policemen were wounded after fighting erupted between hardline Islamists and security forces in response to the ban on Salafists from staging their annual congress.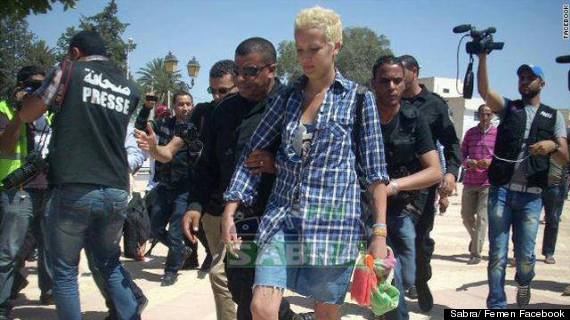 Amina Tyler is led away following clashes in Kairouan, Tunisia, on Sunday
Women's movement Femen, which organised a "topless jihad" in support of Tyler, reported her arrest on its Facebook page.
It claims the student is continuing the group's "anti-Islamist campaign" and refers to Sharia law as a "medieval, bloodthirsty cult," with "naive dogmas of second-class women and manic lust for blood."
It adds the whereabouts of Tyler are currently unknown.
While Tyler, who was sporting a spikey new blonde hairstlye remained covered up during the clashes, a further source claims she "tried to get topless in front of salafists" and that police protected her "from the infuriated mob".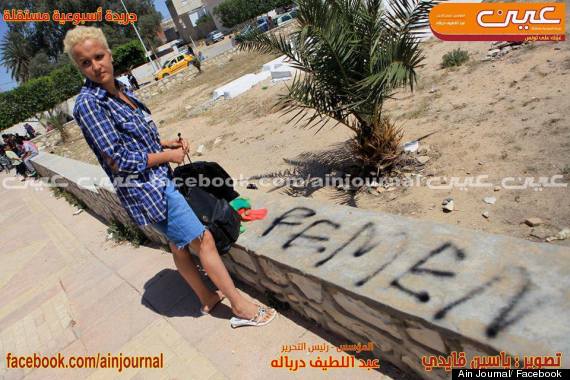 Tyler was reportedly arrested for daubing the word 'Femen' on a cemetery wall
Tyler revealed she had been beaten, kidnapped and drugged by her family after posting topless images of herself with the words "Fuck your morals" on the Femen Tunisia page.
The 19-year-old also claimed she'd been forced to endure a humiliating "virginity test" but vowed she would continue her fight for women's rights in the Muslim country.
In a Skype interview with Femen leader Inna Shevchenko in April, she said: "I will continue the struggle that started in Tunisia. I will do a topless protest and then I will leave."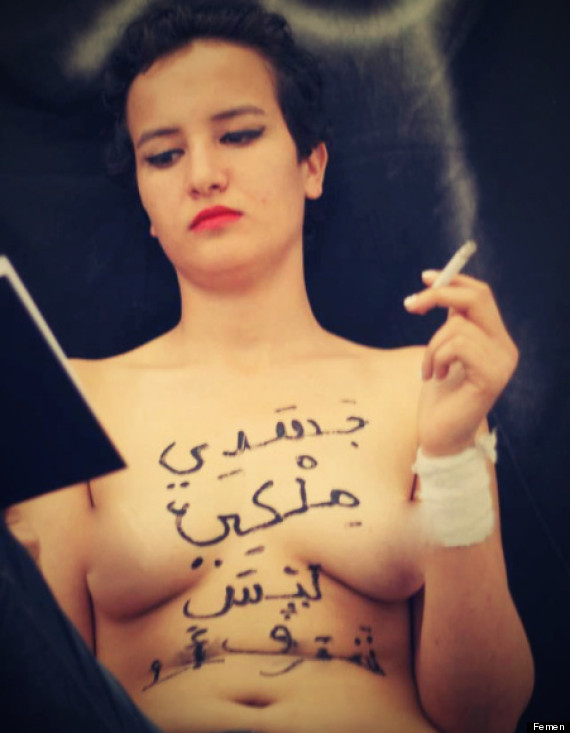 One of the pictures of Tyler posted on the Femen Tunisia site
In an earlier interview with Frederica Tourn, she said she feared being beaten or raped if she was found by the Tunisian police.
But she insisted she was not afraid: "No, nothing they could do would be worse than what already happens here to women, the way women are forced to live every day.
SEE ALSO:
"Ever since we are small they tell us to be calm, to behave well, to dress a certain way, everything to find a husband. We must also study to be able to marry, because young guys today want a woman who works."
Shevchenko told the Huffington Post UK: "Amina has became a symbol of liberation of women in the Arab world. We will not stop, now together with Amina, who is in danger, but still free."