An MP from the radical far-right Golden Dawn party was asked to stow his gun away before entering the Greek Parliament building, but he reportedly told a police guard, "I like to get someone first, before they get me."
Eleftherotypia newspaper has reported that an unnamed Golden Dawn MP drove on, refusing to remove the gun from the front passenger seat.
Only MPs' personal police body guards are allowed to carry guns inside the parliament building.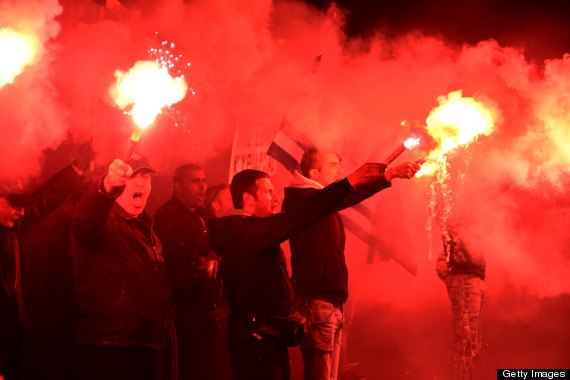 Members of the ultra nationalist party Golden Dawn chant the Greek national anthem
Earlier newspaper reports this week alleged other MPs were concerned that Golden Dawn members, including the main spokesman for the party Panayiotis Iliopoulo MP, were routinely turning up to the Parliament carrying weapons, Enet English reported.
Last week, there was chaos in the chamber as Iliopoulos was ejected from the Parliament for screaming insults at Coalition of the Radical Left (SYRIZA) leader Alexis Tsipras, the main opposition leader.
Opposition MPs screamed "Heil Hitler" as he was led from the chamber. Panagiotis Iliopoulos, a deputy for the far-right Golden Dawn party, centre top, gestures as he shouts insults at other lawmakers
MPs are worried that, with tempers in meltdown, violence could erupt in the parliament. In an interview on Sunday, New Democracy MP Fotini Pipili said that she feared for the day that one of the far-right party's members would open fire in the chamber.
Athens Mayor Yiorgas Kaminis has filed a lawsuit against Golden Dawn MP Giorgos Germenis, alleging that Germenis physically assaulted him, and appeared to reach for a gun.
Kaminis had asked police to prevent Golden Dawn from giving food handouts, labelled as "Greek Only".