A first edition of the first Harry Potter book, personally annotated by JK Rowling, has sold for £150,000 at auction.
The one-of-a-kind copy of Harry Potter and The Philosopher's Stone contains revealing commentary and 22 of the author's own original illustrations.
The book, which was published in 1997 and went on to bring Rowling worldwide fame, was sold to a telephone bidder at Sotheby's in central London.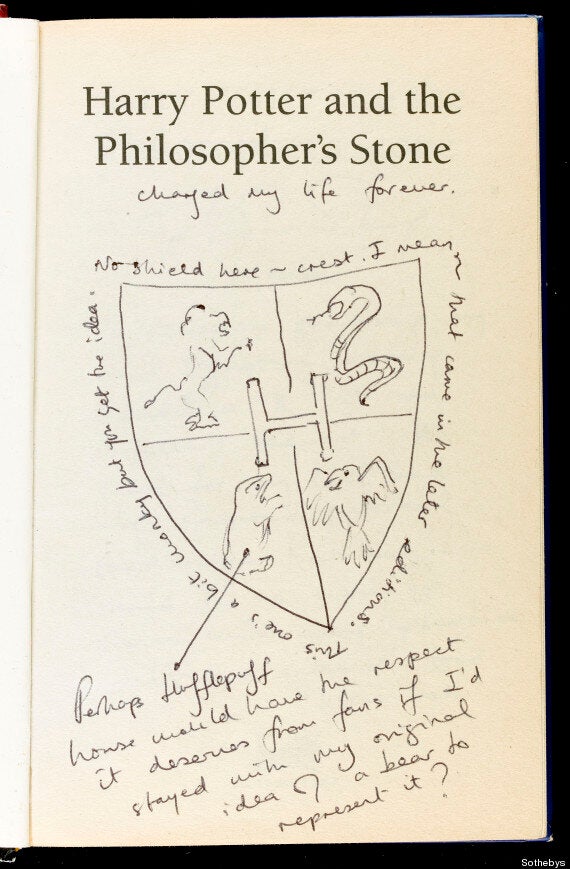 The book has the author's original illustrations
Also going under the hammer at the First Editions, Second Thoughts auction last night was a copy of Roald Dahl's Matilda, with new illustrations by Quentin Blake, which sold for £30,000 - the second highest sale of the evening.
The auction saw lots from 50 celebrated authors who had annotated, commented on or illustrated a first edition copy of one of their works.
Other highlights included Kazuo Ishiguro's The Remains of the Day, which sold for £18,000, Julian Barnes' Metroland, which went for £14,000 and Alan Bennett's The Uncommon Reader, which fetched £11,000.
Others contributors included Margaret Atwood, Helen Fielding, Ian McEwan, Philip Pullman and Sir Tom Stoppard, with the night raising £439,200 for charity.