Two people have been shot in Woolwich, south east London, after armed police were called to an incident in which a man wearing a Help for Heroes t-shirt was attacked with a machete-style knife and dumped in the street, eyewitnesses said.
One man was confirmed dead at the scene and two other men were taken to hospital, one of them in a serious condition, a London Ambulance Service spokeswoman said.
Pictures published on Twitter show what appears to be three bodies lying in the street just yards from the Royal Artillery Barracks. Unconfirmed reports suggest the victim may have been a serving soldier.
Two of the bodies are close together and are being attended to by what looks like uniformed officers while the third lies in the middle of the road and is surrounded by members of the public and construction workers.
One witness, identified as James, said he and his partner saw two black men attack the young victim with knives, including a meat cleaver. "They were hacking at this poor guy, literally," he told LBC. "They were hacking at him, chopping him, cutting him."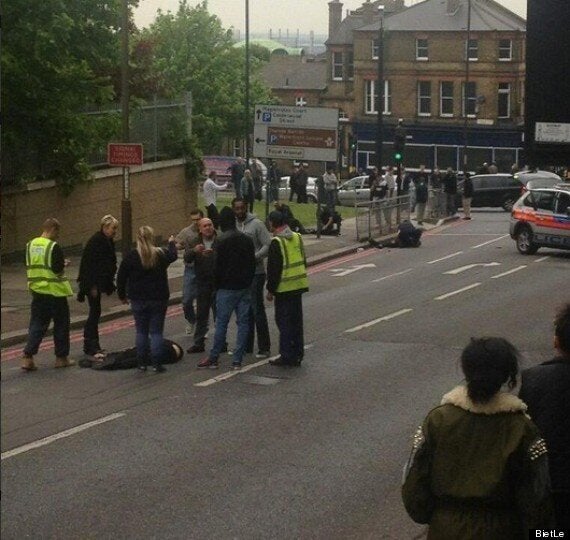 A body lies in the street after the incident in Woolwich
Fighting back tears, he added: "These two guys were crazed. They were just animals. They dragged him from the pavement and dumped his body in the middle of the road and left his body there."
He said that after the "horrendous" attack, the two men, in their 20s, just stood around, waving knives and a gun, even asking people nearby to take pictures of them "as if they wanted to be on TV or something".
"They were oblivious to anything, they were more worried about having their photo taken, running up and down the road," he said.
"They had no intention of running off or leaving or anything. In my opinion, they were waiting for the police to arrive to be shot by the police. That's the only thing I can think. It's horrendous what they were doing to that guy."
According to eyewitnesses "brave" women tried to shield the man on the ground from the attackers.
James added it was 20 minutes before armed police arrived at the scene. "When the armed police came flying around the corner, the man with the beanie hat, the tall guy, he charged at the police vehicle," he said.
"A shot was fired by the other guy with the gun. Six shots were fired, both men went down and we now know they are dead as well."
Other images show a red air ambulance landing in the street. Local newspaper The News Shopper is blogging about the incident and has reported eyewitnesses describing shots also being fired.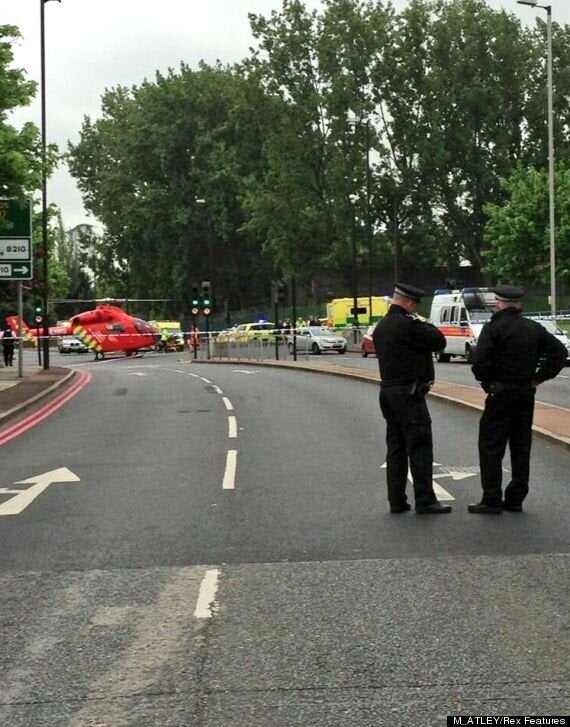 Police at the scene of the machete attack on Wednesday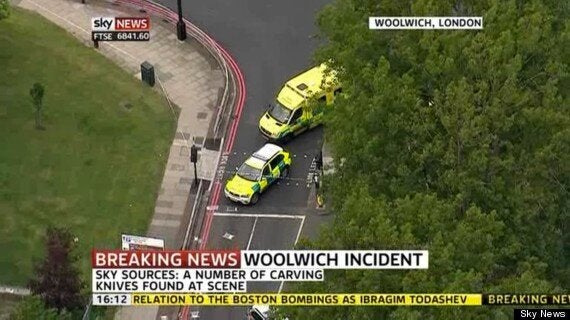 An aerial shot of the scene taken from Sky News
It quotes one eyewitness as saying: "I heard they were trying to behead someone and were shot by police."
A Metropolitan Police spokesman said: "Officers have responded to an incident in John Wilson Street, Woolwich, SE18, at 14.20 today. We believe at this stage that officers were called to reports of an assault."
Headteacher of Mulgrave Primary School, David Dixon, told the BBC he put his school into "lockdown" after he saw a body lying in the road. "We shut all the gates and made sure all the children were inside," he said.
Mr Dixon also confirmed hearing gunshots but said everyone acted "remarkably calmly" to make sure all pupils were safe.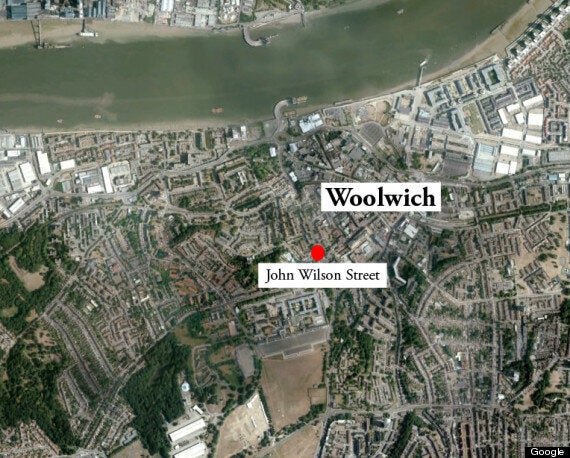 John Wilson Street in Woolwich
London Air Ambulance confirmed that one patient was airlifted from the scene, while another was taken away by road ambulance. The service would not confirm the nature of their injuries or where they were being taken.
Social media broke the story and while reports were mixed some tweeters managed to tell the story in their own style.
Woolwich and Greenwich MP Nick Raynsford said it was his understanding that one person, a serving soldier, was dead and the two alleged suspects were in a serious condition in hospital.
He said he had spoken to both borough commander Richard Wood and Lieutenant Colonel Bob Christopher at Woolwich Barracks.
Mr Raynsford said: "The circumstances causing the incident are not yet clear. It's been suggested it was the product of a road traffic accident, but that's pure speculation.
"We think a serving soldier was the victim. We do know a number of weapons have been seized. They include a gun, various knives, and a machete, apparently.
The barracks hosted the shooting events for the Olympic Games last year. They are currently home to the King's Troop, Royal Horse Artillery, their horses, historic gun carriages and artillery pieces used for their displays.
Related