The next generation of gaming - and living room entertainment - Microsoft's Xbox One, was announced on Tuesday.
But when's it coming out in the UK?
According to a - probably speculative - listing on Zavvi.com, the Xbox One will cost £399.99 when it is released on 30 November, 2013.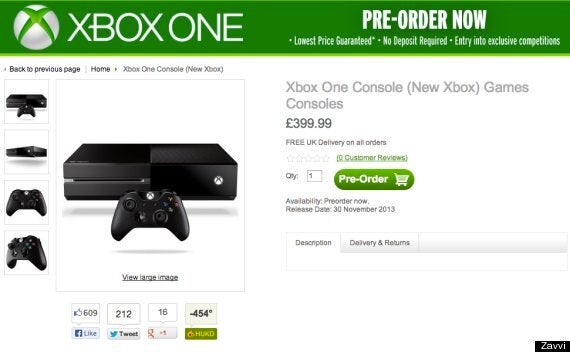 That date isn't confirmed - all Microsoft has said is that the console will arrive this Autumn. But a 30 November date would make sense, giving shoppers about a month to stock up on machines and games ahead of Christmas.
It's possible to pre-order a console now - and there is a lowest price guarantee built in so if the price is lower you won't have to cancel and order somewhere else.
But quite why you would pre order so far from the official launch is a little beyond us - let alone the questions that still surround basic elements of how the console works.
Needless to say, it's likely that Zavvi are acting on instinct here and that the final machine could cost more, or less, or both than their first guess.