Warmer weather will make a welcome return over the bank holiday weekend. While those flying abroad head for hotspots such as Nice, Malaga and Rome, those staying in Britain can expect temperatures to reach 19C (66F) over the weekend.
Some roadworks on motorways and major A-roads have been lifted for the holiday period but works remain on some busy roads, including the M25 and the M4. On the railways, there will be engineering work on some routes, including the West Coast main line, and major development work beginning at London Bridge station.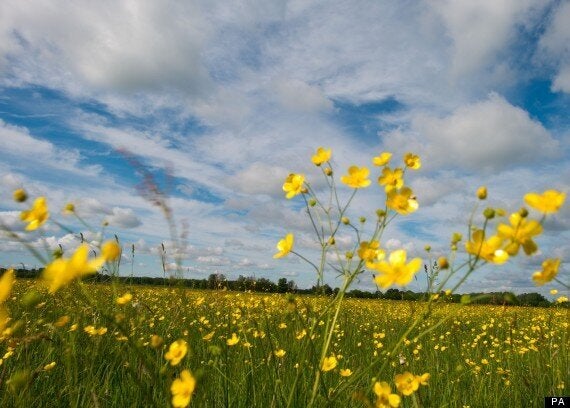 Temperatures could reach 19C in the south east this weekend
Paul Mott, a senior forecaster with MeteoGroup, the weather division of the Press Association, said: "The weather is going to be warming up a little bit, although the weekend is not going to be a scorcher." He said tomorrow could be quite chilly in England and Wales with temperatures probably only reaching 13C (55F), although Scotland could see 16C (61F).
Saturday is expected to be a mostly dry day in England and Wales, with temperatures as high as 17C (63F), while the thermometer could touch 19C in southern England on Sunday. Bank Holiday Monday could be chillier in the west, though, with rain sweeping in. But southern England could see temperatures of 17C.
Mott said: "Looking ahead to half-term next week, temperatures are likely to be near or slightly below normal and there could be some heavy showers."
British Airways will be carrying more than 463,000 customers over the bank holiday weekend, with 128,000 travelling tomorrow and 116,000 flying on Bank Holiday Monday. The most popular long-haul destinations for BA customers include New York, Boston, Los Angeles and San Francisco.
Top short-haul destinations include Nice, Barcelona, Malaga, Rome, Edinburgh and Paris. Over the bank holiday, platforms 8-16 at London Bridge station, which are used by the Southern train company, will be closed to prepare the area for work on platforms 14-16.
Between Saturday and Monday, no Southern services will call at London Bridge and some will be diverted to Victoria station in London. From Tuesday until next spring, platforms 14, 15 and 16 will remain closed while they are redeveloped and platform 13 will be narrowed.
Rail routes on which there will be engineering work over the weekend include St Pancras in London and Luton; London and Rugby; Preston and Lancaster; and all routes through Wolverhampton. A total of 66 sets of roadworks are due to be completed in England ahead of the bank holiday, while a further 37 works will be suspended over the holiday period.
Restrictions will remain at 18 locations.
The AA said as many as 17 million cars could be on the roads over the weekend. It said the busiest times would be tomorrow evening and Saturday with people possibly making up for not getting away at Easter. Information company Trafficmaster said routes likely to be particularly busy included the M3 in Hampshire, the M4 heading west, the M6 around Blackpool, sections of the M25 and the A82 towards the Scottish Highlands.
Lowcostholidays.com said top searches for late getaways on its site were Majorca, the Portuguese Algarve, Malta, Dubai and Barcelona. Holiday lettings agency HolidayCottages.co.uk said the hot weather during the early-May bank holiday weekend had prompted a bookings boom.
Meanwhile, research from M&S Bank showed that the average cost of an overseas holiday for a family of four this half-term had risen by 4.05%, or £128, since this time last year, largely due to increasing local costs and less-favourable exchange rates. Foreign exchange company Travelex said UK holidaymakers heading for Europe would find themselves 5% worse off than 12 months ago, receiving 29 fewer euros for every £500 exchanged.
Those travelling to the United States would discover that the pound had weakened 7% against the dollar since the beginning of this year. Mark Tanzer, chief executive of travel organisation Abta, said "Thousands of families will be heading off this Friday for an early summer break. Families are flying to Spain, in particular the Balearic and Canary islands, and those heading to Turkey are in for a scorcher, with temperatures set to hit 40C (104F) next week. North Africa is also popular at this time of year, offering guaranteed warmth and sunshine."