The two men arrested at Stansted Airport after their flight was diverted from Manchester and escorted by an RAF fighter jet had repeatedly tried to enter the cockpit of the plane, it has been reported.
Speaking to Sky News, Umari Nauman, a passenger on the plane, said that the aircraft's cabin crew had witnessed the men repeatedly attempting to gain access.
"The cabin crew informed us that basically they tried to come into the cockpit a few times and because they had been asked not to do that they got into a bit of an argument with the crew and made a few threats."
She said all the passengers had been ordered to leave their possessions on board before leaving the plane.
Nauman also said helicopters escorted the aircraft before landing.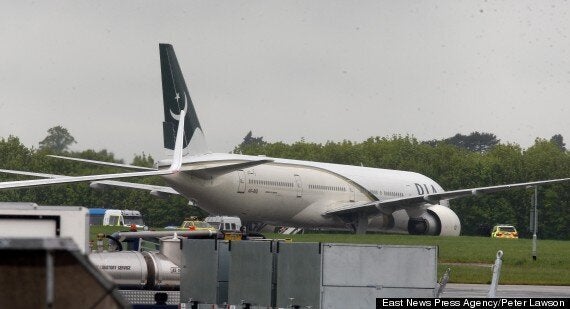 The men were arrested after the plane landed at Stansted
Officers boarded flight PK709 after it landed at Stansted. Two men were taken off the plane.
A police spokesman said: "Essex Police have boarded a passenger plane diverted to Stansted Airport and two men have been arrested on suspicion of endangerment of an aircraft. They have been removed from the plane."
The jet was scrambled following an incident shortly before the plane was due to land at 2pm.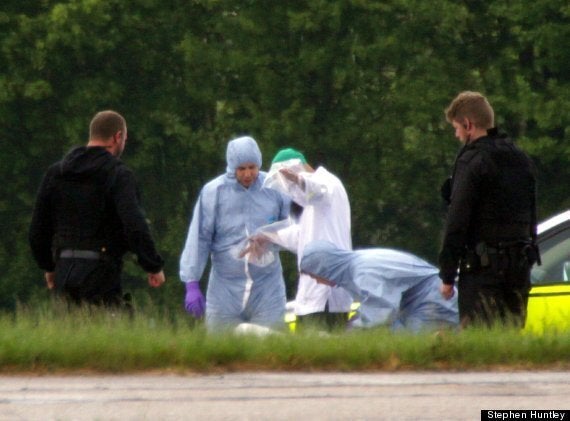 One of the men being arrested at Stansted
Nauman said that the two men were taken off the flight and searched.
"We were then also told to get off and did not even have a chance to get hand luggage. We are all worried now because we didn't manage to take anything with us."
The passengers were told there was "bad weather in Manchester" as the reason for diverting.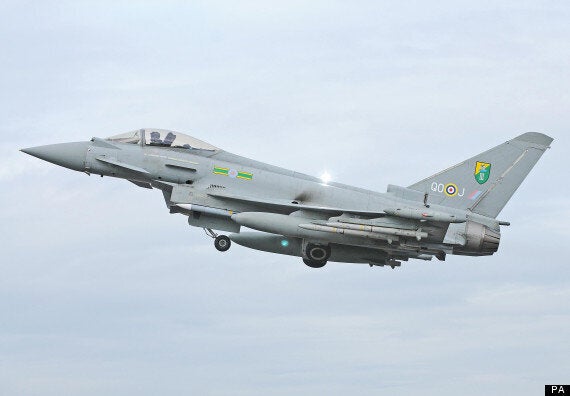 An RAF Typhoon aircraft escorted the flight
Mahmouda Aslam, 50, from Prestwich, Manchester was at the airport awaiting her husband, Mohammed, on the flight.
After speaking to her husband on his mobile, she said: "I said, 'Are you alright? Are you scared?' He said, 'We are all OK. The flight is full of police."
At Stansted another worried relative Zohaib Sattar, 24, from Huddersfield, was awaiting his wife Iqra Anwar, 24 and his father Abdul Sattar, 57, both on the flight.
Zohaib Sattar said he spoke to his father on the phone after landing.
"They have taken two people off the plane and are checking the plane all over," he said. "The rest are just sat there waiting for further information.
"My father said there was no warning or threat, all of a sudden the plane just turned around."
Mrs Aslam said she was "just glad the plane has landed", adding: "They are all just sat there, they can't even get out of the chairs.
"I'm feeling better because the police are on there."
A Manchester Airport spokesman said: "A Pakistan International Airlines (PIA) aircraft which was due to land at Manchester Airport at 1.30pm today has been diverted to our sister airport London Stansted, where the authorities are investigating.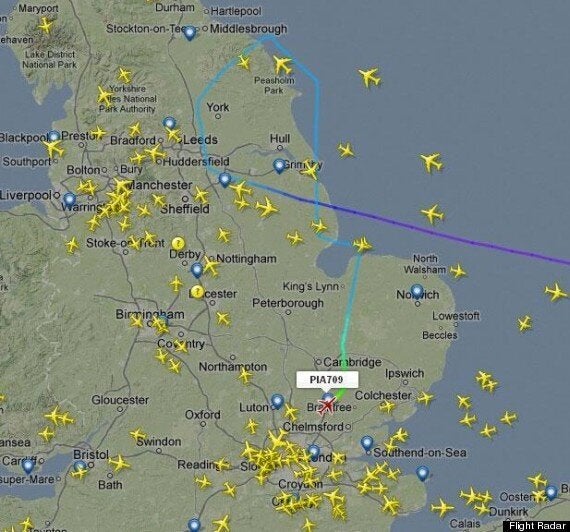 The flight radar picture for PK709
"The plane - flight number PK709 - was travelling from Lahore and had 297 passengers on board. For further information for friends or family who were due to meet the flight at Manchester please call 0800 140 4007."
A spokesman for Stansted Airport, said: "They will be taken to a reception centre on the airport where police may wish to interview them about what they have seen. At some point police and the airline will arrange for their onward transportation to Manchester."
It is believed a passenger on the flight allegedly threatened to blow up the plane after other passengers tried to intervene in a row he was embroiled in.
Murtaza Ali Shah, a journalist, said he had spoken to a friend on board the plane, Fakhir Iqbal, a political activist, who was sitting behind the man who made the threat.
Mr Shah said his friend told him: "Two guys started a row with a girl and lots of other people.
"Some people tried to calm them and asked them not to be rowdy and abusive.
"Fakhir told them to calm down.
"They said 'don't bloody speak to us or we will blow up the plane'.
"The crew came and spoke to them and they were openly threatening the staff.
"Fakhir went to other crew members and told them they were making threats."
Earlier, there was chaos at Heathrow after a British Airways plane had to make an emergency landing.
Comments have been closed for legal reasons.
Related