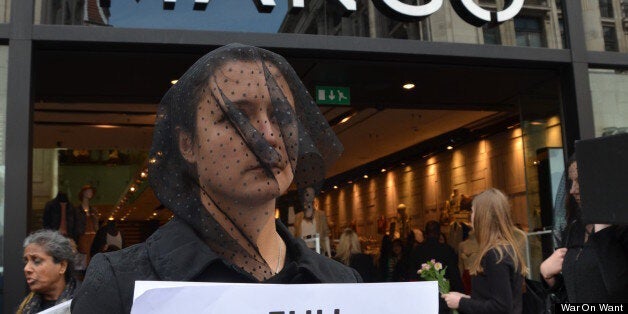 A group of activists staged a demonstration on London's busiest shopping street today, targeting retailers they said have failed to compensate the families of workers killed or injured in the devastating Bangladesh building collapse.
Around 20 protesters dressed in black while many wore veils over their faces for the funeral-themed demonstration outside Benetton and Mango on Oxford Street.
Bearing candles and flowers to commemorate the 1,227 who died, the protesters held placards and handed out fliers to passers-by, while a coffin was also paraded in front of the stores.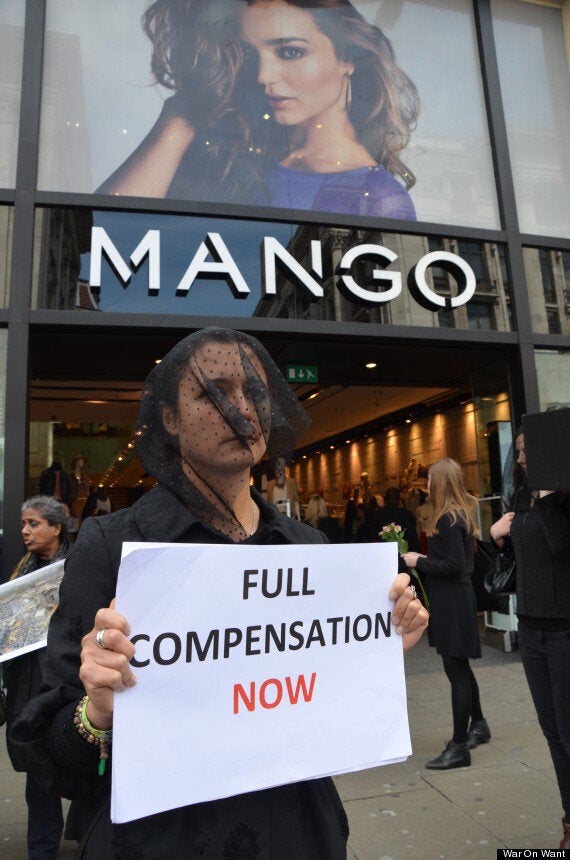 Around 20 protesters dressed in black while many wore veils over their faces on the busy shopping street
Last month's Rana Plaza building collapse was the latest in a series of deadly incidents in the country, whose garment industry supplies much of the western world.
The protest was organised by student group People & Planet together with War on Want, the South Asia Solidarity Group, Freedom Without Fear Platform, UK Feminista and Labour Behind the Label.
Ruth Fox, corporate power campaign coordinator at People & Planet, said: "More than a month after this tragic incident, Benetton and Mango still refuse to take responsibility for workers killed or injured while making their clothes. This is unacceptable.
"These companies make huge profits from operating in Bangladesh. Yet when a major disaster occurs, they turn a blind eye.
"We demand immediate compensation for the workers and families affected by the building's collapse.
"We are also calling for an independent factory monitoring system - accountable to workers, not big corporations - which will help to ensure terrible tragedies such as this never happen again."
Amirul Haque Amin, president of the National Garment Workers' Federation, one of the largest garment workers' trade unions in Bangladesh, said "This disaster was a calamity waiting to happen because high street chains failed to ensure proper safety measures. Now we demand compensation."