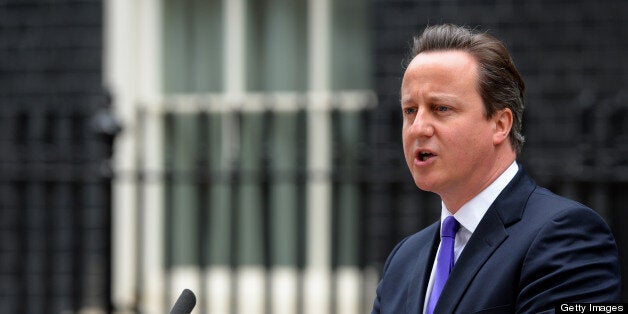 The five things you need to know on Sunday 26 May 2013...
1) 'I'LL GAG THE HATE CLERICS'
That's the splash headline on the front of the Mail on Sunday, which reports:
"David Cameron is planning new powers to muzzle Islamic hate preachers accused of provoking terrorist outrages such as the killing of soldier Lee Rigby.
"The Prime Minister wants to stop extremist clerics using schools, colleges, prisons and mosques to spread their 'poison' and is to head a new Tackling Extremism and Radicalisation Task Force (TERFOR) made up of senior Ministers, MI5, police and moderate religious leaders.
"The high-powered group will study a number of measures, including banning extremist clerics from being given public platforms to incite students, prisoners and other followers – and forcing mosque leaders to answer for 'hate preachers'.
"It will also urge Muslim 'whistleblowers' to report clerics who act as terrorist apologists to the police. The launch of TERFOR signals a major overhaul of the Government's counter-terrorism strategy in the wake of the brutal murder of Drummer Rigby on Wednesday."
Do we really need another committee, another inquiry, to tackle the radicalisation phenomenon? Remember: this coalition government announced a massive overhaul of the country's anti-terror and anti-extremism strategy Prevent back in 2010 and most experts and observers aren't quite sure what that achieved. (Incidentally, the last 'review' of counter-terror stuff made very little reference to the destructive and radicalising effect of our foreign policies - despite a range of figures including the former head of MI5 Dame Eliza Manningham-Buller citing the invasion of Iraq, for example, as a recruiting sergeant for Al Qaeda and its affiliates - and I doubt this new committee will take a broader approach.)
Meanwhile, speaking to the Observer, former Labour communities secretary Hazel Blears said "it had a serious mistake to dismantle Labour's policy of funding local authorities that have a population more than 5% Muslim, to help them curb radicalism by engaging and funding community groups, Islamic societies and mosques".
Another former Labour big beast, the ex-home secretary Alan Johnson, has been speaking out - telling the BBC1's Andrew Marr programme that a failure to enshrine the communications data bill - 'the snoopers' charter' - into law could be a "resignation issue" for his Tory successor, Theresa May. May herself later dodged the question on the same programme - but revealed that she believed "thousands" of people were potentially at risk of radicalisation.
"David Cameron flew to Ibiza for a holiday yesterday — leaving Britain engulfed by the biggest terror crisis since 7/7. The PM and his family caught a mid-morning flight to the Spanish isle after he told friends he was taking a break for 'a few days' over the Bank Holiday.
"MPs are appalled that he has jetted off amid spiralling tensions following the murder of soldier Lee Rigby in Woolwich, South East London, on Wednesday and the arrest of two suspected Islamic extremists."
Tensions indeed - the Observer reports that "a huge rise in the number of anti-Muslim incidents has also been recorded, with 162 calls made to a helpline since the killing – up from a daily average of six".
On a side note, the role of universities in the radicalisation process has been highlighted in several centre-right papers this morning, which have also cited the 'work' of the 'anti-extremist' group Student Rights. Check out this piece on the Huffington Post critiquing the group's "dishonest" methodology and "toxic narrative".
2) GAY MARRIAGE ROW, PART 549
It's still not law yet - and won't be, if some peers get their way. From the Sunday Telegraph:
"Members of the House of Lords are mounting a lastditch campaign to scupper the Coalition's plan to legalise gay marriage.
"Peers believe a crunch vote at the Bill's second reading next week is "too close to call", with some Lords calling for a second day of debate to ensure all members can have their say on the legislation.
"Seventy-five peers have asked to speak in the debate on June 3, and dozens more may come forward in the next few days in what is expected to be one of the most emotive sessions in the Upper House for many years.
"Lords expected to criticise the Bill include Lord Dannatt, the former head of the Army, and Lord Lothian, better known as Michael Ancram.
Other expected critics include the former Archbishop of Canterbury, Lord Carey, and perhaps even the current Lambeth Palace incumbent, Justin Welby.
Ofsted chief Sir Michael Wilshaw has come to the aid of Michael Gove, saying the jeering of the education secretary by members of the National Association of Head Teachers (NAHT) at their annual conference last weekend was "intolerable" and set a poor example to children. He is also quoted in the Sunday Times as saying:
"Heads should behave professionally and it's not legitimate to shout, to be sarcastic and to hoot in derision ... They were almost ganging up on him. He's a secretary of state, he's brave and courteous. He deserves better."
BECAUSE YOU'VE READ THIS FAR...
Watch this video of a cat giving a massage to a snoring pug.
Tory eurosceptics have turned the Pet Shop Boys' famous dictum on its head, in an attempt to prepare for 2017 - from the Sunday Times:
"A group of Tory MPs seen as 'outriders' for David Cameron's renegotiation of EU membership are to travel to eastern Europe in search of allies
"The Fresh Start group, which has already visited Germany, will this week meet politicians in Warsaw and Prague who it hopes will back the Tory campaign to curb the power of Brussels.
"While Fresh Start does not represent the government or the Tory front bench, its members are keeping William Hague, the foreign secretary, briefed on their talks.
"The group is seen by many in the leadership as more in tune with the moderate Euroscepticism of the party elite than the backbenchers who are pushing for an early referendum on British withdrawal from the EU.
"Fresh Start's findings could help to form the basis for Britain's formal renegotiation, which will be held if the Conservatives win the 2015 general election."
5) 'RACIST, ANTI-INTELLECTUAL FRUITCAKES'
Talking of Europe, in recent months, the leaders of the three main parties have toned down their attacks on Ukip. Perhaps Ukip's own founder and first leader didn't get the memo. He's been speaking to the Sunday Telegraph:
"Prof Alan Sked, who set up the Eurosceptic party 20 years ago, believes it has become "anti-immigrant, anti-intellectual and racist".
"He also disclosed that he once expelled Nigel Farage, the party's ebullient leader.
"... [T]he historian who launched Ukip in September 1993 believes its surge has been exaggerated.
"'I am delighted to see that the Conservatives are being put under pressure over Europe,' he said, speaking in his office at the London School of Economics. 'My great regret is that the party I founded has been captured by the radical Right and has gone all anti-intellectual. It's gone completely fruitcake.'"
Nonetheless, the Sunday Times reports that Cameron"is facing a revolt from party donors threatening to join UKIP and backbenchers who have warned he may have to break up the coalition to remain leader.
"Lord Kalms, the multi-millionaire former Conservative party treasurer, has declared he is 'willing to pack my bags' and join the UK Independence party unless the prime minister adopts a bolder stance towards Europe."
Some things, I guess, never change...
"Terrorism has no religion." - Deputy PM Nick Clegg speaking at a mosque in London on Friday.
From yesterday's Sunday Times/YouGov poll:
That would give Labour a majority of 110.
@vincentmoss Labour's Sadiq Khan says media should not give "obnoxious, odious, horrible" Anjem Choudary "the oxygen of publicity" #Murnaghan
@AndrewLilico There will always, *always* be lunatics who stab strangers. That's a fact to be coped with, not a failure to b addressed
@LabouringLewes Once asked @johnmannmp why read the Telegraph he said it paid to know what your enemies were thinking.I suggest following Tories on Twitter
Lord Carlisle, writing in the Mail on Sunday, says: "The Communications Data Bill, of course subject to the safeguards and scrutiny already agreed in the last session of Parliament, should be reintroduced during the coming weeks."
Henry Porter, writing in the Observer, says: "The introduction of a communications data bill wouldn't have prevented last week's shocking murder of Lee Rigby."
Matthew D'Ancona, writing in the Sunday Telegraph, says: "The choice is not only how hard we fight to protect ourselves, but what we are prepared to sanction in order to pre-empt attack."
Got something you want to share? Please send any stories/tips/quotes/pix/plugs/gossip to Mehdi Hasan (mehdi.hasan@huffingtonpost.com) or Ned Simons (ned.simons@huffingtonpost.com). You can also follow us on Twitter: @mehdirhasan, @nedsimons and @huffpostukpol