Shane Warne said prior to his hat-trick ball in the 1994-95 Ashes series that Devon Malcolm arrived "looking like Robocop". Today, yours truly is looking like Ned Kelly on his final stand while, at the other end, James Anderson is the lethal Superintendent Hare.
I've agreed to face an over from Anderson the week after he claimed his 300th Test wicket for England. Fred Trueman said he felt "bloody tired" when he reached the milestone. Anderson chuckles he is "feeling alright", although his figures would suggest that's a modest understatement.
I haven't padded up for probably the best part of a decade, and even then my batting was hopeless. However friendly Anderson and the surroundings at Finchley Cricket Club are, the prospect of facing him remains terrifying, irrespective of how generously slower his deliveries might be.
The second delivery is a personal triumph as I manage to flick one down to fine leg. It has the legs to go to the boundary so I choose to regard it as four runs.
But parity is swiftly restored when Anderson hits middle and off.
"F*****g hell," replaces the laughter.
The final three are all swings-and-misses, although the wicket is just about untouched. As amateurishly pathetic the batsman may be, Anderson's accuracy is a reflection of his progress over the last five years.
We meet before the second Test victory against New Zealand on Tuesday, when the 30-year-old tied level with Trueman at the Yorkshireman's Headingley stomping ground on 307 Test wickets. Sir Ian Botham holds the England record with 380, and providing he experiences no fitness issues Anderson should surpass Beefy.
"It is tiring," Anderson concedes. "It does take a lot out of you but you prepare in the gym for that and as you get older you get used to it, so hopefully I've got a few more years left in me."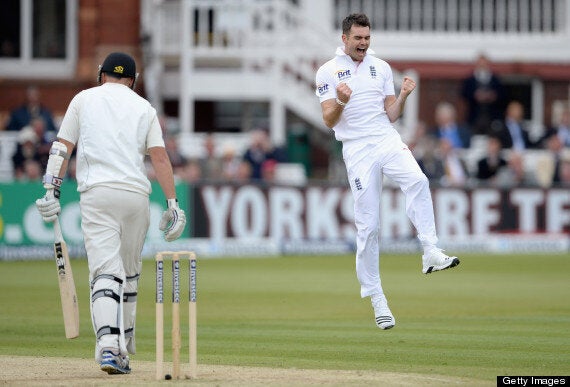 Anderson celebrates his 300th wicket at Lord's
His 300th scalp was "extra special" to have come at Lord's, he concedes, because that is where it all began. That Peter Fulton, England's tormentor in Auckland who hit two centuries, was his victim gave the individual achievement a collective sheen. The scourge became the scalp.
Anderson made his Test debut almost 10 years ago when he took five wickets against Zimbabwe at The Home of Cricket. He almost claimed a debut hat-trick in the innings and 92 runs victory and then took a further six at Chester-le-Street. With the blonde highlights - later that year red - he was quickly and predictably billed as the "Beckham of cricket". He grimaces at the memory.
"That sort of thing... I've always been one for doing stupid stuff to my hair," he says. "I put peroxide on it at my mate's house when I was 14 and stuff like that, so it just continued. But it didn't take long for me to figure out that when you're in the limelight there's more scrutiny on stuff like that so I didn't do it for long."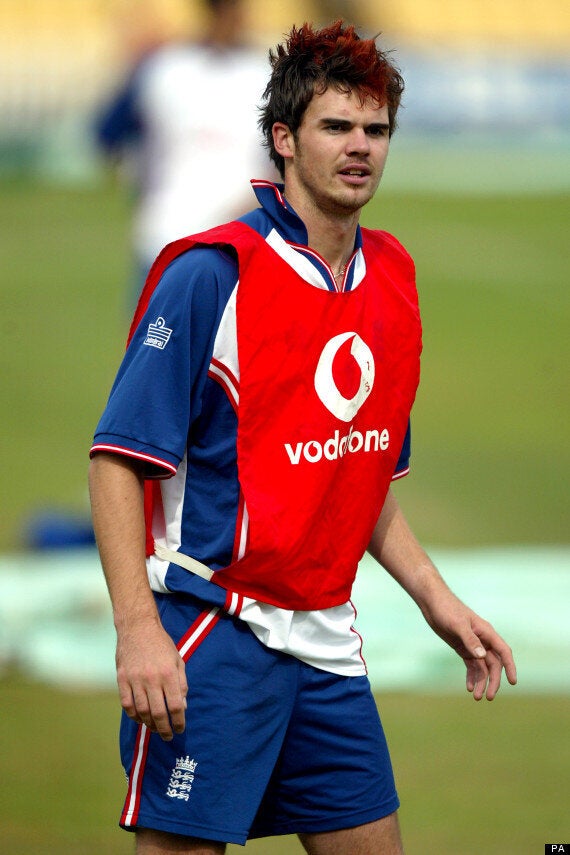 The Beckham of cricket (briefly): A 20-year-old Anderson in June 2003
Despite the auspicious start the Lancastrian struggled to cement his place in the Test team over the next five years. He performed admirably when South Africa toured in 2003 and claimed an exceptional 6-21 in Mumbai in 2006, but was often overlooked in favour of England's established pace attack from the 2005 Ashes.
Yet the gradual decline of Flintoff, Hoggard and Harmison, as well as Simon Jones' injury issues, always left the door ajar. And in 2008 he kicked it open.
"The turning point was the New Zealand tour in 2008 when me and Stuart Broad got picked ahead of Harmison and Hoggard," he stresses. "Obviously it's a huge moment that two guys who have been so successful for England and have spearheaded the attack... and then we get picked ahead of them. So it was a big statement and it gave me a lot of confidence and a bit of extra responsibility, as well."
Anderson says England "had something to prove" after New Zealand "outplayed" them in Auckland in March, and despite the odd tactical glitches which elicited some prickly responses from coach Andy Flower and the unhurried Jonathan Trott this week they have regained their form.
The Burnley-born seamer is adamant complacency wasn't an issue after the 2011 whitewash of India saw England rise to number one in the rankings.
"It's difficult when we're always trying to improve as a team and when you set high standards for yourself it's difficult to keep that up for a period of time," he explains. "But what makes the great teams great is keeping up that level of performance for a long period of time and we didn't quite manage to do that. So hopefully now we can get back to where we were and we know how good we can be as a team."
So are England more comfortable not being number one?
"Possibly. When we were chasing that number one spot we were really determined and driven to get there and once we were there, whether it was the fact we didn't have a goal to chase I don't know, but we didn't deal with that situation very well. I'm sure it's something if we ever do get there in the future we'll deal with it better than last time."
After a fraught 2012 ended with the seminal 2-1 victory in India, England are a happier camp. Kevin Pietersen is currently not part of it due to injury, but are England a happier side with or without the batsman? When Pietersen's name is mentioned it is the only occasion Anderson's agent swivels her head and monitors his answer.
"Um... Happier in what way?" Anderson asks.
"Well, everyone acknowledges he's a great player but he's admitted himself he's not everyone's cup of tea. Is the environment different without him?"
"The environment doesn't really change. I guess it would be a happier team with him in it because we need players like him. He's a matchwinner so we need guys like him in the team. So in that respect, all 11 of the guys in there at the minute would want him back."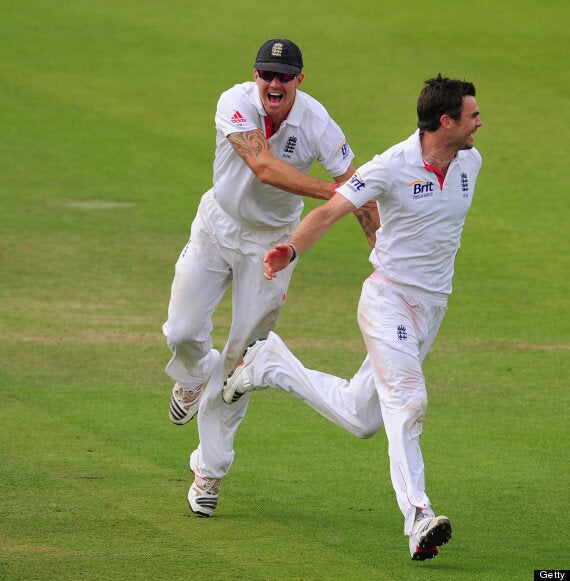 Anderson insists England and Pietersen have moved on from last year's Textgate furore
Anderson dismissively laughs at the "reintegration" quote which came to define Pietersen's return to the Test fold following the Textgate furore. Meetings were held between not just former skipper Andrew Strauss and Pietersen but the whole of the squad, and the India success has banished the controversy.
"There weren't huge issues witin the team to be honest," he admits. "Once we could then get that out in the open and talk it through and almost put it behind us with that India trip there wasn't really any. It seemed the same feeling [in the squad] that it was before all the stuff had kicked off."
Strauss' retirement has perhaps helped repair the harmony, with Cook enjoying an excellent start to his career as England captain, despite Matt Prior's escapologist act in New Zealand sparing England an embarrassing defeat.
In the post-Michael Vaughan era, England dealt with selecting his successor wretchedly until Strauss' belated appointment. Andrew Flintoff proved to be the rash interim choice many expected for the disastrous 2006-07 Ashes series and Pietersen was an unfathomable and unsurprisingly brief successor.
Anderson is effusive about Cook's leadership skills less than a year into the role.
"Cooky's learnt a lot from Straussy, being vice-captain for a number of years, but he's still new to the job, he's still learning the job. The good thing about Cooky is he wants to put his own stamp on things. He doesn't want to just be a clone of Strauss. He's taken what he can from him."
The most memorable British summers for sporting aficionados are often defined by an Ashes series, and Anderson prepares for the 2013 contest as England's premier seam bowler. Fitness permitting, he will face the Aussies at Old Trafford for the first time in August eight years after he attended the nail-biting 2005 draw as a spectator.
A peripheral figure in the 2006-07 whitewash, Anderson took 12 wickets in the 2009 3-1 series win but his outstanding contribution was perhaps his and Monty Panesar's stubborn 10th wicket partnership in the opener at Cardiff, when Australia were honing in on victory.
He claimed 24 scalps Down Under when England retained the urn and despite Australia's poor form, homework issues and an underwhelming squad, there is no Glenn McGrath-like "5-0" prediction.
"They didn't do so well in India but in the series against South Africa they could quite easily have won," Anderson says. "South Africa being the number one team in the world, you've got to be strong to do that.
"Form doesn't really count much when it comes to an Ashes series because there's so much riding on it and both teams are so competitive and passionate about winning it."
It will be the Aussies' turn to pay homage to Kelly when Anderson approaches the crease in six weeks' time.
England fast bowler Jimmy Anderson recreates Strongbow's iconic archer pose as he launches a nationwide challenge for the cider's 'Earn It' campaign. The competition will give one lucky winner the chance to face an over from Anderson this summer. Hopefuls can apply via www.strongbow.com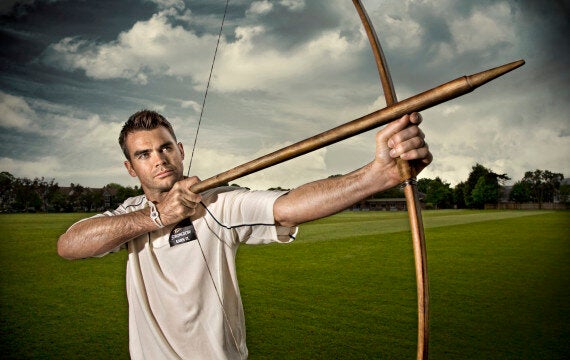 Related