Britain's "hidden hunger" is affecting half a million people who turn to food banks and an urgent parliamentary inquiry is desperately needed, charities said.
Families who find themselves in desperate circumstances because of sudden loss of income, benefit delas or cuts, and welfare reforms turn to charity to feed their children, Oxfam and Church Poverty Action said.
Energy Secretary Ed Davey told MPs this month that it was "completely wrong to suggest that there is some sort of statistical link between the benefit reforms we're making and the provision of food banks".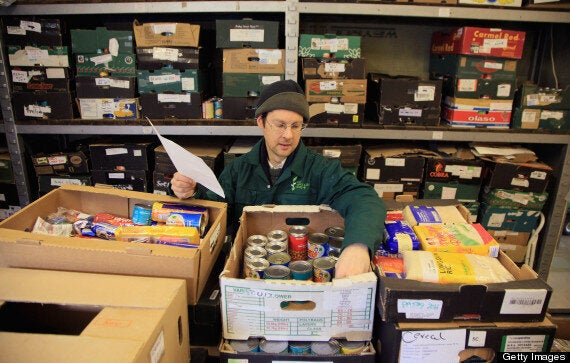 Salisbury foodbank volunteer Graham Herbert sorts out donations of food at the foodbank centre's warehouse
But in a damning report, 'Walking The Breadline', the charities pointed the finder at changes to the benefit system, saying families were left without food because of changes to crisis loan eligibility rules, delays in payments, Jobseeker's Allowance sanctions and sickness benefit reassessments.
"The shocking reality is that hundreds of thousands of people in the UK are turning to food aid," Mark Goldring, Oxfam's CEO said.
"Cuts to social safety-nets have gone too far, leading to destitution, hardship and hunger on a large scale. It is unacceptable that this is happening in the seventh wealthiest nation on the planet."
The Trussell Trust, the biggest provider of food banks in the UK had last month reported that more than 350,000 people turned to their food banks for help in the last year, almost triple the number who received food aid in the previous year.
Recent research by The Centre for Economic and Business Research commissioned by Kellogg's shows that people are spending 20 percent more on food in the UK but eating seven percent less, with many of the UK's poorest cutting down on fruit and vegetables to make ends meet.
The research shows that at least 4.7 million people live in food poverty in the UK.
Because no official records exist, charities believe the true number of those going without food could be up to half a million. The charities have called on the government to monitor the problem.
Niall Cooper, Church Action on Poverty CEO, and the report's lead author, said: "The safety net that was there to protect people is being eroded to such an extent that we are seeing a rise in hunger.
"Food banks are not designed to, and should not, replace the 'normal' safety net provided by the state in the form of welfare support."
The report recommends that the Work and Pensions Select Committee should investigate the link between benefit delays and the growth of food poverty.
All referrals to food banks/emergency food aid provision, made by government agencies, should be recorded and monitored in order to establish more accurate numbers on people experiencing food poverty in the UK, the report said.
Next week, families who have been forced to use food banks will speak about their experiences of food poverty at the House of Commons, in front of Labour, Conservative, Liberal Democrat and Green Party politicians.
CASE STUDY: HOW BENEFIT DELAYS PUSH PEOPLE INTO FOOD POVERTY

Kay is in her early thirties, a single parent and currently expecting another child. She is currently on Jobseeker's Allowance and is required by her Jobcentre Plus Adviser to search for six jobs every fortnight.

Although Kay will need to have maternity leave in the near future, work is very important to her, and she is still actively looking for employment and attends a voluntary job club on a weekly basis.

Kay has little knowledge of computers and therefore relies on the support of the staff at the job club to help her with her search, especially now that the Universal Jobmatch system (job searches and recordings) is heavily computerised.

One week in March, the job club lost all internet connectivity, and therefore she only managed to enquire about one vacancy. However, during the following week she 'fulfilled' her six job search quota by searching for another five jobs.

Kay believed all was well until her next visit to the Jobcentre to meet her Adviser; she was told by her Adviser that her search "was not good enough" because her six job searches were not spread evenly throughout the two weeks, and although Kay tried to defend her case, stating that she had no internet access, she was told that she would be sanctioned.

Kay was sanctioned a week's money of £71. This not only caused a lot of stress to her (being pregnant, a single mother and now having a vital income removed from the household); it also had the knock-on effect of forcing her to rely on her family for financial support.