Arsenal fans have a way with words in the worst possible way. The egregious Arsenal Away Boyz should be slapped with a banning order from all football grounds, with one of their efforts beginning, "Let's talk about Cesc baby, let's talk about Van Persie..." Gallingly for da same boyz who urged Theo Walcott to "sign da ting" Fàbregas and Van Persie could be teammates at Manchester United next season.
United are known admirers of Fàbregas, whose sentimental return to Barcelona has gone awry. Another flawed Pep Guardiola signing, he is often played out of position as Xavi, the immovable object, continues to occupy the role Fàbregas covets at Camp Nou.
Whereas Barcelona boast one of the world's finest midfielders United boast effectively one midfielder. It is testament to Michael Carrick's class he camouflaged Sir Alex Ferguson's blind spot over the last 18 months, but with Paul Scholes retiring, Darren Fletcher convalescing and Anderson, erm, eating, this summer could be the first in six United may bring in a midfielder.
David Moyes, finally armed with a competitive budget, is also considering deals for Marouane Fellaini and Fàbregas' Barça colleague Thiago Alcantara, claim ESPN FC.
Fàbregas would unquestionably be a superb signing, but Arsenal have first refusal on their former captain. The 26-year-old's affection for Arsène Wenger should not be underestimated either, irrespective of the Gunners' eight years without a trophy compared to United's 10 trophies since the sides' 2005 FA Cup final contest.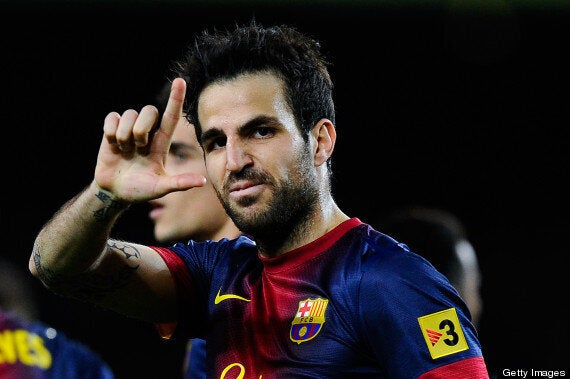 "L" for London? Or Lancashire?
Ironically, Fàbregas is the cheeky scamp who apparently threw pizza over Ferguson during the infamous "Battle of the Buffet" at Old Trafford in 2004. Four-and-a-half-years later, Ferguson was so delighted at United securing their 18th title after a draw with Arsenal he embraced the Spaniard.
Arsenal could make an approach for Liverpool defender Martin Skrtel, unhappy at his demotion under Brendan Rodgers, say the Express.
Kolo Touré has already signed for the Anfield club while Arsenal are in need of defensive reinforcements despite Laurent Koscielny and Per Mertesacker's impressive form in the spring.
Stating the obvious is the Mirror, who write Gareth Bale is a target for big clubs such as United, Real Madrid and Chelsea. At £80m. A case of the Burns?
José Mourinho's pet journalist over at the super soaraway Sun says the Portuguese has inked a four-year deal to return to Chelsea and will be unveiled next week. Essentially, this means all of us who liked him at Inter and Madrid can now dislike him again.
His predecessor, Rafael Benítez, meanwhile wants to bring Chelsea defender David Luíz to Napoli. Luíz was one of the big success stories of Benítez's brief reign at Stamford Bridge, and despite his improvement it is difficult to comprehend Mourinho tolerating the Brazilian's gung-ho attitude.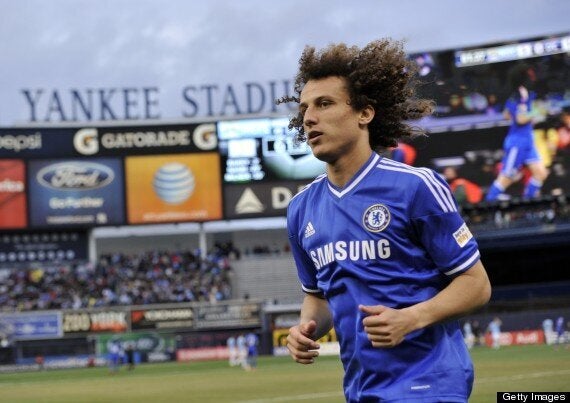 Luíz faces an uncertain Chelsea future despite impressing under Benítez
Radamel Falcao's imminent departure from Atlético Madrid means there is a whopping void at the tip of the team's attacking arrow, and Christian Benteke is a £17m option, so say the Sun.
Benteke said last week he would have no qualms about leaving Aston Villa in order to fulfil his ambitions, although Atléti don't seem the most appropriate of fits, despite two cup wins in the last two seasons.
And Marouane Fellaini says his "destiny is with Everton". This really doesn't mean a jot from a man with a £24m buy-out clause and who twice stated his keenness for a transfer last season.
Popular in the Community