Brad Pitt has been speaking out about his highly-anticipated zombie blockbuster, 'World War Z'.
The lead actor and producer stepped out yesterday on the red carpet with his fiancee Angelina Jolie, in her first public appearance since she announced the news of her double mastectomy surgery.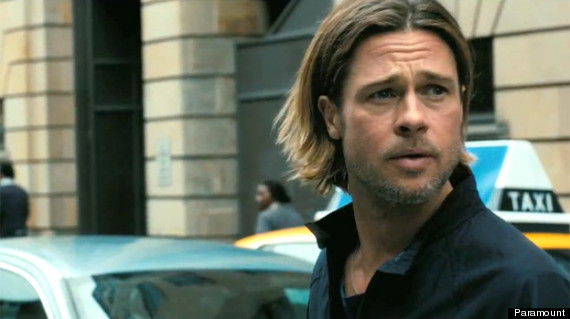 Brad Pitt stars as a UN staffer in zombie blockbuster 'World War Z'
The evening before, Pitt had introduced the film to the audience at a preview screening in the West End, where he told them, "This has been a long time coming."
And he added, "I'm willing to bet that this is the most intense film you've seen all summer."
WATCH the special feature on World War Z above, including premiere footage, as well as clips from the film, which is in UK cinemas from 21 June.
Pitt also made time last night to attend the free concert put on by rock band Muse, in honour of the occasion, at Horse Guards Parade. Muse are providing much of the soundtrack to the film, which sees Pitt play a United Nations employee, Gerry Lane, who must cross the world in a race against time to stop the Zombie pandemic that is toppling armies and governments, threatening to destroy humanity.
WATCH him chat at the gig below...