Ed Miliband will bid to wrest back the initiative in the benefits debate today by pledging to cap the overall welfare bill.
The Labour leader will admit the public's faith in the system has been "shaken" - and promise to ease the burden on the taxpayer by cutting housing costs, cracking down on low pay, and making people work for longer before getting job seeker's allowance.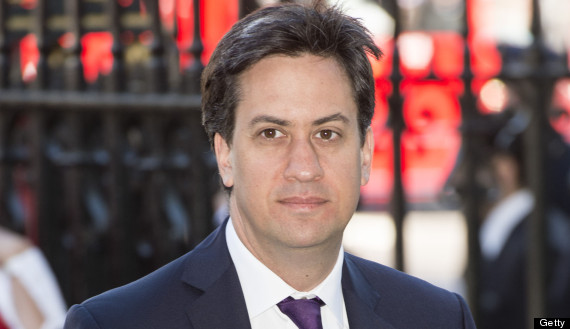 Ed Miliband set to get tough over spending plans
A limit for the social security bill would be set as part of every three-year spending review - although it would be flexible if the economy plunges into recession.
The intervention, in a speech in London, comes as the Opposition seeks to restore its reputation for economic management and shift position on the issue of welfare.
Earlier this week shadow chancellor Ed Balls said the party would stick to the coalition's 2015-16 departmental budgets if it wins the general election, and wealthier pensioners would be stripped of winter fuel payments.
Tories have also seized on news that Labour would not reverse the coalition's child benefit cuts for high earners. The party fought the 1% cap on working age benefit rises and £26,000 limit on how much households can receive.
Mr Miliband will point out this morning that the social security budget is the biggest item of Government spending alongside the health service.
"The next Labour government will have less money to spend," he is to say.
"If we are going to turn our economy around, protect our NHS, and build a stronger country we will have to be laser-focused on how we spend every single pound. Social security spending, vital as it is, cannot be exempt from that discipline.
"So we will reduce the cost of failure in the social security system, including the cost of long term worklessness and the cost of housing benefit."
Mr Miliband will say there is now a "clear choice" for voters. Where the Tories would "slice away" at individual benefits, Labour is determined to control costs by attacking long term problems like persistent unemployment, low pay and housing shortages.
"We can't afford to pay billions on ever-rising rents when we should be building homes to bring down the bill," he will insist. Labour claim they will tackle the overall costs of social problems at source
"Thirty years ago for every £100 we spent on housing, £80 was invested in bricks and mortar and £20 was spent on housing benefit.
"Today, for every £100 we spend on housing, just £5 is invested in bricks and mortar and £95 goes on housing benefit.
"We expect individual families to negotiate with their landlords when we know there aren't enough houses to go around.
"It is inevitable that tenants end up paying over the odds - and so does the state, in the housing benefit bill.
"It's time to tackle this problem at source. We can start to bring about the shift from benefits to building. Bringing the housing benefit bill down for the long-term too."
The Labour leader is to accuse the coalition of allowing long-term worklessness to rise to its highest level for a generation, costing the taxpayer billions.
The party is examining ways of cutting the bill for in-work benefits, such as tax credits, by encouraging companies to pay the living wage - potentially giving them grants to do so.
"We can't afford a low wage economy that just leaves the taxpayer facing greater and greater costs," he will say.
"It is only by changing our economy that we can both keep costs under control and make progress towards a fairer society."
Mr Miliband will suggest reforming contribution-based Job Seekers' Allowance "in a cost neutral way" - potentially increasing the level paid but making people work for longer before they get it.
"People's faith in the system has been shaken by a system that appears to give a minority of people something for nothing and other people nothing for something," Mr Miliband is to say.
"Currently, after two years of work, someone is entitled to 'Contributory Job Seekers' Allowance. They get £71 per week, whether they've worked for two years or forty years. Two years of work is a short period to gain entitlement to extra help. And £71 is in no sense a proper recognition of how much somebody who has worked for many decades has paid into the system.
"A longer period of qualification would mean some new claimants would have to work longer than they expected before being entitled to extra support if they lose their job. But greater support for those who have worked for a longer time, providing real recognition of their contribution."
Chancellor George Osborne has already signalled that the Government will bring forward a cap on large portions of benefits spending. And Mr Miliband will say Labour wants a limit on social security spending that would operate over the course of each three-year spending review.
Like that being considered by the coalition, the cap would cover "structural" costs like high property rents and long-term worklessness, but not "cyclical" costs associated with economic downturns - such as sharp rises in unemployment.
The Labour leader will also dismiss jibes that his party represents those who leech off the state.
"Labour - the party of work - the clue is in the name. Our party was founded on the principles of work," he is to say.
"We have always been against the denial of opportunity through the denial of work. And against the denial of responsibility by those who could work and aren't doing so.
"This country needs to be a nation where people who can work, do work. Not a country where people who can work are on benefits."
Conservative party chairman Grant Shapps said: "Ed Miliband's much-trailed welfare speech is completely empty. Labour have opposed every one of our measures to fix the welfare system and have now shown they have no credible alternative.
"This Government has capped benefits so that people can never claim more in benefits than families earn in work. But Ed Miliband is too weak to deliver the tough decisions on welfare hardworking people rightly want to see. His plans would actually increase welfare spending, and mean more borrowing and more debt.
"This is just the same old Labour: empty rhetoric smattered with more spending, more borrowing and more debt. Hardworking people would pay the price with soaring interest rates."
Yesterday, David Cameron accused Mr Miliband of "total confusion" as he repeatedly challenged the Labour leader to spell out his position on child benefit for those earning more than £50,000.
After Mr Miliband focused his six questions in the Commons on health, the Prime Minister said: "Not a word about what he said two years ago, the very first time he stood at that despatch box, totally condemning and attacking in the strongest possible terms what now turns out to be Labour policy. What complete confusion and weakness from the leader of the opposition."
Mark Serwotka, general secretary of the Public and Commercial Services union, said Mr Miliband was merely offering "austerity-lite", but GMB general secretary Paul Kenny said the Labour leader's "commitment to tackle the affordable homes crisis will be welcomed and applauded as the first positive step in dealing with the housing benefit scandal".