SOL Republic impressed us last year when we tried out their Tracks HD headphones. But to be truthful - and as you can probably tell from our review - we were more distracted by their indestructible headband than bowled over by sound quality (which was fine, but not really anything special).
The Master Tracks - SOL Republic's high-end, noise-insulated over-ear headphones - are something else entirely. Yes, they do come with the same twistable, bendable band. But you won't be stress-testing it too often. Just in case.
Why? Because these headphones sound utterly brilliant. And if you break them you'll cry.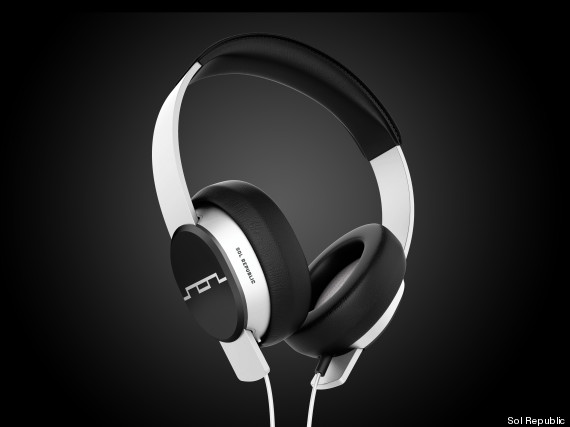 The Master Tracks are relatively lightweight (at just 243 grams), and comfortable to wear with articulated 'SonicSoft' ear cushions. More importantly, they manage to find the balance between tasteful design and luxury, with material construction that resonates with quality but not gaudiness or over-wrought bling.
And yes, with the FlexTech headband they are durable enough that you won't have to worry about breaking them - although you're unlikely to be taking these around with you on the Tube. If you do manage the impossible and snap the band, however, it's easy to swap it out for a new one. The earpieces themselves slide onto the band, but aren't actually attached to it.
As for the other details, the included mic and remote is perfectly usable and nicely machined, while the addition of a carrying case and 1/4" adapter is also handy. The removable/replaceable cables may also prove to be a lifesaver.
But it's the sound where the Master Tracks really shine. We first used them to play a high-end digital piano, and the difference even with SOL Republic's Tracks HD headset was astonishing. Every key press and (inexpertly played) melody rang out with no hint of overwhelming bass boom. The X3 Sound engine can handle volume, but it's clear and precise with gentler sounds too. And when we brought the tunes, as the kids say (Ed: do they say that?), these headphones simply ate up any type of music we threw at them. Andrew WK has never sounded partier. Pink Floyd? Never more pink.
The only downside here is cost. The Master Tracks are £169 - not insane for a pair of high-end headphones, but a fair investment either way. If you're just listening to digital music that might be a bit over the top. But if you're a musician, an audiophile or a gamer, you can't go far wrong.

HuffPost Tech Guides: Reviews, Pictures, Videos, Advice

Laptops | Tablets | Smartphones | Speakers
Headphones | Fitness | Cameras | E-Readers