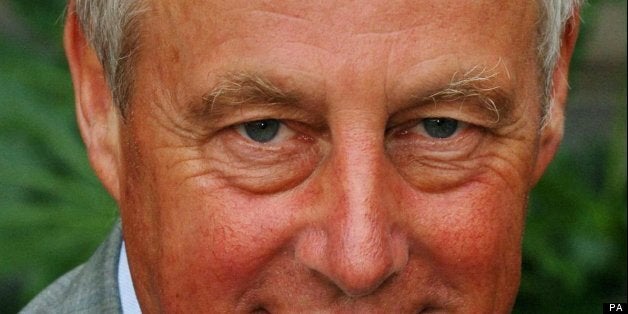 The chairman of a powerful Commons committee today denied breaching lobbying rules amid allegations that he offered to use his position to further business interests.
Tim Yeo, who heads the Energy and Climate Change Committee, said he "totally rejects" claims made after a sting by Sunday Times journalists.
The Tory MP said he had referred himself to the parliamentary standards commissioner to clear his name.
The reporters approached the MP posing as representatives of a solar energy company offering to hire him as a paid advocate to push for new laws to boost its business for a fee of £7,000 a day.
He apparently said he could not speak out publicly for the green energy firm they claimed to represent because "people will say he's saying this because of his commercial interest".
However, he reportedly assured them: "What I say to people in private is another matter altogether."
The newspaper's footage showed Yeo seemingly suggesting that he had coached a paying client on how to influence the committee.
"I was able to tell him in advance what he should say," he said.
The former environment minister apparently excused himself from asking questions at the committee hearing because of the conflict of interest.
The House of Commons code of conduct forbids members from acting as paid advocates, including by lobbying ministers.
Yeo, the latest in a line of politicians caught up in lobbying stings, pulled out of broadcast interviews this morning.
But he later issued a detailed statement rebutting the claims.
"I want to make clear that I totally reject these allegations," he said. "The Sunday Times has chosen to quote very selectively from a recording obtained clandestinely during a conversation of nearly an hour and a half in a restaurant with two undercover reporters who purported to be representing a client from South Korea.
"My lawyer requested the whole recording from which these extracts were obtained but this has not been given.
"The whole recording would show the context of the conversation and demonstrate clearly that at no stage did I agree or offer to work for the fictitious company these undercover reporters claimed to be representing, still less did I commit to doing so for a day a month as the article claims."
Specifically addressing the allegation that he coached a client, Yeo said it was "totally untrue".
"The person concerned is John Smith, Managing Director of GB Rail Freight, a subsidiary of Groupe Eurotunnel SA, of which I have been a director and shareholder since 2007," he said.
"I travelled with John Smith and two other people in the cab of a freight train for three hours on May 16, five days before he appeared before my Committee.
"I spoke briefly to Smith about his forthcoming appearance in front of the Committee to explain that because of the business connection between us I would not take part in questioning him. I did not want him to think that my silence indicated a lack of interest in what he was saying.
"I did not 'coach' John Smith on this or any other occasion. He is not a 'paying client' as the Sunday Times alleges but a business colleague.
"Like many business executives giving evidence to Select Committees he sought advice from the public affairs company retained for the purpose by GB Rail Freight."
Yeo said he had refused a request from the undercover reporters to establish an All Party Parliamentary Group (APPG) on behalf of their ficticious client.
He also said he had refused to give names of other MPs who might be interested in joining such a group.
Yeo highlighted an email he sent to the fake firm the day after meeting them, explaining that he "could not work for their client because it had become increasingly apparent to me that they wanted a lobbyist and that role was incompatible with my work as an MP and Committee Chair".
"I am referring myself to the Parliamentary Standards Commissioner because I wish to have this matter thoroughly investigated by an independent body," Yeo added.
"I am confident that I have acted in accordance with the MPs Code of Conduct at all times."
Communities Secretary Eric Pickles defended the press over the lobbying stings.
He told Sky News' Murnaghan programme: "If you become paranoid about the press, but they're just doing their job, that's all they're doing. If you're obeying the rules, you've got nothing much to fear."
Pickles also joked that Yeo had missed a "treat" by refusing to keep his appointment for an interview on the programme.
Business Secretary Vince Cable told Sky News journalism stings were generally contemptible, but that there was a public interest defence in exposing lobbying scandals.
"Well, it's a pretty disreputable practice and it does undermine the public's trust," he said.
"In a way, I can understand the reason for it in a lobbying case."
He said transparency and clarity were the only long-term answers to prevent future lobbying scandals.