The BBC has unveiled an all-new weather app for iOS and Android.
The new application comes in response to "a huge increase" in the amount of people checking the weather with their mobiles, the Beeb said.
Designed with the BBC's increasingly consistent simple, visual design style, the App allows you to check all the same stats as the website, but with a cleaner interface and less fiddling about with your browser.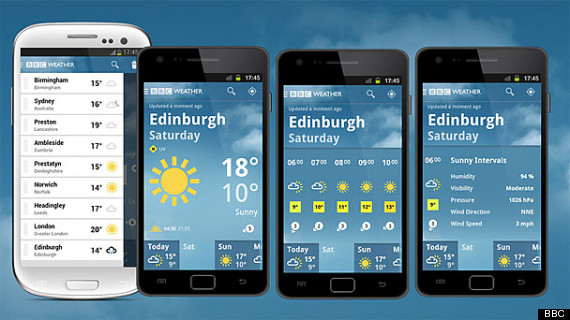 On its blog the BBC said the new app's features include:
Location aware five-day forecasts and 48 hours of UK based hourly forecasts.
International locations and three hourly forecast details.
Extra detail for each hour including Visibility, Humidity and Pressure.
Ambient transitions to provide more context about the weather at your location.
James Metcalfe, senior product manager at BBC Weather, said the decision to build a stand-alone app rather than a new mobile-focused site was down to users' need for "speed and simplicity".
"Based on feedback, speed and simplicity were highlighted as particularly important on the move and to present forecast data quickly we chose to develop native code. We could take full advantage of location and data management whilst interactions, transitions and animations were far easier to implement.

"It has provided us with the foundations in which we can continue to enhance and expand new features using the best of native or even HTML5 as it becomes more responsive to our needs on mobiles."
The app is available now for free from iTunes (though only for iPhone and iPod Touch) and the Google Play store.