"Don't worry, it's still going to be everything that you love about 'The Daily Show', just without the thing that you love the most about it," says John Oliver, of his stint as guest host in one of the US's hottest TV seats.
The British comedian will be sitting in for the multi Emmy Award-winning Jon Stewart for the next eight weeks, when his first guests will include Armando Iannucci and Seth Rogen.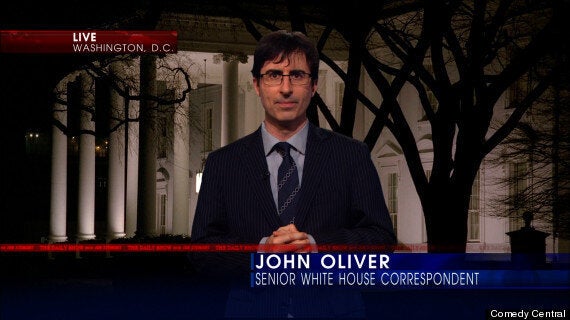 John Oliver has long been the Daily Show's resident go-to special correspondent, particularly on all things British
So how did you get so lucky and land in The Daily Show host chair for the summer? Was it a rigorous auditioning process?
Not really. Jon Stewart called me on the phone a few months ago and explained that he had the chance to direct the movie he'd written. I thought that was very exciting news. He then asked me to guest host while he was away. I thought that was terrifying news. But I'm happy, and honoured that he trusts me enough to look after the show while he's away. Let's all hope that trust is not misplaced.
What can audiences expect from you as the host of The Daily Show?
Basically the same thing. It's going to be everything you love about The Daily Show, just without the thing you love the most about it. The only thing that's really going to change is that the words are going to be pronounced accurately.
Which guests are you hoping to bring on to the show this summer?
The Queen. If I can't get her, I'd love to get Prince Harry. But only if he dresses like the Queen.
Who will sit in for you while you sit in for Jon Stewart?
Well, Sir Patrick Stewart has actually pretended to be me on The Daily Show before, and he did a far better job of being me than I do. So he seems to be the natural choice.
What is the best part about working at The Daily Show?
Working with Jon Stewart. That's the thing I'm going to miss the most this summer – not having him around. I don't think I'm going to be alone in feeling that way!
What lessons have you learned from working at The Daily Show?
So many. But mainly that American politics somehow never loses its capacity to disappoint you.
What have been your top 3 Daily Show moments, and why?
I did a three-part story on gun control in Australia and America recently, which was a great experience. I also visited Gabon in West Africa to do a story on UNESCO. And we did a piece on the Queen's Jubilee where I had beans and toast rain down on me. That was fun. Sticky, but fun.
As you know, The Daily Show airs in a number of international markets. What would you like to say to your fans outside of the U.S.?
Do they exist? If they do, I'd like to say "hello".
The Daily Show hosted by John Oliver starts Tuesday June 11th on Comedy Central Extra at 11pm. John Oliver's finest hour? His segment on gun control here...